[rank_math_breadcrumb]
Under sink sump pumps are used to provide extra drainage for kitchen sinks, bar sinks, utility, and even dishwashers that are below ground level where traditional systems won't work. Since there are so many similar models on the market and buying a pump is a significant investment we reviewed the top sink sump pump systems for your home.
In this post we will review the best under sink sump pumps and basins so you can improve your drainage and start pumping water from your basin into city sewer lines.
How To Choose The Best Under Sink Sump Pump
There are a few things to keep in mind when shopping for a sump pump for under a kitchen or basement sink. The most important thing to consider is the horsepower. Larger volumes of water require larger pumps – especially if it is installed under a basement sink. Another important factor to consider is the size of the drain line. Most pumps are designed to fit 1/8″ to 1/2″ drain lines.
The final factor to consider is price. Pumps with higher horsepower and additional features cost more money so it is important to consider how the pump will be used so you get the best bang for your dollar!
Top Under Sink Sump Pumps of 2023
Here are the top rated sink drain pump systems for your kitchen, basement or bar sink! Each of these Sump Pumps will look great under your kitchen sink, bar sink or basement washroom sink.
Simer 2925B Sink Sump Pump
What We Like
Silent 1/4 HP motor
6 Gallon tank
1-1/2″ Discharge Pipe
1620 GPM at 10′
Our top pick for the best under sink sump pump is the Simer 2925B. This pump is a good choice for sinks that get small usage and need to drain water from a lower level.
The 1/4 HP motor is powerful enough to drain small amounts of water as well as solids up to 1/8″ in size. The built in check valve will prevent the back flow of sewage or other material into your sink drain.
Pros
Compact design is good for tight spaces
Able to handle small solids without clogging
Small 1/4 HP motor dues little electricity
Cons
Not powerful enough for basement use – we recommend upgrading to the 1/3 HP model
Zoeller 105 Sump Pump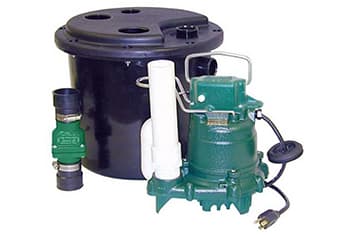 What We Like
High quality Zoeller pump
1/3 HP motor
1-1/2″ Discharge Pipe
Non-clogging vortex impeller for solids
The Zoeller 105 is a 1/3 HP that is a good choice for basement sinks that get occasional usage. The pump fits common 1-1/2″ NPT discharge pipes and can drain all of the water your sink needs to drain.
This model is one of our top picks for basement sinks because it can lift water 10′ feet to lift it out of the basement, There are no tools required for installation and this system is resistant to weather, rust and wear.
Pros
Cast iron body

Automatic, float-operated mechanical switch

Full pump system
Cons
More expensive than other brands
BurCam 300514WH
What We Like
1/3 HP motor
High flow rate
Also works with laundry
Another good choice is the BurCam 300514WH. This model attaches directly to the sink lines and uses a 1/3 HP motor to drain water. It is activated by an automatic check valve and a good choice for basement installation!
Pros
1/3 HP motor
Affordable on any budget
Installed vertically on drain lines
Barnes 131411
What We Like
Split capacitor motor 1/3 HP motor
Drains 42 GPM
Works on head heights up to 30′
Non-clogging vortex impeller for solids
The Barnes 112551 is a good choice for high usage in residential and commercial sinks. The 1/3 HP motor can pump 42 gallons of water per minute. The system comes with a pump, water storage tank, discharge pipe and check valve so it is an 'all in one' kit.
Pros
High performance pump for 1 1/2″ discharge lines
Built in basin and check valve
Work on heads up to 30′
Cons
Basin may not be large enough for high flow sinks
Superior Pump 92072-U
What We Like
1/3 HP motor
Drains 3/8″ solids
Corrosion-resistant body designs
6 Gallon basin
The Superior Pump 92072-U is a 1/3 HP unit that is available with a thermoplastic and cast iron body. The motor is activated by a vertical float switch and the pump can handle solids up to 3/8″.
The pump can drain up to 48 gallons of water per minute depending on the head height and has a built-in check valve to prevent backflow
Pros
Passed 3/8″ solids
The thermoplastic body is resistant to corrosion and rust
Cons
Not powerful enough for basement use – we recommend upgrading to the 1/3 HP model
Does Every Sink Need An Under Sink Sump Pump?
You might be wondering – does every sink in my house need a sump pump? Fortunately, the answer is no! Under sink pump pumps are only needed in locations where gravity lines will not work!
The most common areas of the home that have a sink that needs a drainage pump are the basement, guest houses, garage and bar. These areas are all lower than the main sink drain in the kitchen and interior bathrooms. The under sink sump pump will keep these areas floor, dry. The battery back up system is great for homes that might lose power when the drains backs up in the sink. The wireless design makes it easy to place in any location below your kitchen or bar sink!
Alternatives to Under Sink Sump Pumps
There are a few alternatives to under sink sump pumps. The first is a traditional gravity drain system, this method will use the force of gravity to move water from one location to another. The downside with a gravity drain system is that it works very slowly and often there can be issues with foreign objects getting stuck in the drain lines.
Gravity also fails when the home loses power. The other alternative is to use a portable sump pump that can be carried to anywhere in the home where water needs to be moved.
The downside with these units is that they are battery-powered and can only work for short periods of time, often needing recharging or replacement batteries before completing their job. The under sink sump pump is the best alternative because they are wireless, easy to install anywhere below your sink and can pump out water fast!
How We Test Our Picks
Want to know how we picked our top rated under sink sump pump? The first thing we did is determine if each pump would work with a long laundry room or basement drain line. The pumps had to be able to lift water more than 10 feet and they also had to include a battery backup system for use during power outages.
The next important feature we looked at was the size of the pump. In some cases a large horsepower pump is better – but not all the time. The large horsepower pumps are often equipped with a pump chamber that is too large for the amount of waste water being produced.
The pump can get stuck if it tries to work to remove all of the water in its chamber – leaving you with the option of either continuously checking on your drain line or installing an additional sump pump.
The final consideration was choosing was price. Everyone homeowner is on a budget, so we wanted to make sure to recommend top under sink sump pumps at every price point.
Frequently Asked Questions
Can you run a sink drain into a sump pump?
The short version is yes, drain lines from a sink should can lead directly to a sump pump. The piping between the sink and the sump pump has to have a height difference of at least two feet between itself and any other drainage source to function properly. This is because there must be a compartment for liquid to sit in while it gets pumped
How does a sink drain pump work?
A sump pump is a small machine installed under your sink. The drain from the kitchen sink connects to the machine, and when water fills up in the chamber, it automatically pumps it out of your home into the main city sewer line.
Why does my sink gurgle when the sump pump runs?
The sink should not be gurgling when the sump pump is running. The city main line to which you are connected has a connection at the street that allows any air in the lines to escape. The noises you are hearing are likely traveling through your home's drain system. The best fix for this situation would be to contact a licensed plumber.
Related Posts
Best Sump Pumps
Best Float Switches
WAYNE CDU980E Review
Wayne WaterBUG Review