Picking the right pedestal sump pump can keep your basement dry and prevent flooding and thousands of dollars in water damage. Unlike other styles pedestal pumps stand tall in your basin – with most of the pump above the water line. They are activated by float switches once the water starts to rise.
There are many models from manufacturers like Zoeller, Superior Pumps, ECO-FLO so it can be hard to pick the best for your home. Different makes and models have various horse power, build material (plastic or cast iron) and other features and functionality but all pedestal pumps have a long shaft and a recognizable shape. More horse power means more water pumped but also a higher cost!
Best Pedestal Sump Pumps – List of Top 5

Superior Pump 92333
ECO-FLO EPP33
Flotec FPPM3600D
ECO-FLO EPC50
Superior Pump 92301
| Our Pick | Pump | Rating |
| --- | --- | --- |
| Top Pick | Superior Pump 92333​ | 3.5 |
| Runner Up | ECO-FLO EPP33 | 4.2 |
| Most Dependable | Flotec FPPM3600D | 3.8 |
| High Powered | ECO-FLO EPC50 | 4.0 |
| Best Value | Superior Pump 92301 | 4.4 |
Top Pick: Superior Pump 92333
A pump with a powerful motor designed for use in heavy flooding
The
Superior Pump 92333
is one of the most powerful pedestal pumps around with a 1/3 HP. This powerful motor plus cast iron exterior lets you drain up to 3000 gallons of water per hours. The pump was built for use in homes that receive large amounts of water in their pump pit, make sure you need this much power or you might burn out the motor.The pump drains using a 1 1/4″ discharge line that can be found in most basements. It is activated by an automatic float switch that is made of corrosion resistant stainless steel. When the water level rises so does the float switch – turning on the pump.Heat is always one of the biggest problems in basement water pumps. The head of this pump is air cooled with plenty of ventilation. The steel and aluminum body work to dissipate heat – rather than storing it in breakable parts.
Pump Features
1/3 HP pump
Max 3000 gallons per hour
Black thermoplastic or stainless steel and cast iron exterior
Drains with 1 1/4″ NPT discharge line
Weighs 13.2 pounds
1 Year warranty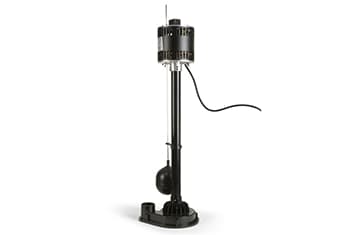 A Pedestal pump with 1/3 HP that can handle solids up to 3/16″ with damage
The
ECO-FLO EPP33
is one of the most reliable and powerful pump on the market. With the help of the 1/3 HP motor the pump can drain up to 3000 gallons of water per hour. It is activated by an adjustable float switch so you can custom fit it to your pit. One thing to note is that is drains with a 1 1/2″ discharge line instead of 1 1 1/4″ so you may need an adapter.The body of the pump is made of a cast iron shaft plus a thermoplastic shell. A screen prevents large debris from causing internal damage and the pump is designed to pass small rocks and pebbles. It does make some noise while on, but you likely won't hear it unless you have very thin floors. The pump can clear water up to at 20′ head height and set up takes about 30 to 45 minutes.
Pump Features
Powerful 1/2 HP pump
Max flow rate of 5000 GPH
Drains via 1 1/2″ NPT discharge line
Adjustable float switch
Pumps solids up to 3/8″
Weighs 19.3 pounds
Most Dependable: Flotec FPPM3600D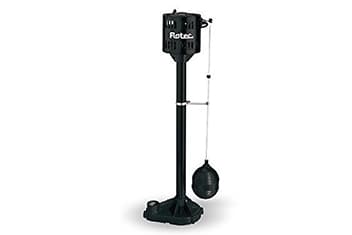 A 1/3 HP pedestal pump with a durable design that will last for years – even with heavy use
Water damage caused by a broken sump pump can be a homeowners worst nightmare, with the Flotec FPPM3600D you can keep your basement dry with one of the most dependable pumps out there. Plumber tested and homeowner approved the 1/3 HP motor drains with a 1 1/4″ discharge line and it fits inside a 12″ basin.
Unlike other high powered pedestal pump this one is made of thermoplastic which means is won't rust or corrode but it may not last as long under heavy use. It works best in small to medium spaces and definitely not outside! It can be installed in about 30 minutes and can't be heard upstairs while it is pump but it does vibrate some.
High Powered: ECO-FLO EPC50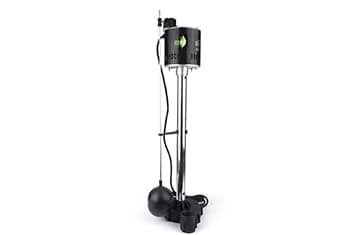 A super powerful pump with a 1/2 HP motor that can pump 5000 GPH
Looking for a pedestal pump that is strong enough to keep your home dry during extended food. The ECO-FLO EPC50 uses a 1/2 HP motor in the head to drain pump pits. If you know your basement or crawl space receive lots of ground water then this is an excellent choice.
The pump is float activated and fits in most pump pits. Attach a 1 1/2″ discharge line for drainage and plug in the 115 volt motor and you are ready to start pumping 5000 gallons of water per hour.
Best Value: Superior Pump 92301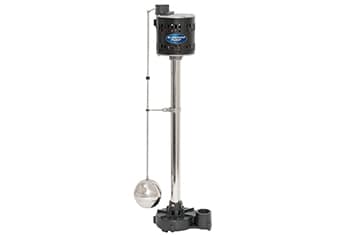 A stainless steel with a 1/3 HP motor that can move 3000 gallons of water per hour
The Superior Pump 92301 is a pedestal pump that is designed for indoor use in areas that receive a medium amount of ground water. The pump has a 1/3 HP pump which is slightly smaller than than other competitors but is still a good choice if you have less water to pump. The pump is built with two main parts. The upper part is the pump and motor which is responsible for draining the water. The other main part is the float switch which is responsible for turning the pump on when the water rises.
Who Needs a Pedestal Pump?
Most people that need a pedestal pump are totally unaware they exists until it is too late! Pedestal pumps work the same as traditional sump pumps but take up far less space and tend to have less mechanical problems. We recommend pedestal style pumps for homes that are tight on space – or for people on a budget that are looking to save some money.
If you do not have a basement sump you are risking serious water damage to your home every time it rains. With a sump pump and NPT drain lines you can collect and pump water as it pools in the pit basin.
Buying a sump pump can be confusing for first time homeowners shopping without professional help. There are a few important features to consider. Here are the most important things to compare between different pumps.
Pump Horsepower. The first thing you'll want to consider is the pump horse power. Smaller pumps have 1/5 or 1/4 Horse power pump while larges ones have 1/3 or 1/2 HP motors. More powerful pumps can move more water at a higher head height. Make sure to measure and estimate the head height to get the right size motor.
Head Height. Sump pumps have to pump water from the basement upwards – this distance is called head height. The higher you need to push the water to drain the more powerful pump you will need. Measure the distance using a tape measure and make sure to account for bends in the pipe.
Build Material. If a pump is made from cast iron or stainless steel it will have a longer working life, but it is more prone to rust and corrosion. Thermoplastic pumps don't have this problem but are more prone to 
Drain Line Size. Keep in mind the drain line size when buying a new pump. Most NPT lines are 1 1/2″ or 1 1/4″ lines. There are adapters to attach to different size lines but in our experience getting the correct line prevents water leaks.
Frequently Asked Questions
What is better submersible or pedestal sump pump?
Pedestal pumps cost less money and tend to last longer thanks to the motor being above the water line.
Who makes the best pedestal sump pump?
We think that Superior Pumps makes the best pumps for your money. Other good brands are Zoeller and ECO-FLO.
What is pedestal sump pump?
A pedestal pump is a type of sump pump built with the motor above the water line in the head of the unit.