Choosing the right sump pump for your home is hard! If you have a 4 or 5 bedroom home in an area with normal groundwater we recommend the Zoeller M53 Mighty Mate. It is one of the most reliable pumps on the market and budgeted to fit in any price range.
Water damage from basement flooding can permanently damage your home. We recommend the M53-d Mighty Mate plus a good battery backup and alarm so you can go on vacation without having to worry about your sump pump turning on! This pump is an industry favorite with plumbers, professional basement waterproofers and the DIY community that use water pumps thanks to its float activated powerful 1/3 hp pump cast iron body.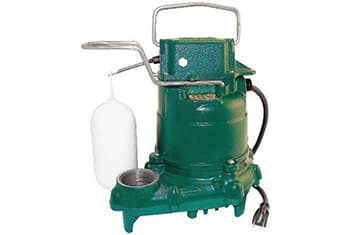 Float activated switch
Can pass 2″ solid debris
1-1/2″ NP discharge
Made of rust resistant cast iron
Oil filled cooling and thermal overload reset
Built to last 10+ years
| Specification | |
| --- | --- |
| Build Material | Cast iron |
| Motor | 1/3 HP |
| Voltage | 115 or 230 V |
| Power Source | 9' cord |
| Discharge Size | 1-1/2" NPT |
| Max Head Height | 19.25' (5.9 m) |
| Max Flow Rate | 43 GPM (163 LPM) |
| Max Operating Temperature | 130 °F (54 °C) |
| Weight | 21 lbs |
| Warranty | 1 year |
| Price | Click Here for Pricing |
The price of the M53 sump pump is a little higher in comparison to the plastic-dominant pumps on the market. Yet the extra dollars, in this case, translate into the assurance that you're getting a sump pump that isn't going to crack on you. 
Granted, the casing's longevity will most likely mean that you'll have to pick up some machine-based peripherals here and there. But these items are going to be cheaper than having to replace a flimsier unit as a whole every couple of years.
Because this is an old-school, no-nonsense beast, it also demands some basic maintenance over time to keep things humming. For instance, the two small flow holes in the pump may get clogged after a while as it accumulates thickened debris. 
However, periodic cleaning of these holes will keep this completely preventable condition from happening. You should also prepare yourself from periodically unscrewing the pump's base and wiping out any debris that may build up inside. Not doing these things won't bust your machine, but doing them will help the device run at its optimal level.
The biggest issue consumers have with the Zoeller M53 Mighty-mate Submersible Sump Pump, 1/3 Hp is its float switch. 
While the rest of the machine is built to withstand virtually any kind of punishment you can think to throw its way, the float switch tends to flame out relatively quickly. There are workarounds to this issue once the switch does give up the ghost, but it does create a weird juxtaposition considering the rest of the product's sturdiness.
Other consumers would prefer a different location on the float switch. Because it's situated near the top of the pump, the sump pit level has to get a few inches higher than it would when using other pumps, particularly pumps that have a vertical switch. 
This could be problematic if you're looking for a sump pump to tackle smaller water collection jobs, especially when you consider the pump's heft.
Zoeller makes some of the best pumps on the market but they do suffer problems from time to time. Fortunately, Zoeller offers a 1 year manufactures warranty on the M53 Mighty Mate and all their other pumps so you don't have to worry about getting a lemon!
Installing the Zoeller M53 is fast and easy – in fact, it is one of the reasons we recommend this pump for residential use!
Step by Step Pump Installation Instructions
Dig your pump pit and install the basin
Install a power outlet near the pit – remember most fire codes do not allow you to use an extension cord on pump pits
Install drainage lines. Measure the head height and run drainage lines into the yard, street or sewer.
Place the pump in the bottom of the pit – unlike pedestal pumps the M53 sits at the bottom of your basin.
Attach drainage lines, power connections and battery backup.
Test system by filling basin with buckets of water to simulate heavy flooding
If you never have purchased a sump pump before, expect to see a bunch of machines that look utilitarian at best as you browse.
That's not too surprising, of course. After all, functionality is always going to be the prime mover of any hardware device. So don't expect your pump to add to your home aesthetic.
This doesn't mean that you shouldn't pay any attention to the way they look. You should still make sure the design of the sump pump lends itself to long-term functionality.
Elements like corrosion-resistant stainless steel and durable thermoplastic casing may sound like buzzwords to the uninitiated, but they play an important role in ensuring that the pump holds together for a long time, even after repeated use.
If you plan on feeding your sump pump a steady diet of water, it's important that you keep an eye out for physical indicators of sturdiness. Doing so is a beautiful thing, even if the pump you end up getting is kind of ugly.
The most popular M53 alternative outside of the Zoeller line of pumps is the Liberty 257. The Liberty 257 costs about the same amount as the M53 and has comparable pump power. While it is not a bad pump we prefer Zoeller pumps. See our full comparison of the M53 and Liberty 257.
The M53 and M57 are very similar (they are both from the M50 line of pumps). The M57 has slightly more power and a more study design. The trade-off is that the unit is a little more expensive – usually about $20 to $30!
The M63 offers more power and extra features but it does cost considerably more than the M57. We recommend the M53 for more homes that experience normal flooding but if you experience regular flooding or have a high head height consider the M63.
The M53 and M98 are both made by the same company but they are very different pumps! The M98 has a 1/2 HP pumps while the M53 only has 1/3 HP. This increase in pump power means an additional 30 GMP which can be the difference during a heavy flood!
This pump is an ideal sump pump for those that like to get their hands dirty when it comes to home maintenance. This is a no-nonsense device that handles sump pits with a decidedly old-school aesthetic. Its combination of rugged design, quiet performance, and immense water moving power gives it an easy appeal to hardy do-it-yourselfers.
It also naturally appeals to people that love tinkering with their garage toys to keep them running in tip-top shape, and such periodic tinkering will help make the pump even more indestructible than it already is when it comes out of the box.
If you're in the market for a sump pump that will put its nose to the grindstone and tirelessly toil to defend your property from groundwater or collected liquids, this pump should be firmly placed on your radar.