A water-powered sump pump is a "must-have" to keep your basement dry and free from groundwater. These pumps sit at the bottom of a pump basin and automatically turn on when they detect flooding! The most powerful models can pump up to 1000 gallons of water, more than enough power to keep your home dry.
Choosing the best water-powered pump system can be confusing. Fortunately, our team compiled a list of the best pumps and their advantages, disadvantages, and a buyer's guide!
Top Water Powered Sump Pump
Zoeller 503 Water Powered Sump Pump System
Zoeller is one of the biggest names in water pumps, and the Zoeller 503 is another top-tier pump! It is 100% water-powered, so you don't have to worry about flooding while the power is out, and it is our pick for the most reliable.
Water-powered sump pumps work differently than other styles of pumps. Rather than being powered by electricity and a high horsepower pump, water-powered pumps use science to keep your basement dry. Let us review our top 4 picks so you find the best pump for your home sump pit!
In This Article
Top 4 Water-Powered Sump Pumps
| Our Pick | Pump | Rating |
| --- | --- | --- |
| Top Pick | Zoeller 503 | 3.8 |
| Runner Up | Liberty Pumps SJ10​ | 4 |
| High Power | Basepump HB1000 | 4.9 |
| With Alarm | Basepump RB750 | 4.2 |
Top Pick: Zoeller 503 Water-Powered Sump Pump System
A good backup pump is critical to prevent basement flooding – and a water-powered pump is the best way to prevent flooding if the power is out for more than a few hours.
We recommend the Zoeller 503 for people who already have a Zoeller pump installed – or one from another manufacturer! Installation is easy – and takes about 15 minutes – once the pump is installed, make sure to do a quick test!
Pros
Works while the power is out
Fits other Zoeller pumps – and most other brands
Pumps 1,200 gallons of water per hour
Works best with a check valve
Cons
Some reports of gasket leaks
Not for use as a primary pump
Runner Up: Liberty Pumps SJ10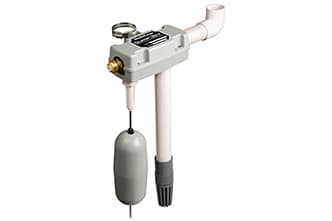 A powerful and dependable water-powered pump that pumps 1,200 GPH

The Liberty Pump SJ10 is another popular choice for basement water-powered sump pumps. This pump is clean and clear, just under 20 GPH from your pump pit, which is more than enough power to keep your home dry and is our value pick.
The super-efficient design of this water-powered pump system lets it remove 2 gallons of water for every 1 used for pumping. When the power goes out during a thunderstorm, and your water alarm sounds, you can depend on the SJ10 plus your home water supply to keep the pump working. It is made of super-durable PVC – which means no rusting – and has a built-in filter and backflow protection.
Pros
Works during power outages
Fits other Zoeller pumps – and most other brands
Pumps 1,200 gallons of water per hour
Competitively priced
Cons
Some reports of gasket leaks
High Power: Basepump HB1000 Water Powered Backup Sump Pump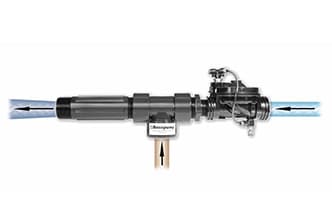 One of the most powerful backup water-powered pumps on the market to keep the water level low
If your home is in an area with lots of groundwater, you need a pump that your family can count on. The most dependable water-powered pump is the Basepump HB1000! This pump is easy to install and maintain and even comes with a built-in battery-powered alarm!
If you live in a high flood area like the bottom of a hill or near a creek, you need a backup pump you can count on to prevent thousands of dollars in water damage. We recommend the Basepump HB1000 for homeowners shopping for a water-powered pump that won't fail or leak.
This pump can run for 10+ hours, making it the perfect choice for areas that experience frequent power outages due to the weather.
Pros
No moving parts means less mechanical problems
No need for batteries to operate
Built-in water alarm
Pumps 10 gallons of water per minute
Cons
May not turn on if you have water problems
With Water Alarm: Basepump RB750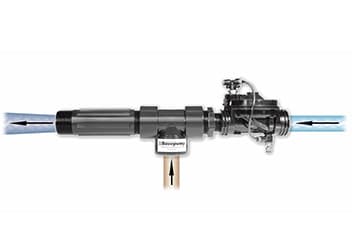 A reliable water-powered pump from Basepump that has a built-in battery-powered alarm system in case of emergency flooding
The Basepump 750 is a popular backup pump for homeowners who want a built-in alarm system with their backup pump. This model is installed above the sump pit and activates when it detects the water levels rising due to pump failure or power outage. It requires a medium amount of water pressure, so make sure your intake hose has some power – too weak of a flow and won't generate any water pressure.
Specifications
Weight 6 pounds
Made of Polypropylene
Pump 7 GPM at 90 PSI
Attaches to 3/4″ water line
Pros
Requires no electrical connection
Built-in battery-powered alarm system
Easy to install with household tools
Cons
Needs a steady supply of water to operate
Water Powered Advantages
Water-powered sump pumps offer many advantages over electric pumps. Unlike traditional pumps that draw power from a wall socket or battery pack, water-powered pumps rely on science to keep your basement dry. This lets them run for an extended period of time when the power is out.
By tapping into your home's water supply (from the city), these pumps use water pressure to pump water from your basement and into the sewer. Not depending on electricity to power your pump means your monthly electric bill will be lower, and your pump can run as long as you have pressure in your lines!
Yearly Maintenance
Since water-powered pumps have fewer moving parts than electrical pumps, they last longer and don't need as much maintenance – as long as they are installed correctly in your sump pit.
Water Powered Disadvantages
Water-powered pumps may seem like the perfect choice for any home, but they have a few disadvantages.
One of the most significant disadvantages is that your home must have specific plumbing lines to use these pumps. If your home does not have a well or a constant stream of water from the municipal lines, the pump will not work!
Another problem is the low pumping volume. Even the most potent water-powered pumps can't compete with the pumping volume of standard pumps like the Zoeller M53. Most systems need at least 2 gallons of water for each water inputted into the system.
The final disadvantage and drawback is the installation costs. Installing electric pumps is quick and easy – water-powered pumps, on the other hand, require a connection to your home water supply, which can require some elbow grease and even a professional plumber!
It is important to remember that water-powered pumps should only be used as an emergency backup – never as a primary sump pump.
DIY Installation
Installing a water-powered sump pump is not as easy as battery-powered pumps, but it is still possible without hiring an expert plumber. The first step to installing any pump is to read the owner's manual for exact instructions on installing and using the pump. Each pump is different, so knowing what you are doing is essential.
Step by Step Instructions
Mount the pump – Start by mounting the pump above your basin using brackets and screws. Make sure to check for studs, or the pump may fall, as they can weigh 10+ pounds.
Access the cold water line – Cut into your cold water line and run a 3/4 inch diameter pipe into the control valve. Then, solder the line shut with the pipe held securely in place.
Access the discharge line – Cut into the discharge line and run a PVC pipe from the pump. To create a watertight seal, attach this pipe with cement, super glue, and PVC bond.
Check the backflow prevention – Disable the backflow preventer inside the line and check that water is still flowing.
Test the Pump – Test the pump by filling your basin with a few gallons of water – your pump should kick on once the water raises the float!
Water Powered Sump Pump Costs
Water-powered sump pump pricing varies widely and is based on several factors. Most pumps cost between $100 and $300 plus installation. The more features, functionality, and gallons per hour of drainage, the higher the cost! We recommend spending a little extra and getting one of the more dependable pumps – or else you may find a flood in your basement!
What About Backup Pumps?
One of the most common questions we get asked is if water-powered pumps are better as your primary or backup sump pump. We recommend using a water-powered pump as a backup as it is less powerful than electric models. It is better to let the more powerful pumps do the heavy lifting, and the more dependable but less powerful water-powered pumps serve as your backup in case of power failure.
Buyers Guide
Choosing the right pump may seem difficult when you first start shopping. We compiled a quick guide with some of the most critical factors you must consider before making your final decision.
Expected Yearly Usage
Check the average yearly rainfall and groundwater levels in your area. The more water on and in the ground, the longer your pump will need to run. Annual rainfall totals for your county and the soil type are good indicators of the amount of water to expect in your pump pit.
Don't Forget Snowfall
If you live in a state that gets heavy snowfall in the Winter, make sure to account for melting snow. Remember – every inch of snow that falls has to melt and drain somewhere!
Drainage and Sewer Lines
One of the most important things to consider before buying a water-powered pump is the location of your drainage and sewer lines. Water-powered pumps must be hooked up to your city water connection – they can't be installed without this water line!