A sump alarm can be the difference between a flooded basement and preventing water damage in case your pump system fails but how can you tell which alarm is best for your pump system. Our team did the hard work and put together a list of the best sump pump alarms – and which pumps they work with!
Keep reading to learn more about the top alarms for your home. Our expert reviews will help you pick the perfect alarm and get it installed without calling an expensive plumber! We even put together an in depth buyers guide to help you pick the right alarm for your home – and make sure it links with your pump!
Our Favorite Models of 2022
Zoeller 10-4011 High Water Alarm
HS-700 HomeSitter Alarm System
Superior Pump 92060 Sump Alarm System
Basement Watchdog
IN/OUTDOOR HIGH WATER WARNING SYSTEM
Beacon PROACT 200
MySpool Water Detector
Top Pick: Zoeller A-Pak Indoor Alarm System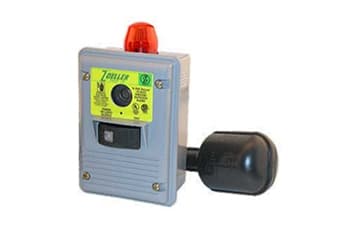 82 decibel alarm
Designed to work with Zoeller pumps
Perfect for large houses
Zoeller is famous for their sump pumps but they also make alarms you can count on like our favorite – the Zoeller A-Pak Indoor Alarm System! This sump pump alarm can be plugged right into the wall or hardwired to your pump with a terminal block. The alarm is loud enough for both indoor and outdoor usage so you know when your pump is failing and water is rising!
We recommend installing this alarm with any Zoeller pump so you know right away when a pump is not working. Zoeller products rarely fail but they do experience motor problems as well as other problems like power outages that can keep them from working.
Runner Up: HS-700 HomeSitter FreezeAlarm Alarm System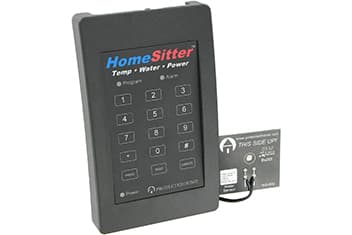 Monitors temperature, water level and power
Loud alarm plus phone notification system
Perfect for travelers
Sometimes you need to monitor more than just the water level in your pump pit. The HS-700 FreezeAlarm System from HomeSitter watches for extreme temperatures and power outages as well as high water levels. We recommend this water alarm for families that are often out of the house or rental properties that have leaky pipes!
Best Combo Alarm: Superior Pump 92060 Sump Alarm System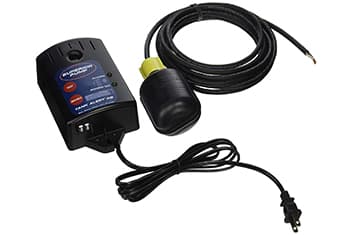 Super loud 87 db alarm that can be heard across the house
Easy to install in about 30 minutes
Comes with sump pump and backup battery (with alarm)
Got a large house and worried about hearing the alarm go off in your basement? Then we recommend the Superior Pump 92060. This pump system is the perfect choice with its 87 dB alarm plus chirping battery backup alarm. The pump itself can lift water 25′ in the air and pass solids up to 2″ in size!
Unlike others choices on this list this model is a pump and alarm system in one!
Glentronics BWD-HWA Basement Watchdog Water Sensor and Alarm
Alerts you to basement leaks before they become a larger problem – as little as 1/32″ of water!
Detects mold and mildew growth
Runs for 5 years on one 9V battery
This Glentronics Basement Watchdog sensor system is the perfect choice for deep, damp basements where mold and mildew growth is a problem. The system is powered by a single 9 volt battery that can last up to 5 years – not to mention the 6 foot wire for deep pits and crawl spaces.
Testing and Monitoring: Beacon PROACT 200
Monitors for problems and tests system
Phone warning and alerts
Checks for power failure and flooding
The Beacon PROACT 200 is an excellent choice for homeowners on a budget that still want an alarm with lots of features and functionality. This system monitors for excess water and power failure like most other alarms but it also tests the pump to check for failure. It has remote alerts when something goes wrong and connects directly to your WIFI so there is no subscription cost.
Most Basic: MySpool Water Detector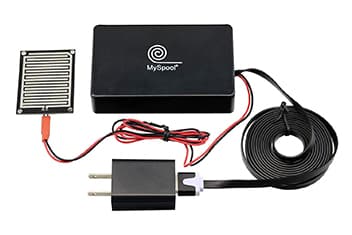 Connects to home WIFI to send email, text and push alerts
Reasonably priced with no subscription cost
Works anywhere in the house
The MySpool system might be one of the more basic alarm systems on the market but it can detect leaks and send mobile alerts just as well as pumps twice its size. The sensor pad and power connection can be installed up to 400 feet away from your WIFI unit. The water detector works by setting up the detection pad near the top of the pit. When the basin fills up the water will touch the pad and send an alert.
Sump Pump Alarm Buying Guide
Having trouble deciding which alarm is right for your basement? Here are a few factors that we always review before recommending an alarm.
Newer alarms can connect to your wireless network and send you alerts over the internet when a flood is detected. Not all models have WIFI functionality so make sure to double check that you will be able to connect!
This feature is great for homeowners that are often away from home or for landlords that need to get alerts right away when a property is flooding. By connecting to the internet the alarm is able to call your phone when it detects a problem or flooding.
Got a deep basement or an exterior cellar? Then you will need a super loud alarm if you want to catch a flood in time! Some audible alarms are much louder than others – with the loudest around 90 dB and others being a little louder than a phone call. Make sure you choose an alarm that is loud enough to hear anywhere in your home.
Most alarms are powered by a cord running to a wall socket but some also have battery backups. If you live in an area with heavy storms, lots of trees that fall on power lines or are installing the alarm in a vacation home we recommend picking a battery powered system with an alarm.
4. Multi Use Functionality
Some alarms we reviewed serve multiple purposes. Zoeller, Superior Pump and others make sump pumps with built in alarms and other functionality like mold detection.
Who Needs An Alarm System?
An alarm system might seem like an unnecessary expense to add to your pump but it can be the difference between stopping a basement flood before it happens and having thousands of dollars in water damage.We recommend everyone install at least an audible alarm in the basement. If you travel regularly or are a landlord renting a house it is a good idea to use an alarm the links to WIFI so you can be alerted right away on your phone.
Related Posts
FreezeAlarm Homesitter HS-700 Review