A portable sump pump is one of the quickest ways to remove standing water from your basement, backyard or crawl space. Many homeowners already have a permanent pump installed in their basement but don't realize how owning a portable pump can protect their home.
The portable pump you should use depends on the amount of water you need to pump, how durable it needs to be and the power source. Some pumps are better for "once a year" floods while others are built to be used and moved all the time! Some people use them for the draining standing water after heavy rainfall or to keep the top of a pool cover dry. Most people already own a pump in their basement, but they are not very mobile and have to are connected to the plumbing in the house.
We reviewed all of the top portable pumps to find the best of the best. In order to make our list we looked at all kinds of pumps that you can pick up with one hand! Some are built for heavy pumping while others are better for occasional jobs – no matter what you are looking for it is on our list!
Best Portable Sump Pumps – List of Top 5

Wayne VIP50
Trupow 1/10 HP
Superior Pump 92333
Superior Pump 91250
Zoeller M57
The 5 Best Portable Pumps
| Our Picks | Pump | Rating |
| --- | --- | --- |
| Top Pick | Wayne VIP50 | 4.4 |
| Runner Up | Trupow 1/10 HP | 4 |
| Pedestal Pump | Superior Pump 92333 | 4.3 |
| Budget Pick | Superior Pump 91250 | 4.5 |
| High Power | Zoeller M57 | 4 |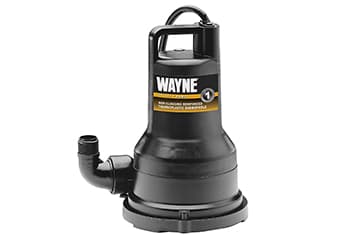 This portable pump by Wayne stood out thanks to its power and quick set up time
The Wayne VIP50  sump pump has a high flow rate (41 GPM) and is easy to pick up with one hand since it only weighs 6.8 pounds. The pump clears water down to 1/8 inch which makes it good for a variety of indoor and outdoor uses.
One of the main reasons we choose this pump as our top pick is the variety of adapters and user friendly features. The VIP50 can connect to almost any hose or drainage line via a variety of adapters and the inside can hand up to 1/2 solids so you can set and forget!
Pump Features
1/2 HP motor
Easy to move and install
Discharges to garden hoses or traditional lines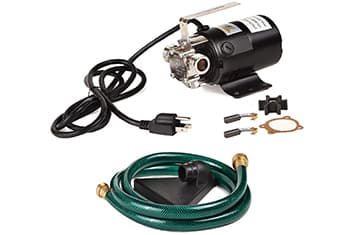 Not every job requires a super powerful pump. If you need an on the go pump for around the house work check out this Trupow pump
This Trupow 1/10 HP pump may have a low profile but don't let that fool you, it can pump up to 330 gallons of water per hour. The pump itself is super light weight – weighing only 5.2 pounds. Many people use this pump for small around the house jobs like draining a fish tank or clearing a pool cover.
Like many of its competitors, the Trupow picks up water down to 1/8″. The hose is only 6′ so larger jobs may be difficult or require moving the pump to drain all the water. This pump is a little on the loud side so it is not recommended for basement use.
Pump Features
1/10 HP motor
Drains water to 1/8″
Works in sump pits, aquariums and outside
Max flow rate of 330 gallons of water per hour
Weighs about 5 pounds
Pedestal Pump: Superior Pump 92333
Pedestal pumps like the Superior Pump 92333 are easy to move due to their small body but don't sacrifice pump power
The Superior Pump 92333 might not look like much due to its skinny neck but it packs a punch with a 1/3 HP pump in the head. The pump can move up to 3000 gallons of water per hour and the cast iron body means it is built to last. Don't worry about corrosion thanks to the corrosion resistant drive shaft and stainless steel insides. Measuring 7 x 31.5 x 9 inches and weighing in at 13.2 pounds you will have no problem moving and installing the pump around your home.
Pump Features
1/3 HP motor
Pumps max 3000 GPH at 20′ head
Stainless steel body
Fits 1 1/4″ NPT discharge lines
Powerful enough to handle 90 degree turns in drain pipes
Weighs about 13 pounds
Budget Pick: Superior Pump 91250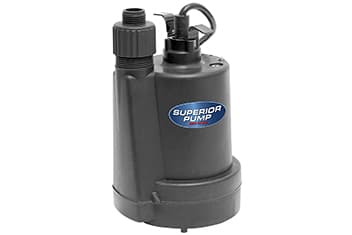 If you need a portable pump that does not break the bank but can still be moved and installed in minutes we recommend the Superior Pump 91250
The Superior Pump 91250 is powerful and durable thanks to the thermoplastic exterior and is affordable since it costs less than $50. The pump is designed to drain water down to 1/8 inches off the ground and has a filter to prevent clogs and damage from particles up to 1/8″.
The pump has a 1/4 HP motor which is good for small to medium around the house jobs. It can pump water at 30 gallons per minute up to 25 feet in the air which drains most backyard pools in a few hours. One of the biggest selling points of this pump is the thermally insulated thermoplastic body. This tough exterior means the pump is built to last for many years and will have no problem working outdoors. This model is also available in 1/3 HP, 1/5 HP and 1/2 HP motors.
Pump Features
1/4 HP motor
Thermoplastic exterior body
Fits 1 1/4″ NPT discharge lines with hose adapter
Screen filers large solids
Max 1800 GPH
Split capacitor for extra pump power
Double sealed interior protects the motor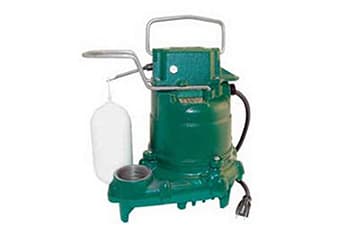 A super perful pump that can still be picked up with one hand and turned on in a few minutes
The Zoeller M57 is one of the biggest pumps that can moved around with ease. Many homes uses this or a similar model full time in their basement. The pump is made of cast iron and stainless steel and fits 1.5″ discharge lines. It does weigh 27 pounds so it might take 2 hands to move but is still a good option if you plan on leaving it in one place for a few weeks.
The pump itself has an anti clog vortex impeller and is designed to pass solids up to 1/2″ in size which makes it great for outdoor use. Another thing we liked about this pump is that it is tested in the factory so you know you won't get a lemon. 
Pump Features
3/10 HP pump
Attaches to 1 1/2″ NPT discharge
Cast iron and stainless steel construction
Tested in the factory before shipping
Weighs about 27 pounds
Who Needs a Portable Pump
There is an old saying, when you need a sump pump you will know. Most homes in the Midwest and Northeast that have basements or crawl spaces have sump pumps installed in a basin but these are not very portable.
Small pumps that can quickly be moved to the location of a flood and activated are handy to keep around the house for a variety of reasons like:
Clearing backyard floods
Emptying water beds
Draining pool covers
Preventing floods from heavy rains
If you live near a river, lake or stream that flood regularly we recommend having a pump with at least 1/2 HP that you can move to areas of heavy flooding after a storm.
Picking the right model can be confusing. There are many similar models from big name manufacturers. The most important features to consider before buying a new pump are the horsepower, max flow rate, body type and interior filters. Most people do not need a super powerful pump but if flooding is a problem you might want a motor with extra power.
Still unsure about which portable pump is right for you? In most circumstances Wayne VIP50 will be a good pick. It is affordable on most budgets and has enough power, and durability to keep your home dry.