[rank_math_breadcrumb]
A sump pump is an important part of your home drainage system but it can't turn on without a float switch. The float switch is one of the main components of a pump system and the motor won't be able to activate without one!
Almost every sump pump sold today comes with a built in float switch but they are easy to break so you may need to replace yours from time to time. If you are not sure which model to replace your broken float switch keep reading! Our team of experts found the best models for Zoeller, Liberty and other popular pump brands.
6 Top Rated Float Switches
Basement Watchdog BWC1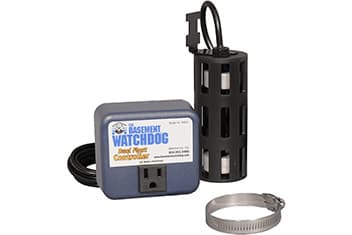 Features
Dual float design for extra protection
Float cage prevents damage

Works well with Wayne and Zoeller pumps
The Basement Watchdog BWC1 is a good choice for most pumps and basins. It can detect a 1/4″ change in water level and has a backup float just in case the first one sticks or jams. Unlike other float switches the BWC1 has a protective cage to prevent jams and damage from debris. It can be installed at any level to fit your home basin and is easy to attach to common pump brands.
Pros
Extends pump run time
12 amp system works in most basements
Good choice for broken float replacement
Cons
Some reports of pumps not shutting off
Superior Pump 92010 Tethered Float Switch
Features
10′ water proof power cord
Comes with mounting gear
Non mercury switch
Factory tested
The Superior Pump 92010 is a good choice for both sump and utility pumps because it works with almost all models. It does not use Mercury to activate the 120 volt motor. The float switch comes with a mounting bracket and clamp plus a water resistant 10 foot power cord. Like all other superior pump products this float switch is tested in the factory before shipping to your home.
Pros
Comes with everything you need to install in about 10 minutes
No Mercury for safe activation
Good choice for broken vertical switches
Cons
Can't be used to replace 'hard wired' float switches
Parts 2O FP18-15BD-P2
Features
Converts utility pumps to automatic pumps
Good replacement for broken switches
Best for sump pits 14″ and larger
The Parts 20 Replacement Float Switch is a good low cost replacement for a broken switch. It works as both a replacement and to convert utility ponds to automatic pumps that turn on as the water level rises. It is one of the lower cost of replacement foot switches on the market but it is still very easy to install. One of the downside is that it is not a vertically activated switch which means it is less dependable.
Pros
Can be installed in 10 minutes
Convert any pump to automatic
Best for basins 14″ and larger
Little Giant 599117
Features
Float switch and piggyback plug with mounting strap
Works with sump, wastewater, effluent and sewage pumps
Opening of .1″ x 4.5″ x 8″
The Little Giant 599177 is a piggyback float switch that replaces a broken switch. It works with a variety of types of water pump and the float switch is designed for direct acting in line control systems.
Pros
Works on pump up to 1/2 HP
Activates any kind of pump as water level rises
Good replacement float switch for Little Giant pumps
"WaterBoss" Piggyback Float Switch
Features
10′ connector cord
Connects directly to pump inside basin
Works with 1/2 HP pumps or smaller
The WaterBoss Float Switch is an effective low cost float switch replacement. It is made of polypropylene plastic, Mercury free and activated by a Honeywell Micro switch that is guaranteed for 100,000 operations.
Pros
Good for indoor and outdoor pumps
5 year warranty
Works with sump, septic and sewage pumps
Float Switch Buyers Guide
Not sure where to start when shopping for a new float switch? Our team of experts put together an in depth guide to help you pick the perfect model for you pump.
What is a Float Switch?
The float switch is the part of a pump that rises and falass with the water level and is responsible for activating and deactivating the motor.
It can be located externally or internally and is usually adjustable to get the perfect fit with your basin and water line. The float switch works like an arm hanging off the side of the unit with a buoy attached. They usually do not weigh very much and hang loosely from the arm so they can rise when the basin fills with water.
Who Needs a Float Switch?
Every sump pump needs a working float switch. Without this important part the motor will not know when to turn on as the water level rises in the pit. Even the most powerful pumps are not effective if they don't know when to turn on and off.
How to Pick a Replacement Float Switch
With so many floats on the market finding the right replacement is confusing. Cheaper models costs about $30 to $40 but lack the functionality and lifespan of more expensive models.
Another important consideration is sump basin size. Some floats need a certain size basin or larger in order to properly function. It is always a good idea to measure your basin size before you start shopping.
One factor that many homeowners do not consider until it is too late is the power cord length. For best results we recommend choosing a model with at least a 10′ cord so it can reach from the power outlet to your basin. Some people will try to use extension cords but that can short out or even cause a fire.