[rank_math_breadcrumb]
Shopping for a sump pump with seasonal storms on the way can be stressful and confusing. Picking the right model is key to prevent flooding and water damage. That is why we recommend the Wayne CDU980E to homeowners looking for a dependable pump that cost less than $150.
In this article we reviewed the CDU980E to see if it is a good pick for your sump pit. For more information, pros and cons plus installation tips and tricks keep reading!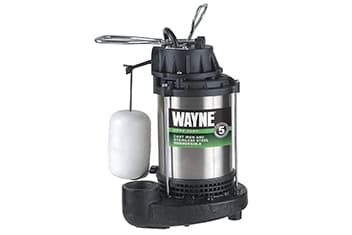 During heavy rain and flooding a automatic water pump can be the difference between a flooded basement and no water damage. This pump works well in most basements and has a long working life with a powerful pump.
Pros
Top of the line 3/4 HP motor capable of 4600 gallons per hour
Durable cast iron and stainless steel body and motor housing
Vertically activated float switch
Cons
Needs an extension cord in most homes
Pump Specifications
This is a high GPM pump that has an internal 3/4 HP motor. Let's take a look at some additional specifications. Remember this is one of WAYNE's most powerful pumps on the market and this model has the specs to back it up!
3/4 HP motor
Vertical float switch
Stainless steel exterior
High flow rate – 4600 GPH at 0′ head height
Fits 1.5″ discharge lines
5 Year warranty
Requires at least a 11″ or large basin
Easy for non experts to install
Impeller protects motor from internal damage
Key Features
The CDU980E has a powerful 3/4 HP motor that separates it from weaker alternatives and makes it a a top choice for homes with a high head height. Another feature that can't be overlooked is the internal impeller that protects the motor from damage. This is important in a high flow rate pump because even small debris moving at a high rate of speed can damage the internal motor.
Pump Design
One of the main benefits of this pump is the durable design. The integrated float switch plus the top suction design to minimize air lock and auto activates as the water level rises. Small pebbles and other debris often damage the inside of sump pumps, the CDU980E minimizes this thanks to the cast and stainless steel body and top suction build.
How to Install and Maintain
Setting up, installing and maintaining the CDU980E is easy, even for new home owners. Since the stainless steel sump pump is activated by a vertical float installing the pump is easy. All you have to do is remove the pump from the box and place it at the center of your sump basin. The pump drains via a 1/5″ NPT discharge lines after that attach the power cord to an extension cord and turn it on.
We recommend testing the pump once it is installed by filling the pit using a bucket to simulate flooding. This is also a good time to set up and test any back up pumps and alarms that you might also be using.
Pump Maintenance
In order to keep your pump in best working condition and not slow down the flow rate or overwork the unit you will need to perform some basic maintenance every few months. Start by testing by filling the basin so the float switch rises and make sure the drain lines have not become clogged.
Keep an eye out for an overheating and any rust build up. If the pit starts to smell it is a good idea to clean and sanitize both the housing plus the inside of the basin with alcohol or bleach. Submersible sump pumps don't need a lot of cleaning but do need maintenance about 4 times per year. Clogging drain lines can cause an over worked pump and early burnout.
Customer Reviews
Customer reviews for the Wayne CDU980e 3/4 HP sump pumpare mostly positive but there are reports of a few lemons. Luckily this pump has a 5 year warranty in case anything fails with the motor or float switch. The pump is one of the highest rated 3/4 HP pumps on Amazon and there are reported manufacturers recall.
Our Final Say
We think that this is one of the best stainless steel sump pumps on the market. It has more than enough power to handle high water flow and the submersible cast iron is built to last. Not many other pumps are factory tested for 1 million cycles before it leaves the factory. We think that this model is a good choice if you are shopping for a long term pump that has a high flow rate per hour.
Related Posts
Wayne CDU790 vs CDU800 vs CDU980E
Wayne WaterBUG Review