[rank_math_breadcrumb]
A basement flood is something that no homeowner wants to deal with – fortunately, you can protect your home from water damage with a high-quality sump pump like the Wayne WaterBUG.
Water can build up in basements, crawl spaces, window wells and it is important to drain the water as soon as possible to prevent water damage and mold growth. Not every home needs a high powered water pump – in fact using too big of a motor can actually cause pumps to burn out quickly.
The Wayne WaterBUG is a good mixture of power and dependability for basements and under mobile homes that need a sump pump that can pump about 1257 gallons of water per hour.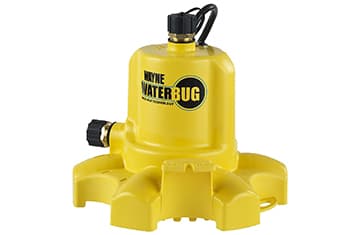 Features
Side discharge for easy removal
30′ max head height
Removes water down to 1/16″
The WaterBUG is a good choice if you are looking for a medium power pump that can be used in a basement or as needed in the yard or backyard pond. It is very easy to use and surprisingly powerful for the small size. The motor can remove water all the way down to 1/16″ so it will remove almost all the water from your pit.
This model is also a popular choice with homeowners looking for a pump they can use outside the home. The Waterbug can be used to drain pools, ponds and backyards that have flooded as well as be used as a sump pump.
Pros
Best sump pump under $100
Remove water lower than other pumps
High max flow rate for small pump
Good choice for basements, crawl spaces and flooded back yards
Cons
Not as powerful as other models
How to Install
Plug into wall
Plug the power cord directly into a wall socket – try to avoid extension cords and power strips
Attach discharge line
Attach the discharge line to the water pump. Make sure the seal is tight or water will leak back into the basin.
Attach battery back up and alarm
The WaterBUG does not have a built in alarm so you will need to attach a separate alarm and backup pump.
Test the system
Always test your sump pump system when installing a new pump or doing quarterly maintenance to make sure everything is working correctly. You can simulate a flood with a large bucket of water or a garden hose in the sump pit.
Warranty Information
This model is backed by a 3 year manufacturers warranty. Wayne pumps are typically very reliable and last for a long time but occasionally a lemon will slip past the assembly line. It is also important to remember the warranty does not cover accidents, abuse or damage caused by a lack of maintenance.
What's Included With The WaterBUG
The Wayne WaterBUG comes with a yellow sump pump and power cord. It does not come with a drain line, alarm or battery backup so you will need to buy those separately.
Customer Reviews and Ratings
This model has very good reviews and ratings across the web. There are reports of occasional problems due to improper use – we recommend making sure the model has a high enough flow rate or else you might need a pump with a bigger motor.
Frequently Asked Questions
What kind of oil does the WaterBUG use?
What should I do if my WaterBUG stops working?
If you pump stop working first check the power connection then make sure nothing has clogged the drain lines.
Our Final Say
If you are in the market for a new sump pump that costs about $100 the WaterBUG is a good choice. It has a good flow rate and a powerful motor that will run for many years without needing replacement. The only downside is that it might not be powerful enough for homes that need a high gallon per hour pump that can move water at a high head height.
Related Posts
Wayne vs Zoeller Sump Pumps
Wayne CDU800 Review