If your home is subject to flooding or sewage backup, you already know what an ordeal protecting your abode from waters or icky sludge can be. And while sump pumps that can also double as utility pumps can be pretty handy at times, you may feel a little extra secure if the pump you have was a heavy duty kind that specialized in helping you deal with flood.
The hefty, sturdy Zoeller M98 Single Phase Submersible Sump Pump could potentially be what you're looking for in this situation.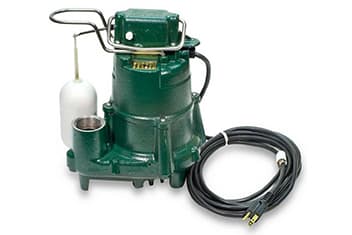 Top of the line stainless steep and cast iron sump pump for high water areas
Features
Automatic submersible pump with high GPH
Made of rust resistant cast iron body and epoxy finish to house motor
Good choice for 15 feet head height
Activated by vertical float switch
Good warranty
The Zoeller M98 is built for one purpose: to drain out sump pits and sewage tanks. Weighing in at a whopping 39 pounds, this beast is on that you can say puts the "heavy" in heavy duty.
Don't let the bulky frame fool you, though: this is a machine that runs on a somewhat surprising level of elegance. Zoeller pumps are well know for their life span and ability to run for long periods during heavy storms.
It's essentially forged from cast iron – the switch case, base, pump housing, and motor are all made for the substance.
Other key elements concerning the pump, like the screws, handle, arm, and guard, are all made from stainless steel. This enables the machine to be protected from corrosion or rust, which ultimately adds longevity to the product.
While there is sleekness to the pump's make up, make no mistake, you can be assured that this is one tough piece of equipment.
It can take a beating without missing a beat, regardless of what conditions you need to subject it to. Its reputation for durability tends to make these machines popular amongst professionals that are brought on to conduct procedures like basement waterproofing.
The Zoeller M98 sump pump toughness is matched, if not outright surpassed, by its immense power. The device has the capacity to pump 72 gallons per minute with a 5-foot head.
This translates to a whopping 4320 gallons per hour, which is more than double some of the lower-end models on the market. At that speed, groundwater and heavy rains won't stand much of a chance to infiltrate your basement.
Despite its heft and power, the Zoeller Sump Pump has managed to build an excellent reputation for running quietly. This may not seem like a big deal at first if you haven't been around too many sump pumps. However, as anyone that has can tell you, it's a pretty nice feature to enjoy.
The price tag on the M98 is definitely on the higher-end of things. If you're on a tight home maintenance budget, this may not be the best machine for you to consider. However, the term "you get what you pay for" certainly applies in this situation.
When you buy this sump pump, you're buying a machine that is built for extreme durability, power, speed, and supreme weather defense. If you live in a home subject to flooding and you can swing the cost, you may find it to be worth every penny, especially if the water you are pumping contains lots of solids.
The primary issue people tend to have with this Zoeller Sump Pump is its float switch. Even though the rest of the submersible device is built to be solid as a boulder, the switch tends to be a bit flimsy and may be subject to replacement sooner than you may expect.
This issue seems to be an issue with Zoeller models across the board; if you're familiar with the brand, you may have encountered this issue on another product.
Also, you may want to keep in mind that this is not a lightweight machine. If you're a DIYer that tends to work solo, the machine's bulkiness and heft may potentially make putting the pump precisely where you want it to somewhat challenging. Of course, this issue could be remedied if you don't mind asking for a helping hand
If you're intimidated by what a heavy rainstorm could do to your basement, and if you have sufficient room in your budget, the Zoeller M98 Sump Pump may be fit your needs.
This is a no-nonsense machine that will hunker down and suck up potentially damaging flood waters quickly and efficiently. It's a high performance machine specifically built to keep your home safe from water issues, and it excels at doing precisely that.