The innovative world of sump pump for pool draining, where efficiency meets innovation, will transform your pool maintenance routine. These fantastic tools are made to handle the difficult task of draining pools skillfully and accurately. Best sump pump for a pool quickly and effectively drain enormous amounts of water thanks to their powerful suction capabilities and cutting-edge features.
Picking a pool sump pump for your home can be tricky with so many similar models on the market with good reviews – how can you choose the right pump? Draining your pool is never fun, but the right pump can make a difference.
The team at Sump Pump Problems researched and tested to find the best pump for any size or style of home. We reviewed each pool drainage pump for portability, flow rate, and overall usability.
Keep reading to learn about the cheapest, most potent, best cover pump and even our pick for above-ground pools so you get the perfect pump! Still not sure which model to pick – check our buyers guide for info on pool pumps from the most popular manufacturers.
In This Article
5 Best Pool Draining Sump Pumps
| Our Picks | Pump | Ratings |
| --- | --- | --- |
| Top Pick | WAYNE WAPC250 Cover Pump | 4287 |
| Runner Up | Little Giant APCP-1700​ | 4441 |
| Best for Small Pools | Superior Pump 92250 | 1791 |
| Best for Big Pools | SereneLife Submersible Sump Pump | 305 |
| Budget Pick | WAYNE WWB WaterBUG Submersible Pump | 3284 |
Top Pick: WAYNE WAPC250 Cover Pump
A dependable sump pump for pool draining that will keep your cover clear of sitting water
Our pick for the best submersible pool pump is the Wayne WAPC250. This pump auto activates when it detects a little over 2″ of water and uses iSwitch technology to sense water.
Sitting water on your pool cover can break the plastic and attracts bugs. The Wayne WAPC250 is the perfect solution to keep your cover dry without spending time every weekend trying to get your discount pump working since you don't have to worry about particle blockage or oil changes!
The Wayne WAPC250 makes installation simple. It has a 3/4″ garden hose adapter and a check valve that prevents repeated cycling and makes it simple to attach to a garden hose. The 25-foot power cord provides flexibility in putting the pump on the pool cover and the included " pull-to-shore " rope.
The Wayne WAPC250 is well-made and deserves praise. It offers the dependability and durability that customers can rely on and is proudly assembled in the USA. Users can feel secure knowing that Wayne stands behind the device's effectiveness with a 3-year warranty.
Pros
State-of-the-art iSwitch water sensor
No need for oil
Built-in pump filter
Turns on at 2 1/8 in. of water
Cons
Does not drain the entire pool
Works best with a Weep hole
Runner Up: Little Giant APCP-1700​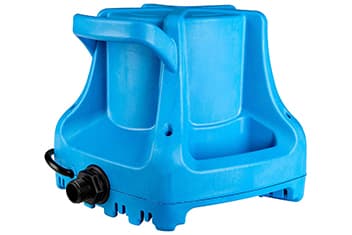 Robust pool drain pump that can handle high pressure, a 23-foot head height.
Another water pump to drain the pool with a little more power is the Little Giant APCP-1700. This Glass-filled polypropylene pump has an intake screen and a 23-foot head height!
Don't let the name fool you – the Little Giant cover pump has a 1/3 HP pump and can pump 1700 GPH. The 25′ power cord is long enough to reach the outlet on the side of your house – not to mention it drains via a standard garden hose. Are you worried about the elements? Don't be! The polypropylene body is built to withstand the elements.
When the water level hits 2.5 inches, the pump automatically turns on and shuts off when it reaches 1 inch. This guarantees that extra water on the pool cover is quickly removed, preventing damage from water that pools and extending the cover's life.
The APCP-1700 performs remarkably, with a maximum flow rate of 1 cubic foot per second and a maximum lifting height of 25 feet. It efficiently drains water from rooftops, boats, and swimming pool covers, adding an extra defense against precipitation buildup.
The APCP-1700 provides hassle-free maintenance. Cleaning is simple because no tools or screws are needed to access the pump float and airlock. By preventing clogging, the built-in screen ensures continued and effective performance.
Pros
Powerful 1/3 HP pump
Actives at 2″ of water
Side discharge via garden hose
Built-in float switch
Cons
Watch out for airlocks
Can require priming
Best for Small Pools: Superior Pump 92250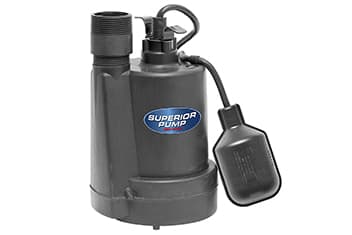 Keep your small backyard pool cover clear of standing water with the right size pump.
The Superior Pump 92250 is incredibly effective in draining water from the sump basin because its 1/4 HP motor can move up to 1,800 gallons of water per hour. It can lift water to 25 feet in the air, ensuring efficient drainage in various circumstances.
The pool drain pump is impressively made of thermoplastic. Because it resists corrosion, it will be dependable and durable for a long time. The tethered float switch automatically switches the pump on and off based on the water level in the sump basin, enabling hassle-free operation. The 10-foot rope length offers installation flexibility.
The 1-1/4 inch or 1-1/2 inch NPT discharge, which enables high-capacity pumping, makes installation simple. The suction screen filters away ample material, minimizing the chance of clogging and extending the pump's lifespan. The pump is intended to handle solids up to 1/8 inch in diameter.
Pros
Clears 800 gallons of water per hour
Lightweight Thermoplastic design for cold and hot weather
Automatic On and Off with tethered float switch
Cons
Watch out for airlocks
Can require priming
Best for Big Pools:

SereneLife Submersible Sump Pump
Drain your hot tub or pool at up to 1981 gallons of water per hour.
You need to drain a deep pool ASAP – then you need the submersible pool pump, the SereneLife Submersible Sump Pump. It works at depths of 8 meters and can pump up to 1,981 gallons of water per hour.
Draining all the water from your pool is never fun – or fast but this SereneLife pump can get the job done in as little as a few hours.
It is highly robust and corrosion-resistant thanks to the heavy-duty designed ABS and metal materials. Knowing that this pump is made to withstand years of continuous use gives me great peace of mind.
It's also important to note the SereneLife Submersible Sump Pump's adaptability. It works with NPT1-1/4″ and NPT5/8 screw threads and flat PVC hoses in the 0.98″ and 1.26″ sizes. This adaptability makes connecting to many water transfer applications in the home and garden simple.
Its operation is made more practical and secure by including an auto float switch. The float switch automatically starts and stops the pump, negating the need for ongoing supervision.
Pros
Powerful Performance
Durable Construction
Energy-Efficient and Low Noise
Cons
Power Cord Length: The 16-foot power cord may be short
Budget Pick: WAYNE WWB WaterBUG Submersible Pump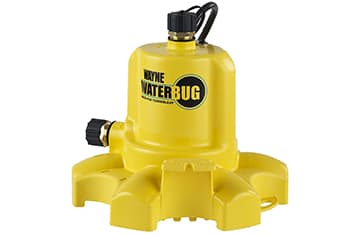 Our top pick for small spaces with lower water lines that are prone to flooding.
Some people need a pump that can work in a pool, crawl space, pump pit, or anything else that is flooding – we recommend the Wayne WaterBUG!
The WaterBUG's outstanding pumping capability is one of its distinguishing qualities. It effectively removes water down to 1/16 inch with a flow rate of up to 1350 gallons per hour, leaving your basement or yard nearly dry. With this performance level, you will save time and effort, which guarantees swift and efficient water disposal.
For various applications, the pump offers two discharge choices. The top discharge is suitable for removing water from small or confined areas, such as window wells or buckets. On the other hand, the side discharge is ideal for quick water evacuation from open, flat surfaces like flat roofs, flooded basements, or standing water in the yard.
The WaterBUG has corrosion-resistant plastic discharge ports, ensuring durability and long-term function. Any typical garden hose can be connected to the outlets using the tethered cap seals, which offer a simple and reliable connection. The multi-ring suction strainer efficiently filters particles to avoid clogging and maintain smooth operation.
Pros
Work anywhere in your home
Removes nearly all water
Pumps 900+ GPH
Cons
Can overheat and stop working
Who Needs Sump Pump for Pool?
A pool cover pump is vital to prevent your cover from tearing and having other problems from standing water. The longer water sits on top of your body, the longer it has to breed mosquitoes and rip holes in the cover. Even a tiny pump has more than enough power because the head height is shallow, and there is little water to drain.
Buyers Guide
Need some extra help deciding which pump to buy? Don't worry. Our team put together a 3-step guide to help to find a suitable model.
Two Types of Pumps
Before buying a pool sump pump, you must decide which kind you need. There are two primary kinds of pool drain pumps. The first sits on top of your pool cover and drains any rain or groundwater that collects on top. The second style of pump is a more traditional pump that you place at the bottom of your pool and use to drain. Some models can clear water from covers and drain the pool if they have a low enough water line.
Cover Pump Information
If you use a pool cover of any size, we recommend using a cover pump to drain the water. Letting even a few inches of moisture build-up can cause permanent damage to the cover and attract pests like mosquitos.
Cover pumps sit on the cover, usually near the middle. When the water level reaches a certain level, the pump activates and drains the water into your yard or sewer via a hose. They are usually made of plastic to save weight and not tear pool covers.
Drainage Sump Information
Sometimes you need to drain your pool fast – that is when you need a drainage sump pump. This type of pump drops to the bottom of the pool and pumps water out via a hose.
They are much more potent than cover pumps since they pump much higher water and are generally made of solid metal instead of thermoplastic. This design allows for a much high horsepower pump that can push more gallons of water per hour and withstand underwater pressure.
Related Posts
Pool Pump Making Loud Humming Noise – How To Fix
How long does a sump pump last?