Picking a pool sump pump for your home can be hard with so many similar models on the market with good reviews – how can you pick the right pump? Draining your pool is never a fun process but the right pump can make a world of difference.
The team at Sump Pump Problems did the research and testing to find the best pump for any size or style of home. We reviewed each pool drainage pump for portability, flow rate and overall usability.
Keep reading to learn about the cheapest, most powerful, best cover pump and even our pick for above ground pools so you get the perfect pump! Still not sure which model to pick – check our buyers guide for info on pool pumps from the most popular manufacturers.
Best Pool Pumps – List of Top 5
WAYNE WAPC250 Cover Pump
Little Giant APCP-1700​
Superior Pump 92250
EZ Travel Collection Submersible Pool Pump
WAYNE WWB WaterBUG Submersible Pump
| Our Picks | Pump | Rating |
| --- | --- | --- |
| Top Pick | WAYNE WAPC250 Cover Pump | 2760 |
| Runner Up | Little Giant APCP-1700​ | 2160 |
| Best for Small Pools | Superior Pump 92250 | 1800 |
| Best for Big Pools | EZ Travel Collection Submersible Pool Pump | 1500 |
| Budget Pick | WAYNE WWB WaterBUG Submersible Pump | 720 |
Top Pick: WAYNE WAPC250 Cover Pump
A dependable pump that will keep your cover clear of sitting water
Our pick for the best pool cover pump is the
Wayne WAPC250
. This pump auto activates when it detects a little over 2″ of water and uses iSwitch technology to sense water.Sitting water on your pool cover can break the plastic and attracts bugs. The Wayne WAPC250 is the perfect solution to keep your cover dry without having to spend time every weekend trying to get your discount pump working since you don't have to worry about particle blockage or oil changes!
Pump Features
1/4 horsepower motor
Auto activated pump at 2 1/8″ of water
Oil free design
Strainer filters water to prevent clogging
Runner Up: Little Giant APCP-1700​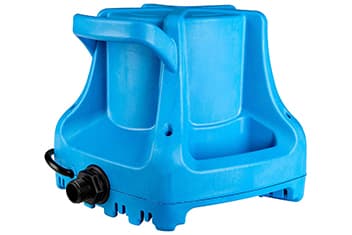 A powerful pool pump that can handle high pressure a 23 foot head height
Another cover pump with a little more power is the Little Giant APCP-1700. This Glass-filled polypropylene pump has an intake screen and 23 foot head height!
Don't let the name fool you – the Little Giant cover pump has a 1/3 HP pump and can pump 1700 GPH. The 25′ power cord is long enough to reach the outlet on the side of your house – not to mention it drains via a standard garden hose. Worried about the elements? Don't be! The polypropylene body is built to withstand the elements.
Best for Small Pools: Superior Pump 92250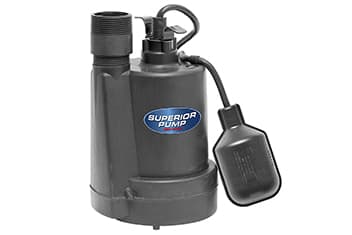 Keep your small backyard pool cover clear of standing water with just the right size pump
The Superior Pump 92250 is a good choice for small pools, hot tubs and above ground pools. It is not as powerful as some other pumps on the market but it gets the job done every time without problem!
Best for Big Pools: EZ Travel Collection Submersible Pool Pump
Drain your hot tub or pool at up to 3,700 gallons of water per hour
Got a deep pool that you need to drain asap – then you need the EZ Travel Sump Pump. It works at depths of the 16′ and can pump up to 1,580 gallons of water per hour.
Draining all the water from your pool is never fun – or fast but this EZ Travel pump can get the job done in as little as a few hours. There are 2 different power options – 1,580 GPH and 3,700 GPH. We recommend choosing based on the size of the pool and how fast you need it drained!
Budget Pick: WAYNE WWB WaterBUG Submersible Pump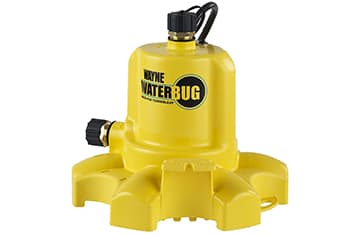 Our top pick for small spaces with lower water lines that are prone to flooding
Some people need a pump that can work in a pool, crawl space, pump pit or anywhere else that is flooding – for them we recommend the Wayne WaterBUG!
Don't let the low profile of this pump fool you – it can pump 900 GPH up to 10 feet! The WaterBUGs small size may take you by surprise but the low profile allows it to remove water all the way down to 1/16 of an inch! Unlike many other pumps this multi-flo pump can be used to drain a pool, clear your cover or just about anywhere else in your home!
Who Needs A Pool Sump Pump?
A pool cover pump is key if you want to prevent your cover from tearing and having other problems from standing water. The longer water sits on top of your cover the longer it has to breed mosquito's and rip holes in the cover. Even a small pump has more than enough power because the head height is very low and there is not much water to drain.
Need some extra help deciding which pump to buy? Don't worry our team put together a 3 step guide to help to find the right model.
Before you buy a pool sump pump you will need to decide which kind you need. There are two primary kinds of pool pump. The first sits on top of your pool cover and drains any rain or ground water that collects on top. The second style of pump is a more traditional pump that you place at the bottom of your pool and use to drain. Some models can clear water from covers and drain the pool if they have a low enough water line.
If you use a pool cover of any size we recommend using a cover pump to drain the water. Letting even a few inches of water build up can cause permanent damage to the cover and attract pests like mosquitos.
Cover pumps sit onto of the cover, usually near the middle. When the water level gets to a certain level the pump activates and drains the water into your yard or sewer via a hose. They are usually made of plastic to save on weight and not tear pool covers.
Drainage Sump Information
Sometimes you need to drain your pool fast – that is when you need a drainage sump pump. This type of pump drops to the bottom of the pool and pumps water out via a hose.
They are much more powerful than cover pumps since they have to pump water much higher and are normally made of solid metal instead of thermoplastic. This design allows for a much high horsepower pump that can push more gallons of water per hour and withstand underwater pressure.