When you have a sump pit to worry about, you shouldn't have to also worry about whether or not your sump pump is going to stop working – that is why our team recommends the Zoeller M57! The best way to cut this stress out of your system is to make sure you're purchasing a pump that has the reputation for being sturdy and reliable; ready to go at a moment's notice.
The Kentucky-based Zoeller company has a strong reputation for producing sump pumps like the 
Zoeller M57 High Capacity Sump Pump
 that you can count on to keep your basement dry!This Zoeller pump uses a float activated switch to turn on only when needed. The airtight (and cast iron) body ensures a long lifespan – even if the pump needs to run for multiple hours per day.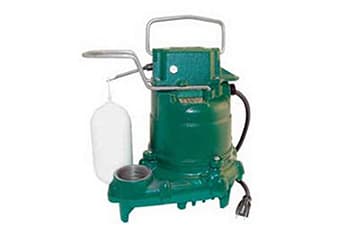 Able to keep your pit dry during big storms – even if it has to run for many hours
Powerful 1/3 HP Pump
Drains pits in seconds and can run for hours
Solid iron and stainless steel construction with epoxy finish
Designed for low to medium flood basements
Like the other sump pumps in the Zoeller lineup, the M57 is built with toughness and durability in mind. Its case iron design is formulated to protect itself from overheating, so it can run for extended periods of time without showing signs of wear and tear. This may be crucial to note if you have a house that's partially below the groundwater line or subject to flooding.
| Specs | |
| --- | --- |
| Build Material | Cast iron and epoxy finish |
| Motor | 1/3 HP |
| Voltage | 115 or 230 V |
| Power Source | 9' cord |
| Discharge Size | 1-1/2" NPT |
| Max Head Height | 19.25' (5.9 m) |
| Max Flow Rate | 43 GPM (163 LPM) |
| Max Operating Temperature | 130 °F (54 °C) |
| Weight | 27 lbs |
| Warranty | 1 year |
| Price | Click Here for Pricing |
Like the other sump pumps in the Zoeller lineup, the M57 is built with toughness and durability in mind. Its case iron design is formulated to protect itself from overheating, so it can run for extended periods of time without showing signs of wear and tear. This is important if you have a house that's partially below the groundwater line or subject to flooding.
Our review found the pump is also burly, as it weighs in at around 27 pounds. This heft gives it plenty of additional stability that you may need if you have some jobs that skew toward the "heavy flow rate" side of things. Indeed, this is no gentle giant.
The Zoeller M57 is float operated and has the capacity to pump out a solid 2580 gallons per hour at 5', 2040 gallons per hour at 10', and 1140 gallons per hour at 15'. What this means is, it can pump out water very efficiently, all while leaving you with the peace of mind that can come with knowing that the machine is not going to abruptly shut down due to an unexpected malfunction or catch on fire!
The pump uses 1 1/2″ discharge lines and can even pass 1/2″ solids which makes it a great choice for pits with lots of debris.
Because this pump uses a float switch, it will perform automatically once the water hits a certain level. This means you won't have to hover over the beast when it does its job. Because it has a reputation for being sturdy and not subject to break, you may be more inclined to allow it to work autonomously.
Installing the M57 is easy – but you can always call a local plumber or basement waterproofing company if you need extra help.
If you are the DIY type and want to install the pump yourself follow these 5 steps.
Step by Step Installation Guide
Measure and install a basin and pump pit
Attach drainage lines, electrical connections and a cover
Install the pump at the bottom of the pit
Attach battery backup and alarm
Test the pump system with a few buckets of water
Price and Maintenance Costs
The M57 is on the lower end of the price scale in comparison to other Zoeller pumps – it can usually costs under $200. This roughly translates into the pump being in the middle of the price pack when you consider other similar Zoeller pumps and comparable brands. It is important to remember that solid cast iron pumps cost more – but they also last considerably longer than plastic alternatives.
Considering that some home owners on a budget may not have the budget to plunk down cash on a higher-end Zoeller unit, this particular pump may be the perfect choice to keep water out!
While it may not contain some of the features (or pump power) as those high-end models, it contains the basic elements of reliability, strength, and durability that are hallmark of a Zoeller pump.
This pump has a 3 year manufacturers warranty. It covers common problems like the pump not starting, not stopping, over heating or leaking.
| Problem | Causes |
| --- | --- |
| Pump is not Starting | Check fuse, wiring and electrical connections. Also check float for damage and adjustments. |
| Overheating Motor | Check incorrect voltage, negative head height and shorted out motor. |
| Tripping GFCI Converter | Check fuse, voltage, power connection and breaker problems. |
| Pump Starts and Stops | Check float switch tether, check valve opening and pit size. |
| Pump Will Not Shut Off | Check for debris and clogs in the float as well as float damage. |
| Pumping Little Water | Check for clogs, discharge pipe problems and motor problems like air in the chamber. Also check the pump gets enough power! |
| Little Capacity | Check for pipe clogs or check valve problems Try to increase pipe friction impeller problems. |
| Leaking Pump | Check pipe joints, motor body and screws. |
Troubleshooting Information
The one drawback to the Zoeller M57 seems to be the durability of the float switch. While the pump as a whole lives up to its reputation for being nearly indestructible, the switch does tend to need replacement much sooner than the actual machine itself. However, there are work arounds to help remedy this issue if it develops prematurely on your unit.
Some people also note that the machine has a tendency to suck up a lot of small debris, and this gunk tends to clog up the unit. Yet DIY-minded people may not find this to be that big of a deal. Removal of the easy-to-remove bottom to periodically clean out the developed debris will keep the machine humming.
This pump operates via a float switch. If you're unfamiliar with these kinds of pumps, this may not mean a whole lot to you at first. Yet it's something that you've always had in your home – you just may call it by its technical name.
A float switch is commonly seen in toilet tanks. They're the bulbous item that regulates the amount of water that re-fills in a tank after a flush. It does this by falling to its nadir after a flush and all of the water empties. It then slowly rises as water comes back into the tank. When it reaches a certain level, the float stops, causing the water to stop refilling.
The basic principles of a float switch on a sump pump are similar, except it serves a different purpose. When a submersible pump is immersed in water, the float is raised, which in turn causes the pump to turn on and start pumping out water. Once the water level reaches a certain level, the float stops floating, thus turning off the sump pump.
Using this type of switch to combat shallower sumps may require a little extra ingenuity, such as the creation of a well or a hole. However, it can be a mechanism that could save you money on your energy bill, and it could also allow the pump to run manually without you having to watch over its performance.
Zoeller Company Information
Zoeller might make great pumps – but what is their customer service and reputation like across the web for the M57? We did some searching and found reviews on Consumer Reports, the BBB and other online review portals.
Consumer Reports – No information
BBB – Mostly good, only 2 complaints
Amazon – Good reviews for all products
Zoeller has a reputation for being the machine that industry professionals use. The Zoeller M57 Sump Pump makes it pretty easy to see why this is the case.
There's nothing fancy about this particular unit – it simply executes its promise of pumping out water from sumps as a means to protect your property. But it does this promise thoroughly and efficiently, with a great level of power. And float switch issues aside, this is a model that lives up to its reputation for working hard without breaking a sweat – or its outer casing or inner workings.
Top Reasons to Buy
Cost effective way to keep basement dry
Won't need replacing for multiple years
Powerful enough to clear most basements
When you combine these metrics with the respectable price point, you may find this pump to be the ideal fit for your basement and your budget. It's a no-nonsense machine that gets the job done. When you strip away all of the extraneous stuff, you really can't ask a machine to do much more than that.
Other Popular Zoeller Pumps