[rank_math_breadcrumb]
A french drain system is a popular way to add additional drainage. However there are a few alternatives to french drains that you should consider before installing any. In some cases there are better drainage options for your yard!
This article will teach you everything you need to know about the most effective french drains alternatives. So you have the best drainage system on your property.
In this guide we will teach you about the 6 best alternatives for a french drain: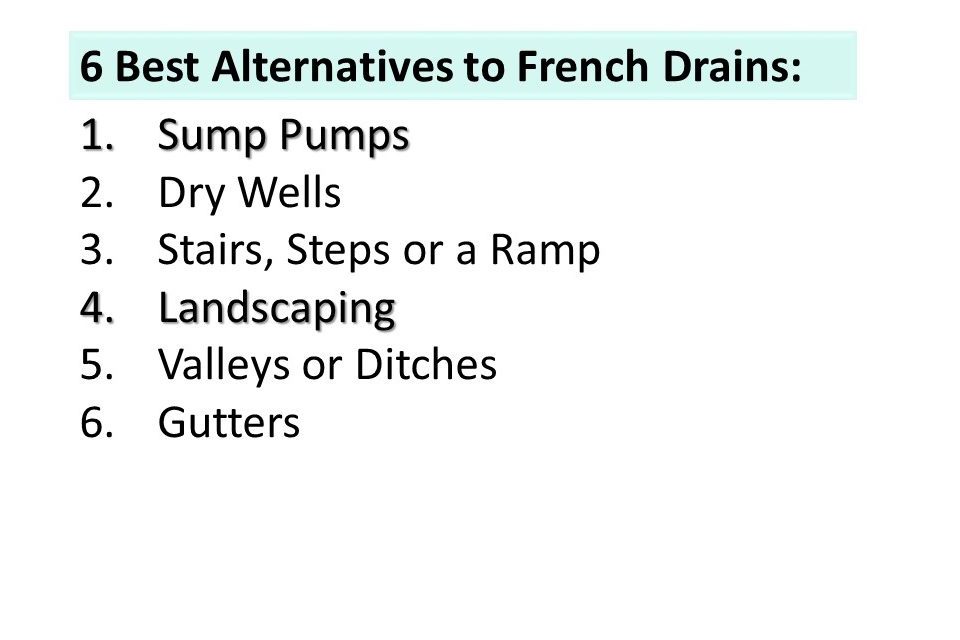 6 Alternatives to French Drains
Sump Pumps
A sump pump is one the the most popular and most effective alternatives to a french drain. This alternative adds lots of drainage but comes with a few downsides. A sump system requires electricity to function and can be expensive to install and maintain. However, if you live in a high flood area you will need a sump pump to drain excess water from your basement.
Dry Wells
A dry well can add drainage without the need for an electrical or sewage line connection. A dry well is lined with gravel and landscape fabric. It works by draining water into the surrounding soil and water table.
Stairs, Steps or a Ramp
For properties that contain a large elevation change or have a hill adding stairs, steps or a ramp can add drainage in the right area. Since stairs are usually paves they offer a built in drainage system that can route water to the right are without having to install a french drain system.
Concrete stairs are not possible to install on every property. First, you need an area with a large slope and additional land for the bottom of the stairs – after all you can't build a stairway to nowhere. One of our favorite things to do is
Landscaping
Adding a garden or other natural landscaping can add drainage to your home without the need for additional drain pipes or perforated pipes – plus it looks great and can add style to your home.
Try to add plants that absorb water well like vines or flower beds. Using a layer of mulch is another way to add extra drainage without installing a french drain.
Valleys or Ditches
A valley, trench drain, channel drain, or dry creek bed is another way to add a natural drain system to your property. Make sure the valley slopes downwards to route the water to the correct area.
The ditch or dry creek bed can be as large or as small as needed to contain the flow of water. Smaller ditches may need to be lined with gravel, a gutter or perforated pipe in order to maintain stability while a larger drainage solution
Gutters
Attaching gutters to the roof of your home is one of the most effective ways to add extra drainage and basement waterproofing. Gutters and a downspout can be installed on the side of almost any building and can help route water towards a surface drain instead of a high flood area.
Copper gutters and other drain pipes can also be installed in the ground to prevent standing water and extra surface drainage.
3 Reasons Not To Install A French Drain
French drains are an effective way of draining water – but there are a few reasons you may not want to install one in your backyard.
They are not as powerful as a sump pump
The require digging and laying a drain line
They are not effective if the water needs to be drained up hill
Related Posts
What is the best french drain fabric
Top french drain alternatives
Can I build a vertical french drain?
How to build a french drain around a pool