[rank_math_breadcrumb]
French Drainage Fabric is a key part of a french drain system. If you are not a contractor and are installing your first french drain it can be hard to know where to start when it comes to french drainage fabric. It is important to pick the right fabric because if you make the wrong choice you will have to redo the drain pipe!
In this article we will teach you everything you need to know about buying, installing and maintaining drain field fabric.
What Is The Best Fabric To Use For A French Drain?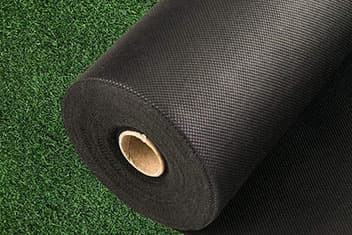 The best fabric to use for your french drain is the FLARMOR Premium Landscape Fabric. This geotextile fabric is our top choice because it does not break down quickly, allows for surface water to pass through, and is easy to install in any drainage system.
It is a good pick for any french drain installation and affordable on any budget. Plus, it is easy to cut and install in the drainage ditch.
Key Facts
Durable enough to withstand the wear and tear of a trench drain filled with crushed stone.
Affordable on any budget
Widely available by the foot so you get the right amount
Effective at stopping weed growth
The Best Fabric For French Drains In Clay Soil
Clay soil is different from sandy or black soil. It is slower to drain and can compact itself overtime. If you have clay soil on your property we recommend installing Sandbaggy Non WovenLandscape Fabric. This french drain fabric because it has 100 lbs of tensile strength and a 140 GPM flow rate so it is tough enough to handle clay soil without decreasing the drainage rate.
Key Facts
Tough enough for clay soils, not impacted by compacting soil
30% thicker than normal fabric while still having a high flow rate
Good choice for ground stabilization and increasing drainage
Strong enough to resist tears from rocks
Non Woven vs Woven Drainage Fabric
One of the most common questions we hear is about the differences between non woven and woven drainage fabric. Both types of fabrics have pros and cons. Non woven fabrics offer a higher flow rate which can be important in high drainage areas but they have a considerable shorter working life.
Woven drainage fabrics offer a lower drainage rate but have tend to last 10 to 20 years and are a good choice for a perforated pipe buried deep underground. We recommend always choosing a woven fabric for your drain system so you don't have to dig it up and re-lay drain fabric!
French Drain Fabric From Home Depot, Lowes and Menards
Home Depot, Lowes, Menards and Ace Hardware are some of the best places to buy fabric for your french drain. If you need to get the material right away we recommend shopping at Home Depot or Lowes but if you can wait a few days you can often find a better deal on Amazon.
Frequently Asked Questions
How wide should French drain fabric be?
The fabric around the french drain should at little wider than the diameter of the trench in order to hold back surrounding soil from the gravel.
Can you use landscape fabric for French drain?
Landscaping fabric can be used when installing a french drain but it is important to pick the correct kind of non woven or woven fabric for your drainage issue.
Do I need fabric for French drain?
You should always used fabric when building a french drain trench to hold back the surrounding soil and structure of the drainage ditch.
How many ounces of fabric do I need for a French drain?
The best weight of fabric to use it between 4 to 5 ounce drainage fabric. Fabrics between these weights offer good drainage while being durable enough to have a long lifespan supporting the drainage pipe.
Related Posts:
Dry Wells vs French Drains
How To Install A Basement French Drain
Best Gravel For French Drains