[rank_math_breadcrumb]
Zoeller and Liberty are two of the most popular sump pump brands of 2023 but which makes the best pump for your basement? We compared the most popular models from both companies to see which pump is the best value, most powerful and highest flow rate. Keep reading to learn more about our top choices.
Sump pumps from both brands have similar build quality, similar features and have a variety of price points so it can be difficult to pick the right one for your home. On the cheaper side, there are pumps with 1/4 HP and few accessories as well as more expensive models with 1 HP and additional features and functionality.
Let's learn more about the most popular sumps from both companies.
Side By Side Comparison
| | Zoeller 53 | Liberty |
| --- | --- | --- |
| Build Quality | High | High |
| Price Range | $100 to $300 | $100 to $300 |
| Horsepower | 1/4 HP to 1 HP | 1/4 HP to 1 HP |
| Price | See Price | See Price |
Zoeller Pump Information
Zoeller makes a number of popular pumps like the M53 Mighty Mate, M63 and M98 – all of which are great choices for different homes and situations. Zoeller pumps have a cast iron motor housing that is rust-resistant and almost impossible to break.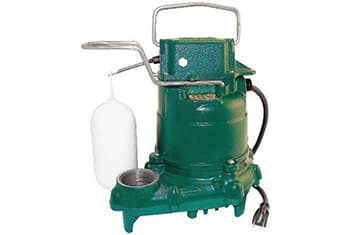 They are activated by a vertical float switch and the motors can handle small particles without clogging the motor or drain line. All of the sump pumps work well as primary sump pumps or back up's for homes that receive a lot of water which makes them the best choice!
Pros
High quality cast iron build
Factory tested
Family owned and operated
Multi year warranty
Worried About Quality?
All Zoeller pumps are factory tested so yours will work out of the box with no electrical or mechanical problems
Liberty Pumps Information
Liberty Sump Pumps are a good choice for preventing basement flooding but they are a little behind Zoeller in quality. While Liberty and Zoeller carry a range of submersible sumps with similar housing, motors and at a similar price we prefer Zoeller.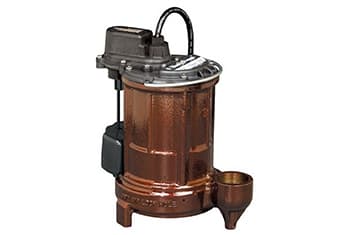 One reason to choose Liberty is the more expensive pumps have a 1 piece body that prevents water leaks from seals.
Pros
Wide range of sump and effluent pump
Factory tested
Family owned and operated
Built to last for many years
Multi year warranty
What About Power Outages?
Most Zoeller and Liberty pumps do not come with built-in battery backups or alarms. While they may have high flow rates and pump a lot of water per hour you will still need an attachment for your primary pump!
Zoeller Company Information
Zoeller was founded in 1939 in Louisville, KY. They are family owned and operated which shows in there quality line of pumps.
Liberty Company Information
Liberty Pumps is also a family-owned company based in Bergen, NY. They build a wide range of pumps – including some of the most popular sump pumps on the market in 2023.
Our Final Say
If you still can't choose between Zoeller and Liberty sump pumps we recommend going with Zoeller. While they tend to be slightly more expensive they also last longer and have fewer motor pump problems – which means more gallons per hour pumped from your basement. Both the Zoeller M53 and M63 are good choices for any basement or crawl space.
Related Posts
M53 Mighty Mate vs Liberty Pump 257