Zoeller is one of the most popular sump pump manufacturers on the market. Their line of pumps are some of the best and most dependable for household use but choosing the right model can be confusing with so many similar pumps.
Our team did the leg work and reviewed all of the sump pumps that Zoeller currently sells and picks the best pump for a variety of situations and budgets. If you are not sure about which model is right for your home keep reading our guide to so you make the right choice!
| Pump | Type | Rating |
| --- | --- | --- |
| Zoeller M53 Mighty Mate | Sump Pump | 4.6 |
| Zoeller M57 High Capacity | Sump Pump | 4.4 |
| Zoeller M63 Premium | Sump Pump | 4.1 |
| Zoeller 105 | Sump Pump and Basin Kit | 4.3 |
| Zoeller 42 Floor Sucker | Sump Pump | 4.3 |
| Zoeller M264 Waste-Mate | Sewage Pump | 3.9 |
| Zoeller 503 Homeguard | Backup Sump Pump | 3.5 |
| Zoeller 508 Aquanot | Sump Pump with Battery Backup | 4.3 |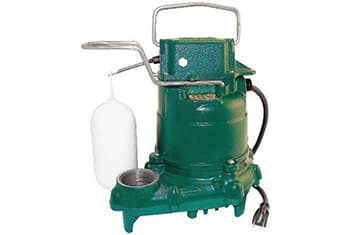 The Mighty Mate is one of Zoellers best selling pump and a great choice for most houses
The M53 is Zoellers most commonly installed sump pump, but is it dependable enough to keep your basement dry during wet months? Yes! The 1/3 HP pump is built with cast iron and thermoplastic – allowing it to pass solids to up .5″ inches in size. The discharge connects to standard 1.5″ drain lines which can drain up to 43 GPM at a 5 foot head height. The pump has no problem running for multiple hours during heavy storms and the float pump is factory tested so you know you are not getting a lemon!
Click here to read our M53 Review.
Zoeller M57 High Capacity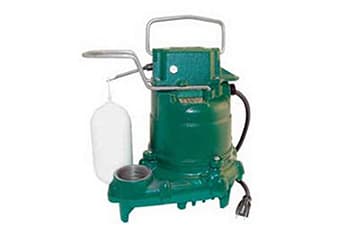 Another dependable cast iron pump from Zoeller with a non clogging vortex impeller
Clogged pumps and drain lines can mean flooded basements and water damage. If your home is in an area with a lot of solids and debris that make it into your pump pit we recommend the Zoeller M57. This pump has a vortex impeller to help pass basin debris that might clog or damage other pumps. Like other Zoeller pumps it is float activated and uses a 2 pole mechanical switch for extra reliability. It can pump up to 43 gallons and should last at least 5 years under normal working conditions.
Click here to read our M57 Review.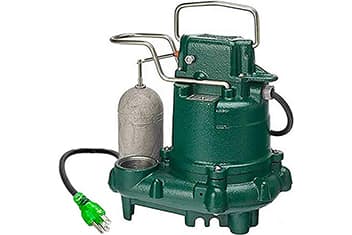 The M63 features a 2 pole mechanical switch plus a 1/3 HP float pump
This pump is similar to the M53 but with some extra technology on the inside! The pump has all of the common design and functionality of other Zoeller pumps but has an extra 2-pole mechanical switch and metal impeller for extra durability and reliability – both of which are an upgrade of the Mighty Mate.
The M63 is made of corrosion resistant stainless steel and cast iron which means it is tough enough to survive any storm without leaks thanks to the hermetically sealed interior of the pump.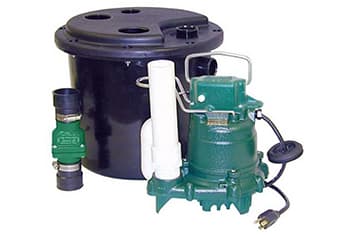 More than just a pump, the Zoeller 105 is a full pump and basin system that comes ready to install
Most basements need a full system, not just a pump. If this sounds like you we recommend that Zoeller 105 basin package. This "all in one" kit is perfect if you know what you want and don't want to mix and match brands, but might not be the best option if you are just shopping for a pump or basin. The pump has 1/3 HP and has an interior vortex impeller to prevent clogs and break up large bits of basin debris. It is float switch operated and the exterior is Zoeller's signature green cast iron.
The basin is made of Polypropylene and has a 2" NPT vent plus 1.5″ NPT discharge line. It also comes with an airtight cover that helps block noise and prevent smells from seeping into the basement. The system can be dug into the basement floor or sit flat on the surface.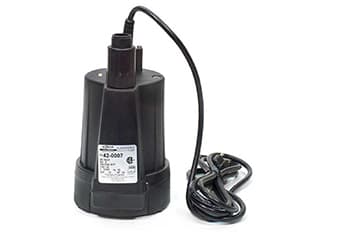 A small pump that still can pump up to 900 gallons of water per hour
For smaller jobs we recommend the Zoeller 42. It is made of thermoplastic which may not be as durable as cast iron but it still has a long working life and good build quality. We recommend using this pump in small crawl spaces or for quick outdoor jobs. It drains via a standard garden hose and works fully or partially submerged in water.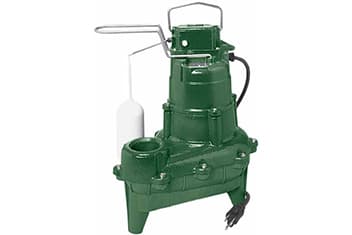 Homes with heavy water flow need a heavy duty pump like the Zoeller M264 Waste-Mate to keep things dry
The Zoeller M264 is our top pick for areas that receive above average. Pump large volumes of ground water from a big storm is no easy task. That is why this pump has a 4/10 HP pump and a non clogging vortex impeller to keep water moving out of your sump pit. It has a 2 pole switch and attached to 2″ NPT discharge lines so you may need an adapter if you have 1.5″ lines.
One great feature of the M264 is the vortex impeller that breaks up larger solids and keeps water moving through the pump. The most common cause of pump problems is clogs and damage from large particles – this pump protects itself.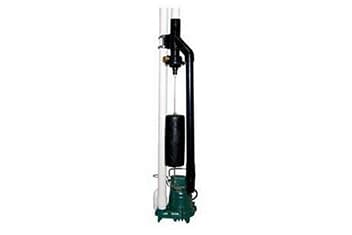 A water powered back up pump like the Zoeller 503 can be the difference between a dry basement and a flood
The Zoeller 503 is one of our most recommends backup pumps for homeowners that need peace of mind. This pump can't be used as a primary pump, instead it is designed to be attached to your home water lines. It is water powered which means it will keep working even if a storm knocks out electricity to your home.
This backup pump can be used with any model pump, not just Zoeller. It sues a stainless steel float rod to turn on and off. While active it can pump up to 20 gallons of water per minute, it might not sound like much but it can be the difference in stopping a flood.
Zoeller 508 Aquanot Battery Back Up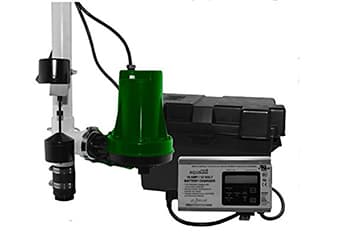 Battery backup systems like the Zoeller 508 can prevent flooding even when the power it out during heavy storms
Battery backup systems like the Zoeller 508 active when they detect a power outage to keep water from flooding your basin. The battery is a 10 amp rechargeable solid state system. In addition to powering the pump it also has built in lights, an alarm and an LCD screen with pump information.
Don't use this system as your primary sump pump. While the pump has plenty of power the battery is designed for short run time. The Zoeller 508 has burn out and overcharge protection to go along with the check valve.
Still worried about making the right decision? Lets compare and contrast some of the top selling pumps and help find your winner. Zoeller makes a wide range of pumps with similar sounding names so it helps to have advice from our team of expert plumbers.
The M53 and M57 are very similar pumps but they do have a few key differences. Like other sump pumps in the M50 series both of these models can pump about 43 GPM with a 1/3HP motor. The main differences are the base construction material (plastic instead of cast iron), impeller material (metal vs cast iron). Overall the M57 solid has a little better build quality at a little extra cost.
The M53 and M63 are both quality pumps but the M63 has a higher build quality plus some additional features to help keep important parts dry. The M53 is built with a thermoplastic base, glass filled metal impeller and a 9′ power cord. The M63 on the other hand is manufactured from cast iron, a 10′ power cord and a longer warranty (5 year vs 3 year).
Zoeller and Liberty both sell great pumps at a variety of prices points and you will likely be making a good pick with either brand. If we had to choose one brand we would go with Zoeller due to their high build quality, factory testing and long working life.
There is no better way to get to know a brand than to read the reviews. Seeing peoples honest opinions about the pump they installed in their home can help you pick the right pump. We checked verified reviews from top sites like Amazon, Lowes and Zoeller to see what people think!
Zoeller is very highly rated on Amazon. All of the models have at least a 4/5 rating and lots of positive ratings from recent customers. If you are ordering online Amazon is the best place to buy thanks to their low prices and quick shipping – even on large pumps.
Our favorite place to buy Zoeller pumps is Amazon.com. They have a large selection and very competitive prices – plus they are never out of stock. The site carries pumps, backup pumps, alarms and other equipment to keep your basement dry. Pumps arrive in a few days and are ready to install.
Zoeller does not sell pumps directly on the zoellerpumps.com, instead they direct you to a local distributor. This is both good and bad, if you need help installing and maintaining your sump pump then it is goo to have someone nearby to help. On the other hand delivery and installation is slower than ordering from a site like Amazon.
Another local option is Lowes. If you live in or near a major city there is a good chance you are not far from a Lowes. They typically stock Zoeller pumps and are a good choice if you want to pick up a pump locally.
Frequently Asked Questions
Are Zoeller sump pumps made in the USA?
Yes. Zoeller sump pumps and other products are manufactured in the United States.
How much does a Zoeller sump pump cost?
Zoeller sells a number of models that cost between $75 and $300 depending on features and pump power.