[rank_math_breadcrumb]
Managing domestic or commercial wastewater is a big problem if you own property! If you live in low-lying areas, basement flooding may be a common problem. In such a case, you may need a good wastewater sump pump to drain wastewater and keep your floor dry. You may be trying to decide between the M53 Mighty Mate and the M63 and not sure which one is the best pick.
The Zoeller M53 and Zoella M63 pumps have similar features that make it difficult for a buyer to make a choice. They both have 1/3 HP cast-iron housing and a plastic vortex propeller. We have compared the two products in this article so you make the right choice for your home drainage system.
We have highlighted the two product features, in-depth description, cons, and pros.
Zoeller M53 and M63 Compared
Key Differences
The M53 and M63 might appear similar at first glance but there are a few key difference to be aware of before making your final decision. The M63 has a more powerful pump and comes with a few extra features that make operations easier. The M53 has the same body style and float switch as the M63 but the pump is slightly less powerful, but it does costly slightly less money which is important for homeowners on a budget.
Zoeller M53 Overview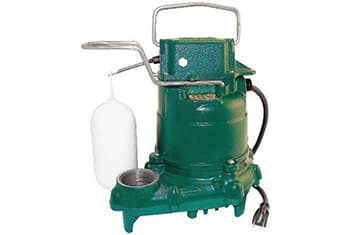 Features
Sealed water resistant code to ensure safe operation
Ceramic and carbon shaft that seals protecting heat and oil linkages
Heavy for stability against vibration during operation
Flexible cord for easy connection of the pump to a nearby power socket
The Zoeller M53 is among the most efficient sump pump available in the market. You can consider substituting your old noisy pump with this most efficient one. If you live in low-lying areas, your building floor is likely to dump. With the Zoeller M53 sump pump, you can manage your domestic wastewater. The pump is also a good buy for your money since it typically last for at least 3 years.
Zoeller M53 is a submersible sump pump with a 1/3 HP motor. It has a water flow rate of 2580 gallons per hour and a 3-year warranty. The pump is 10.5 inches wide,10.5 deep, and 7.8 inches tall. Among the other pumps, Zoeller M53 is the most preferred by plumbers and contractors. The product has a simple structure and cheaper than other similar pumps on the market.
Pros
No hammering noise
Made of heavy cast iron
Easy to use and install
Automatic activation
Powerful 1/3 HP motor
Cons
Submersible design is difficult to clean
Float switch can get stuck and cause motor to overheat
1/3 HP is not enough power to push water long distances
Zoeller M63 Overview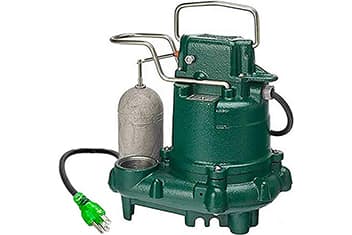 Features
1/3 HP motor
5 year manufacturer warranty
Pumps maximum of 2,580 GPH
Max head height of 19.25′
Super efficient pump

3 Year warranty
The Zoeller M63 "Premium Series" is an Automatic Submersible Sump Pump. The pump is durable and one of the most preferred pumps on the market. It is ideal for domestic/light commercial dewatering. It also serves best in affluent and groundwater transfer. It has a 5-year warranty for maximum reliability and smooth performance. The product is durable with a 1-1/2 NPT Discharge. The pump is compatible with most of the light commercial and domestic applications.
Pros
100% cast iron
Activated by electrical mechanical float switch
Viton switch boot of the pump protects against moisture
LED lighted plug provides a quick visual indicator for electricity
Cons
More expensive than the M53
Our Final Say
M63 is more powerful and with extra features compared to M53. It is, but, costlier than the M53. We recommend M53 from households with normal flooding. In case you are prone to regular flooding menace or have a high head height, go for M63.
Related Posts
Zoeller M53 vs M98
Zoeller M98 Review
Zoeller M53 Review
Zoeller or Liberty – Which is Best?