[rank_math_breadcrumb]
The Zoeller M53 Mighty Mate and the Liberty Pumps 257 are similar sump pumps with cast iron bodies and 1/3 HP motors so it can hard to choose which is best when shopping for a new pump. We compared both models to help people like you find the best pump for your money. We reviewed the motor, body, gallons per hour and other important features that will help you pick the right sump pump for your basement.
Zoeller M53 and Liberty 257 Compared
Key Differences
While the Mighty Mate and Liberty 257 may have many of the same features there are a few key differences to be aware of before making your final decision. The Liberty pump has a slightly higher flow rate at 50 gallons of water per minute versus the 43 gallons per minute from the Zoeller pump. This might seem like a small difference but it results in a 420 gallons after an hour of run time.
Another small difference is that the weight and power cord length. The M53 has a 9 foot cord and weighs 21 pounds while the Liberty 257 weighs about 15 pounds and has a 10 foot cord. This gives a small advantage to be liberty pump and some areas like mobility and distance from the wall.
Zoeller M53 Overview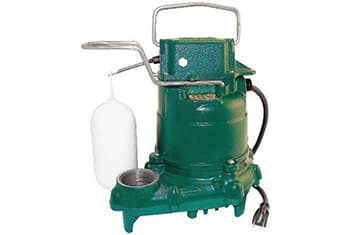 Features
1/3 HP motor
Cast iron body
Pumps 2,580 GPH
6″ Float range of motion
1 Year warranty
The M53 Mighty Mate is one of the most popular some homes on the market and has been since its release in the early 2000's. It has a 1/3 hp motor and a solid cast iron body so it is rare for leeks to affect the motor. It pump 43 gallons of water per minute and is activated by a vertical float switch on the outside of the pump. This model is a good choice for homeowners that need a dependable pump with a low to medium flow rate.
Pros
Solid cast iron build
Dependable, all pumps are factory tested
Good for small head heights
Cons
No built in alarm or battery backup
Float switch not as adjustable as other pumps
Liberty 257 Overview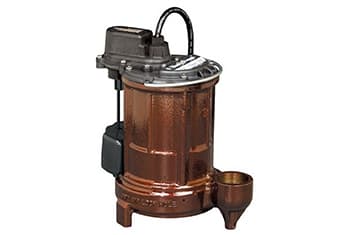 Features
1/3 HP motor
Cast iron body
Pumps 3,000 GPH
Super efficient pump

3 Year warranty
The Liberty 257 is slightly cheaper than the Zoeller Mighty and has many of the same features. The pump is powered by 1/3 hp motor that is activated by and magnetically operated VMF switch. He can pump a maximum of 50 gallons of water per minute at a height of 21 feet. The motor can handle half inch solids and attaches to 1 1/2 inch and NPT drain lines. This model is a good pic if you are on a tight budget and still need a dependable pump with a solid cast iron body.
Pros
Magnetically activated switch prevents false alarms
Able to pass 1/2″ solids
Fits 1 1/2″ NPT lines
Cons
Some reports of lemons failing in less than 1 year
Our Final Say
Both the M53 and the Liberty 257 are good choices if you are shopping for a 1/3 HP sump pump for a low to medium head height basement. If you are on a tight budget we recommend choosing the Liberty pump since it is a little cheaper. If you plan on living in the same place for the next 5 years we recommend choosing the M53 since it is more dependable and tested in the factory before shipping.
Related Posts
Zoeller M53 vs M98
Zoeller M98 Review
Zoeller M53 Review
Zoeller or Liberty – Which is Best?