The Zoeller M267 is one of the most expensive sewage pumps on the market, but is it worth the high price tag? In this article our team of experts put the M267 waste-mate sewage pump to the test to see if it is worth the high price tag – keep reading to learn more!
A good sewage pump is worth its weight in gold, unlike a normal water pump they are designed to be more powerful and are unlikely to have problems with solids in the drain line. When looking for a new sewage pump the most important things to consider are the pump horsepower, body type and reliability – keep reading see how the M267 stacks up against the competition.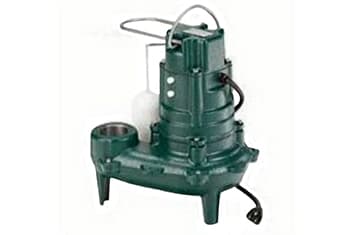 Features and Specs
1/2 HP pump
Rust resistant cast iron body
Passes 2″ solids through pump
Built in vertical float switch
The Zoeller M267 is one of the most powerful – and dependable sewer pumps on the market. It costs more than some alternatives but it has a super powerful pump, leak resistant body and will last for a long time so it is worth the extra cost.
Pros
Unlikely to clog due to solids
Cast iron body will last for years
Float switch is highly reliable
Cons
No back up battery or alarm
Pump Body
This pump has Zoeller's signature cast iron green body. This means it is almost 100% leak proof and is highly rust resistant. The cast iron body means the pump weighs a good deal and will have no problem staying at the bottom of the pit during heavy water flow. The cast iron body does add a little bit to the cost but extends do you lifespan of the pump by many years which offsets the increased price.
Motor Information
The motor is the most important part of any sewage pump. This model has a 1/2 hp pump that is designed to handle solids up to 2 inches in size without causing any internal damage or clogging the drain lines. We recommend using this model in any home or area with large solids that can damage fragile impellers.
The pump motor is activated by a vertical float switch that is easy to adjust to the perfect water level for your basin. This type of foot switch is highly reliable and will turn the motor on as the water rises and turn it off as it falls.
How to Install
Installing the M267 is easy and does not require a professional plumber in most cases. Start by cleaning your basin and making sure the pump line is free of debris and blockages.
Next place the M267 in the bottom of the pad and connected the 2 inch NPT drain lines. Next, attach the power source and any back up pump or alarm then do a quick test to make sure everything is working properly. You should be able to install the pump in about 10 minutes if everything goes correctly.
Troubleshooting and Potential Problems
Troubleshooting the Zoeller M267 Waste Mate is easy is most cases. Zoeller makes the sump pump so, it is highly unlikely to fail or experience any mechanical problems. Other problems like spraying water can usually be fixed by adjusting the pump setup.
What's Included
This unit comes with a 1/2 HP pump with a 10′ power cord. It does not come with an alarm, battery or backup pump.
Warranty Information
The M267 has a 3 year warranty that covers normal usage and wear and tear. It does not cover abuse of physical damage.
M267 Alternatives
Not sure if this is the right sewage pump for your home? Check out some of the most popular M267 alternatives and competitors.
Superior Pump 93501 vs M267
The Superior Pump 92501 is similar to the M2 67 but has a thermal plastic shell instead of a cast iron body
Wayne RPP50 vs M267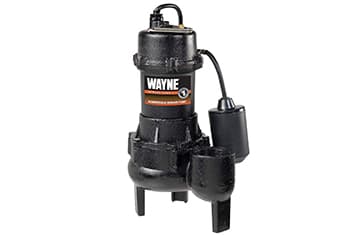 The Wayne RPP50 is another common alternative for normal size residential homes. The main difference between the two models is that the RPP50 is activated by a piggy back float switch.
Where to Buy The M267 Sewage Pump
The best place to buy a M267 Sewage Pump is on Amazon – but they can also be found at your local home improvement store.
Related Posts
Top Rated Sewage Pumps