[rank_math_breadcrumb]
A sewage grinder pump can destroy debris and clog causing particles in your home's wastewater. Not every home needs a grinder pump – if your home needs one to prevent drain line damage you will know!
In this article, we will review the top-rated and most popular ejector pumps on the market in 2023 to help you find the perfect pump for your home. Keep reading to learn more about our top picks for the best sewage grind pump of 2020 as well as how to pick the right grinder pump in our buyers guide.
Top Rated Grinder Pumps of 2023
Liberty Pumps PRG101A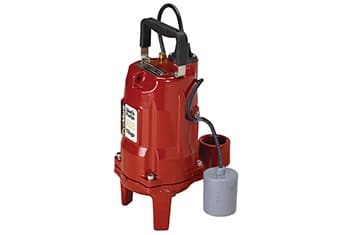 Features
Rust-resistant cast iron body
Cuts debris with V-Slice cutter technology
Good choice for passing difficult solids
The PRG101A grinder pump is a solid sewage ejector pump that can cut difficult solids without breaking a sweat. It is a heavy-duty, hard-working pump that comes with a high price tag. The high power motor and V-Slice technology can push water up to a 10′ head height.
One of the biggest advantages of this model is the ability to shred wipes so they do not clog the pipes!
Pros
Powerful grinder and motor
Cuts rags and wipes that commonly clog drains
Well-built body designed to last
Zoeller M267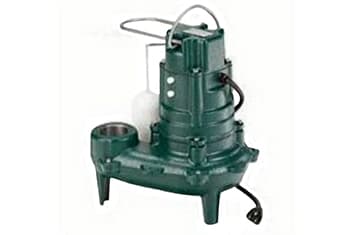 Features
1/2 horsepower motor
Built-in float switch
Passes 2″ solids
Pump 128 GPM max
Cast iron body
Zoeller is one of the biggest brands in water pumps with the Zoeller M267 being a great choice if you need a high powered sewage pump. This pump has a high GPM pump rate and a hard cast iron body to give protect the interior motor. It is activated by a float switch and can pass solids up to 2″ in diameter. Installation is quick but messy and the pump will last for many years so it is a good investment.
Pros
Hard, rust-resistant shell
High flow rate with a powerful pump
Auto activation with integral float switch
Pumps 100+ gallons per minute
Cons
Cost more than cheaper models
Can't break up solids
Happybuy Sewage Pump
Features
1 HP internal pump
High max flow rate of 6340 GPH
Made of Stainless steel and hard thermoplastic shell
Cast iron impeller destroys solids
The Happybuy Sewage Pump is a popular choice for homeowners who need a high horsepower pump that has an internal impeller to destroy solids. One good feature of this model is the thermal protection that keeps the motor from overheating during heavy use, plus the 15′ long power cord comes in handy.
Pros
High quality internal impeller for solids
Built with cast iron and thermal protection
Legs prevent debris build up in the sump pit
Wayne RPP50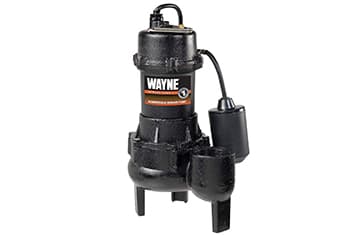 Features
1/2 HP motor
5700 GPH max flow rate
Passed 2″ solids
Activated by tethered float
The Wayne RPP50 is a good choice for homeowners who need a sewage pump with 5 feet of lift. The pump body is made of a thermoplastic and cast iron shell and the interior motor is good at passing small solids down the drain line. It is activated by a tether float switch that automatically activates as the pit fills.
Pros
Good for low to medium head heights
Passes small solids
A for a variety of uses
Cons
Some reports of defective pumps
Liberty Pumps LE51A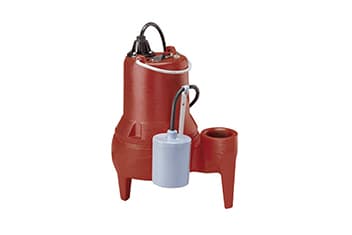 Features
160 GPM flow rate
2-vane semi-open impeller for solids in drain water
Cast iron body
The Liberty Pumps LE51A is one of the best choices for homeowners who need a dependable sewage ejector pump pump that can handle solids up to 2″ in size. Inside the motor is a 2 vane impeller that breaks up solids so they can pass down the line. The pump is activated by a float switch and the motor has a thermal lining to prevent burn out during heavy use.
Pros
Thermally insulated motor
160 GPM max flow rate
Power cord stretching 10′

Corrosion resistant design
Sewage Pump Buyers Guide
Picking the right grinder pump for your home can be difficult. Many factors can affect which is the right model. If you are unsure of which pump to buy we recommend reviewing the following factors before making a purchase:
Head height – Every home will have a slightly different head height. It is important to get a pump powerful enough to lift the water up from the basin and out of your home. The deeper the basement the more power sump pumps are necessary
Max flow rate – Flow rate and max GPM are two important factors to consider. The more water sewage pumps have to drain means a larger horsepower motor
Ability to grind solids – Even the best ejector pumps are worthless if they can't shred and grind small solids so they can pass through sewage lines into the city drains or septic system. We recommend sewage ejector pumps with a vortex impeller for the best results
Pump body material – A submersible sewage pump will take a lot of wear and tear, that is why the body material is important.
Pump accessories – All of the pumps on this list can drain water out your sewage line, but they all don't come with the same features and add ons. We recommended installing separate battery backups and pump failure alarms in case the power goes out in a big storm.
Related Posts
Zoeller M267 Review