[rank_math_breadcrumb]
Swing check valves are one of the most effective types of check valves. Keep reading to learn everything you need to know about the best models on the market, installation and fixing common problem in 2023! Keep reading to learn more.
In this guide we'll teach you everything you need to know about swing check valves:
What is a Swing Check Valve?
A swing check valve is a type of check valve that 'swings' open to allow water to pass then closes to prevent backflow. The disk inside is responsible for swinging open when water is exiting and then closing once all the water has passed. The lip will seal water tight when closed by closing up against a rubber pad.
How to Install a Swing Check Valve
Here are step by step instructions to install a swing check valve so you don't have to call a local plumber.
1 – Find the Valve Size
Start by checking your lines to see what size valve you need. The most common sizes in US homes are 3/4″ and 1 1/4″.
2 – Double Check Direction of Installation
Swing check valves have to be installed in the correct direction in order to keep water flowing the right direction. They are one way valves so make sure to install yours pointing the right way – there should be an arrow on the top of most valves showing which way they should be installed. Installing the wrong way can cause serious damage to your pump and lines!
3 – Attach Valve to Drain Line
Next, attach the new check valve to both ends of the drain lines. It should securely fit in the grooves at both ends. It should be tight, but do not over tighten or you may crack a PVC valve.
4 – Test the Valve and Drain System
After the new check valve is installed it is time to test the system. The swing check valve should swing open to let water out then automatically close. Potential problems to keep an eye out for while testing include: water leaks, a noise every time the swing opens and closes, no water exiting the line and water flooding back into the sump basin.
Common Swing Check Valve Sizes
The most common swing check valve sizes are 1/4″ to 2″ for residential NPT drain lines. Make sure to measure your lines before buying a valve so you purchase the right size. Commercial drain lines can use check valves up to 2′ in diameter to control waterflow.
Swing Check Valve Manufacturers
Not sure which brand to go with? There are a few good options for home usage. Our top picks are Zoeller, Superior Pump and Flotec.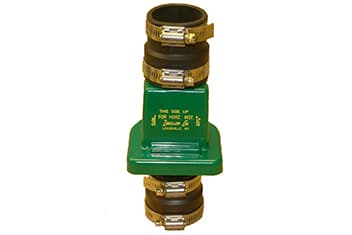 Related Posts About Check Valves
Brass vs PVC Swing Valves
One of the most common questions homeowners ask us is: which is better brass or PVC swing check valves? Both types of check valves have pros and con. Brass valves have a longer working life and can withstand a higher water pressure but tend to cost a little more.
PVC valves on the other hand have a slightly shorter working life and more prone to cracking but they cost less than brass valves.
When would you use a swing check valve?
Swing check valves on drain lines to prevent water from flowing the wrong direction once the sump pump has deactivated.
Can you put a swing check valve vertically?
Most swing valve models can be installed horizontally or vertically.
What is the difference between a spring check valve and a swing check valve?
Spring check valves are powered by an internal spring while swing valves use water pressure to open and close.