[rank_math_breadcrumb]
So you know you need a new sump pump and have decided on a WAYNE pump but can't decide between the CDU790, the CDU800 and the CDU980E. Our team of sump pump experts compared the pro's and con's of each model to see which is the best choice for your sump system – keep reading to find out which is the best!
Each of these WAYNE sump pumps is well made but has important differences that make each model a good choice for difference circumstances. Just picking a WAYNE pump is not enough for best results – you need to get one that will work well in your basement or crawlspace.
Key Differences
The CDU790, CDU800 and CDU980E may seem similar but they have a few key differences that set them apart. The first difference that sets each model apart is the pump horsepower. The CDU790 has a 1/3 HP pump, the CDU800 has a 1/2 HP pump and the CDU980E is the most powerful with a 3/4 HP pump. The difference in price reflects the different flow rates, the more expensive the sump pump the more powerful the pump and the more gallons per hour.
WAYNE Pumps Compared Side by Side
Now lets take a quick look at each model so you can compare each model's features.
WAYNE CDU790 Overview
Features
1/3 HP motor
Best for basins 11″+ in diameter
Activated by vertical float switch
4600 GPH at 0′ head
The WAYNE CDU790 is a good choice for homeowners that need a dependable pump with a 1/3 HP motor. It has a good flow rate but may not be the best choice for homes that have a high head height or flow rate.
WAYNE CDU800 Overview
Features
1/2 HP motor
Cast iron body
Attaches to 1 1/2″ NPT drain lines
5100 GPH at 0′ head
The CDU800 has a 1/2 HP motor and is a middle of the road choice on flow rate and budget. It has a cast iron body and is factory-tested for 1 million cycles.
WAYNE CDU980E Overview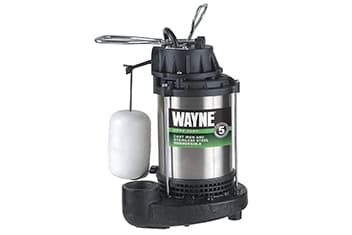 Features
3/4 HP motor
Attaches to 1 1/2″ NPT drain lines
5,490 GPH at 0′ head height
Top suction design
Can be installed in roughly 15 minutes
The CDU980E has the most powerful motor of all three sump pump with a 3/4 HP motor that can pump 4600 GPH at a 10′ head height which is average for most basements in the US. It is self-priming and has a top suction design that avoids airlocks and drains almost all the water from the pit.
How to Choose
If you are still not sure which WAYNE pump is right for your basement the two most important factors to consider are pump power and budget. More powerful pumps do cost more money but it is important to pick the right size so you do not burn the motor out or get too weak of a pump and not drain water fast enough. A good middle of the road choice that works on most budgets and drain systems is the CDU800.
Our Final Say
WAYNE makes high quality pumps so and of these three are good choices. If you can't pick we recommend going with the CDU800. It is important to get a pump that matches your system flow rate. It is important to remember that you will need a backup pump and alarm since none of these models have these features.
Related Posts
WAYNE CDU980E Review
WAYNE vs Zoeller Sump Pumps
Wayne CDU800 Review