In the depths of our homes, beneath the floors and behind the walls, lies a silent guardian that tirelessly protects us from the lurking threat of water damage. A humble hero often overlooked, the sump pump emerges as a vital element in safeguarding our living spaces from the perils of flooding and moisture. However, to complete our mission, we need a rigid, durable sump pump cover to manage messy debris and odors efficiently.
Why is a sump pump cover critical?
To understand the significance of a sump pump cover, picture a stormy night, with rain pouring relentlessly outside. Your basement, a sanctuary of memories and cherished possessions is at risk of becoming a soggy nightmare. At this critical case, a sump pump cover precisely steps up to combat the impending catastrophe.
A sump pump basin cover contains smells and keeps debris from falling into the pit and clogging the discharge lines. It sits on top of your pit and protects your home from stinky odors seeping into it. It contains loud pump noises and prevents dirt, rocks, and other debris from falling into the pit, adding a nice finish to the basement and keeping the kids from playing with the pit water.
In our quest to identify the best sump pump covers, we have scoured the market, evaluating performance, durability, and innovative features. In this article, we bring you a definitive list of the best basin covers and teach you how to pick the right sump cover!
5 Best Sump Pump Covers
If you are unsure which sump pump cover is right for your needs, look at our top 5 sump pump cover picks and ideas of 2023 to prevent radon gas and noise from leaking into your basement.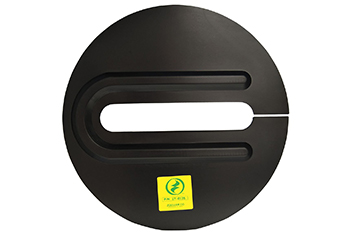 Features
Durable Polyethylene Construction
Fits 20″ diameter basins
A convenient 3″ x 13″ opening for the discharge pipe
Sticking up the same brand is good if you have a Zoeller sump pump and basin. This Zoeller sump pump cover delivers exceptional protection and durability. Its robust polyethylene construction ensures reliability and peace of mind, while the well-designed opening facilitates seamless water discharge. It fits basins with a 20″ diameter and has a 3″ x 13″ opening, allowing for smooth water flow and efficient drainage.
Pros
High quality, just like Zoeller pumps
Tight fit around 20″ basins
Protects basin and pump from falling debris
Affordable price
Cons
Installation hardware not included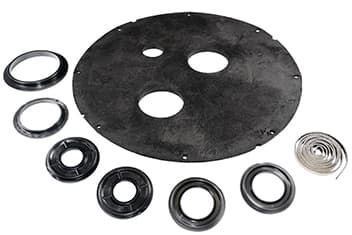 Features
Fits 18″ basins
Designed to work with several popular pumps
Comes with additional bolts and widgets to fit different sizes
Easy to install

See Cover

This Parts2O Cover is one of our favorite covers for 18″ diameter basins. It has several widgets to get a tight seal, and the cover is well-made and built to last many years. Installation only takes a few minutes with a screwdriver, and it fits tight to the basin.
Pros
Installs in just minutes
High quality design
90 day manufacturers warranty
Cons
Does not adjust to fit other size basins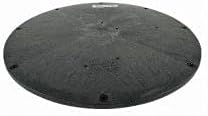 Features
Designed for the SP1822B Sump Pit
An included complete package
Durable rubber material

See Cover

The Liberty Sump Pump Cover delivers a complete and reliable solution for sealing the SP1822B sump pit. Its durable rubber construction, gasket, seal, and hardware provide peace of mind and optimal protection for your sump system. It ensures adequate water containment, preventing any potential leaks or water damage.
Pros
Easy installation that saves you time and effort
Secure and leak-proof
High-quality material
Very affordable price
Cons
Compatibility limitation
Size consideration (cover dimensions are 8 x 8 x 8 inches)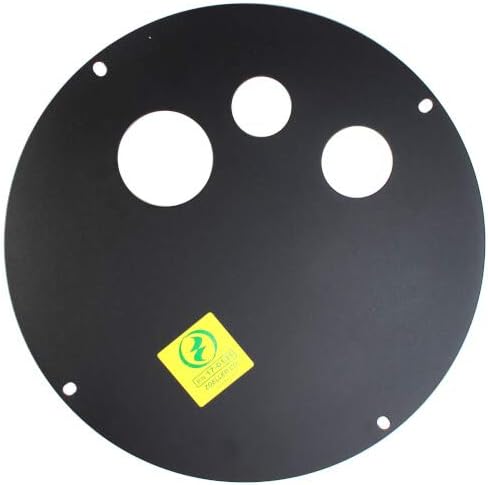 Features
Durable steel construction
Proper ventilation with a 3″ vent
Efficient water discharge with a 1-1/2″ discharge port
The Zoeller Sump Basin Cover combines the reliability of steel construction with convenient features such as the vent and discharge ports. Its robust design ensures superior durability and effective operation, making it an excellent choice for maintaining a well-functioning sump system. However, it would be best to consider an efficient coating to eliminate rust risks.
Pros
Sturdy, heavy-duty, and long-lasting steel construction
Ventilation and discharge efficiency
Gas, radon, and odor tight
A cord grommet for a neat and organized installation
Cons
A higher price compared to polyethylene or rubber covers
Potential for rust if not correctly coated or maintained
Heavier than materials like polyethylene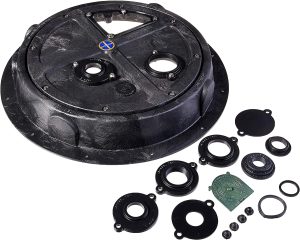 Features
Made of durable polyethylene structural foam
Radon gas mitigation
Reduces basement smells
Universal and easy to install
Radon and other smells seeping up from your sump pit into the basement can be a real problem. The Original Radon/Sump Dome is an exceptional radon mitigation and basin cover replacement solution that contains Radon and other stinky smells. Its universal design and ease of installation make it a top choice for property transfers and rentals. With sturdy construction and excellent value for money, this cover offers peace of mind and efficient protection.
Pros
Good for containing Radon
Sturdy and durable
A reliable retrofit and repair option
Cons
More expensive than other covers
How To Choose A Cover
There are a few essential factors to consider when shopping for a new cover for your sump pump system. The most important things to review before deciding are the size, build material, and hole location. Not every basin is the same size, and not all covers fit all basin types, so do your research and don't block the vent pipe.
Another thing to consider when picking a new sump pump basin cover is the build material. Most covers are made from ABS plastic or polyethylene, which are durable and long-lasting. You want to ensure the cover you pick can withstand being submerged in water for extended periods without breaking down.
The location of the hole or holes on the cover is also critical. If your sump pit has an intake and output pipe, you must ensure the cover has a hole big enough for both pipes. If there is only one pipe, you can pick any cover with a spot that will fit your piping.
Basin covers come in a variety of shapes, sizes, and colors. The most important thing is to choose a cover that fits your specific basin!
Keep in mind that regularly cleaning the sump pump and its cover is essential for maintaining its durability and achieving better results!
Frequently Asked Questions
Still not sure which basin cover is right for your pit? Check out these frequently asked questions to help you choose the right model.
Should sump pump cover be sealed?
Yes, adding a cover to your pit keep debris from falling in and smells from coming into your home.
Can you cover a sump pump?
Yes, sump pump basins can be covered with airtight lids.
Related Posts
Square Sump Pump Covers