A sump pump basin cover is used to contain smells and keep debris from falling into the pit and clogging the discharge lines. In this article, we will teach you how to pick the right sump cover and review some of the best basin covers on the market.
A basin cover sits on top of your pit and protects your home from stinky odors seeping up into your house, contains loud pump noises and prevents dirt, rocks and other debris from falling into the pit. Plus it adds a nice finish to the basement and keeps the kids from playing with the pit water.
If you are not sure which sump pump cover is right for your needs, take a look at our top 5 sump cover picks and ideas of 2023 to prevent radon gas and noise from leaking into your basement.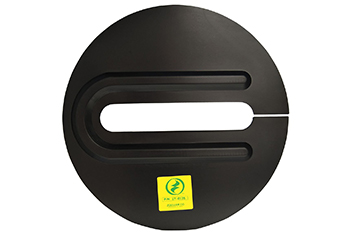 Features
1″ thick to provide good protection
Fits 20″ diameter basins
Exit slot fits 2″ piping
If you have a Zoeller sump pump and basin it is a good idea to stick up the same brand. This Zoeller sump cover fits basins with a 20″ diameter and has a 2″ entry/exit slot for pipes and power cords. It can be installed with a screwdriver in just a few minutes.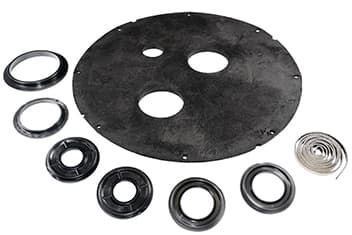 Features
Fits 18″ basins
Designed to work with a number of popular pumps
Comes with additional bolts and widgets to fit difference sizes
Easy to install
This
Parts2O Cover
is one of our favorite covers for 18″ diameter basins. It comes with several different widgets to get a tight seal and the cover is well made and built to last many years. Installation only takes a few minutes with a screwdriver and it fits tight to the basin.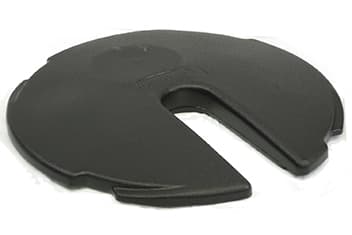 Features
Fits 18″ basins
Can be installed with a screwdriver in a few minutes
Slot fits 1 1/2″ Inlet piping
Another popular choice for pits with an 18″ diameter is the
AK Industries AKP60140
. This basin cover is made of high-quality Neoprene plastic and while it is not airtight seal is does fit snugly on the top of the basin. The intake slot fits any pipe smaller than 1  1/2″ in diameter.
Jackel Slotted Sump Basin Cover
Features
Designed for the Jackel-SF15 sump basin
Attaches in 4 locations
Slotted design allows for intake and out flow piping
Good for submersible and pedestal pumps
This Jackel Basin Cover is made of molded polyethylene structural foam and designed to fit the SF1850S. It will last for many years and can be installed in a matter of minutes. The only downside is that it is not airtight.
Features
Designed to keep Radon in the basin
Reduces basement smells
Max weight capacity of 1000 pounds
Radon and other smells seeping up from your sump pit and into the basement can be a real problem. The Radon Sump Dome is an airtight option that can be used to contain Radon and other stinky smells. The top is made of Polyethylene structural foam plastic and ABS plastic that attaches with stainless steel screws.
There are a few important factors to consider when shopping for a new cover for your sump pump system. The most important things to review before making a final decision are the size, build material and hole location. Not every basin is the same size and not all covers fit all basin types so make sure to do your research and don't block the vent pipe.
Another thing to consider when picking a new sump pump basin cover is the build material. Most covers are made from ABS plastic or polyethylene which are both durable and long lasting. You want to make sure the cover you pick can withstand being submerged in water for extended periods of time without breaking down.
The location of the hole or holes on the cover is also important. If your sump pit has an intake and output pipe you will need to make sure the cover has a hole big enough for both pipes. If there is only one pipe you can pick any cover with a hole that will fit your piping.
Basin covers come in a variety of shapes, sizes and colors. The most important thing is to choose a cover that fits your specific basin!
Frequently Asked Questions
Still not sure which basin cover is right for your pit? Check out these frequently asked questions to help you choose the right model.
Should sump pump cover be sealed?
Yes, adding a cover to your pit keep debris from falling in and smells from coming into your home.
Can you cover a sump pump?
Yes, sump pump basins can be covered with airtight lids.
Related Posts
Square Sump Pump Covers