[rank_math_breadcrumb]
Sump pumps are expensive to replace and it can be difficult to tell how much a good replacement costs. In some cases the decision to repair or replace is financial and based on the total costs of replacing versus buying a new pump.
In this post we will review the average cost of replacing different brands like Zoeller, Superior Pump, Wayne, and Liberty. Keep reading to learn more about the costs of sump pump replacement so you get the best deal for your money.
Sump Pump Replacement Costs
The biggest cost when replacing your sump pump will be a new pump but if your old alarm or back up do not work with the new pump there may be some extra expenses. Higher-costing pumps will cost more to replace than lower-costing pumps but will last longer and have more powerful motors.
We recommend spending at least $200 on your sump system so your get a quality pump with a backup battery and alarm so your basement is protected from water damage.
Brand Cost Guide
Zoeller Sump Pump Replacement Costs
Zoeller sump pumps tend to be more expensive than some other brands on the market but there is an upside as they do last longer than cheaper pumps. This is both good and bad as you will be paying more money upfront but the pump will last for a few more years. If you plan on living in your home or more than three years or need a heavy-duty pump we recommend choosing Zoeller.
Submersible Pump Replacement Costs
The cost of replacing a submersible pump largely depends on the pump. We recommend staying away from cheap pumps and go with a model that has a cast iron body to prevent leaks like the Zoeller Mighty Mate.
Pedestal Pump Replacement Costs
Pedestal sump pumps tend to be cheaper to replace than submersible pumps. This is because there are fewer moving parts in a pedestal sump pump and less need to waterproof the motor body. It is important to remember that the high-end pedestal sump pumps will still cost as much as a comparable submersible pump which can be over $200.
Cost to Replace Sump Pump Check Valve
Check valves are affordable to replace. Most cost around $20 which is a good deal compared to the cost of replacing a flooded basement.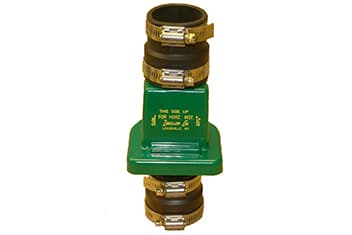 A good check valve that will last for many seasons is the Zoeller 30. This valve fits 1.5″ drain lines and prevents water from flowing back into your pit. Some homeowners try to save some money and not use a check valve but it only makes your pump run harder.
Outdoor Sump Pump Replacement Cost
Outdoor pumps are more expensive to replace than indoor pumps. The price increase is not much but provides extra protection from the elements as well as a more powerful motor for use in pools, spas, ponds, and other flooded areas.
Portable sump pumps tend to be cheaper and a good option to deploy in high flood areas – just keep in mind they will not last outside in the elements like a dedicated outdoor pump.
Replacing Outdoor Water Pumps
We recommend keeping your pump in the garage when not in use as well as drying it off to prevent rust.
Cost to Replace Battery Backup
Battery backups are cheap replacements in most cases. More expensive models will have batteries that can last for as long as 24 hours while cheaper options will only run for a few hours. If your home experiences regular power outages we recommend choosing a backup that can run for at least 6 hours.
Frequently Asked Questions
How much does a plumber charge to replace a sump pump?
Most plumbers will charge $100 to $200 to install a pump plus the cost of the pump and basin.
Does homeowners insurance cover sump pump failure?
Unless you have flood insurance it is unlikely that your home will be covered if your pumps fail.
Related Posts
Sump pump installation costs