[rank_math_breadcrumb]
Fantech and RadonAway are two of the most popular radon fan manufacturers – but which one is best? We put Fantech vs RadonAway to the test in a head to head competition to see which system is best for your home. Keep reading to learn more about the top models from each company and our top pick.
Both of these brands make high-quality radon mitigation fans that can effectively vent radon from your sump pump system. You can't go wrong with a model from either manufacturer but there are a few important differences between the brands and each of their models you should be aware of before buying a fan.
Fantech and RadonAway Compared Side by Side
We put the most popular Radon mitigation systems from both companies side-by-side so you can see the features and prices all in one location.
Fantech Radon Fans
Here is a little more information about Fantech Radon mitigation fan. They make three fans, each is a good choice in different situations.
Fantech RN2
Features
Fits 4.5″ ducts
123 CFM
Quiet while running
Fantech RN3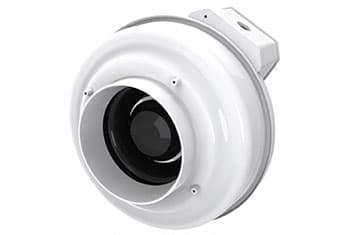 Features
Fits 6″ air ducts
285 CFM
Good for mid sized homes
Fantech Rn2SL
Features
Fits 4″ ducts
159 CFM
Built-in ice breaker
Fantech HP 190SLQ
Features
Fits 6″ air ducts
285 CFM
Good for mid sized homes
RadonAway Radon Fans
RadonAway makes three Radon fans, if you are having trouble choosing and need more information about each fan keep reading to learn the pro's and con's of each fan.
RadonAway RP145
Features
Fits 4″ vents
Energy efficient for low impact on electric bill
Quiet while running
Thermal and moisture protection
RadonAway GP501
Features
Fits 3″ diameter ducts
Can be hard wired or plugged into power outlet
95 CFM
RadonAway RP260
Features
Fits 6″ ducts and vents
251 CFM
Super energy efficient
Water hardened impeller
How to Choose
The two most important factors when buying a fan are price and the cubic feet per minute that the fan can pump. Both are important factors to consider or you might end up buying a unit that is not right for your home.
Cheaper fans tend to only last a few years while higher priced fans will run for many years and be more powerful. If you only plan on living in your current home for a short period of time, or live in a small condo that does not need a powerful unit you can save some money and go with a lower cost fan. Both RadonAway and Fantech offer fans at a few different price points so you will be able to find a fan on any budget.
The other important factor to consider is the CFM aka cubic feet per minute the fan can pump. Larger homes with more severe Radon problems will need a fan with a higher FM to clear all the Radon. A high Radon level in your home can lead to a variety of short and long term health problems.
Which is better: RadonAway or Fantech?
Both manufacturer good Radon fans but RadonAway tends to be a little better buy for your money.
Our Final Say
Radon fans are important to push and vent dangerous, cancer causing Radon gas from you home. All of the fans from RadonAway and Fantech are good choices – if you still are not sure which one to buy we recommend the RadonAway RP260. It is powerful, and almost totally silent so you won't hear it running while you are sleeping.
Related Posts
RadonAway RP140 vs RP145
Radon Sump Pump Guide