[rank_math_breadcrumb]
Many people do not know that their sump pump can be a source of Radon leaking into their basement. Radon is a dangerous gas that can build up and cause various health problems like cancer, lung problems, and heart conditions. Luckily there are a few ways you can prevent dangerous radon gas caused by your sump pump from entering your home.
In this article we will teach you how to set up your sump pit so Radon does not enter your home, install a radon mitigation system like a sump cover and show you the best rated radon mitigation system to keep your family safe.
Preventing Radon from Sump Pumps
It is important to prevent Radon from entering your home from your sump pump installation because of your health. The radon gas that is generated from the sump pump installation can leak through your basement if it's not radon proofed. Once the Radon has seeped into your home, you will have to deal with a slew of horrible health problems. They key to preventing Radon is to have an active drainage system and conduct regular test to make sure
What is Radon Gas?
Radon is radioactive and an inert, colorless and odorless gas that can cause a number of health problems including lung cancer. It can enter your home through the ground so and crack or foundation leak can be a major problem without a vent pipe or radon fan.
Best Basement Mitigation Systems
The best way to prevent Radon from entering your home is to fix and cracks and to have a radon reduction system and monitor to check the current radon level. The most effective mitigation and removal systems are ones that attach to the basement drain tile system, sump pump covers and sump crock radon system.
Top Rated Cover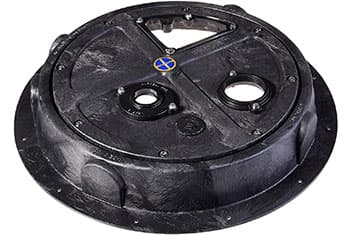 A sump pump cover is required to fit over your basin and hold and soil gasses that seep into the pit. The sump lid should be air tight to keep a high radon level contained until a radon mitigation professional can be called to fix the issue.
Our favorite cover is the Original Radon/Sump Dome. This cover is good for passive mitigation and also has a hole for a radon pipe and discharge pipe built in to the center so you won't have to drill your own.
Top Rated Fan
Our pick for the best Radon removal fan is the RadonAway RP145c. This fan has a water hardened impeller and is almost totally silent so you will never hear it running. The fan is seam sealed to prevent Radon leakage and the motor is thermally sealed so it will keep running even after extended usage.
Installing this fan is easy – and most people can attach it to their system with tools from the garage. One of the main reasons we liked this model over other competitors is that this is the fan that plumbers recommend to remove Radon from their own home – so you know it is good!
Top Rated Crock
Since Radon comes the the soil the best way to prevent it from entering your home is with an air tight basin or crock. A good sump basin should be deep enough to fit your sump pump and water level – and fit securely inside the sump hole. Our favorite Crock is the Parts2O FPW73-19. It fits most basements and is affordable on a budget.
Radon Fans and Monitors
A Radon fan is a good way to keep this dangerous gas from building up in your basement – and a monitor is the best way to sound the alarm if a Radon gas build up is detected.
We recommend installing a monitor in every basement and additional a Radon vent pipe if a build up of soil gas is detected.
Installing a Radon monitor that attaches to your local Wifi is another good way to conduct ongoing Radon test. When high radon concentration is detected in the basement or crawl space an alarm will sound directly on your phone.
Frequently Asked Questions
Does radon come through sump pump?
Radon gas enters your basement through the open ground in your sump pit.
Can a sump pump be used for radon mitigation?
A sump pump system can be used as part of a larger radon mitigation system.
How do you seal a sump pump for radon?
A sump pump can be sealed around the pit and with a cover to prevent Radon from seeping up into the basement.
Do radon sump pump covers work?
Sump pump covers are an effective way to keep Radon from exiting your sump pump pit.