[rank_math_breadcrumb]
Sump pumps are one of the most effective ways to move or drain large amounts of water – but can you use a sump pump for a pond?
In this article we will explore everything you need to know about using a sump pump in a pond, including if you can use a sump pump to drain a pond and if it can be used for long term use. Keep reading to learn more about sump pumps for ponds and water features!
In this guide we'll teach you how to use a sump pump in a pond:
Can I Use A Sump Pump In My Pond?
Yes, sump pumps can be used to drain ponds but they may not be as effective as dedicated outdoor pond pumps. Some pump pumps models are better than others for draining ponds, we recommend the Wayne WaterBUG. The WaterBUG is easy to pick up and install plus it works well outdoors in weather like rain and snow.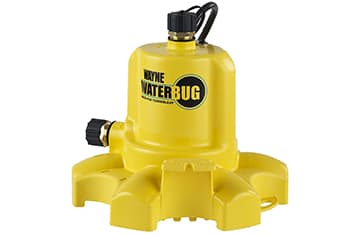 Since the WaterBUG weighs just 8 pounds it is easy to move around to the basement or backyard without sacrificing too much pumping power.
We recommend buying 2 WaterBUGs so you can keep one in your basement sump put and one for outdoor use.
Top Rated Pond Sump Pumps
Not sure which model of submersible sump pumps is right for your pond. Check out our list of the best pond sump pumps of 2023.
Superior Pump 92333
1/3 HP motor
Cast iron body
Drains 3000 gallons of water per hour
Fits 1 1/4″ drain lines
Superior Pump 92341
1/3 HP motor
Thermoplastic body
Activated by vertical float switch
Drains 2,760 gallons of water per hour
Sump Pumps vs Pond Water Pumps
While both sump pumps and pond water pumps can move large amounts of water, there are some key differences between the two. Sump pumps are designed to be used indoors while pond water pumps are made for outdoor use.
Sump pumps also have a higher risk of clogging since they are not usually filtered before being turned on. Pond water pumps typically have a pre-filter to protect the pump from debris and small particles.
Finally, sump pumps are not as durable as pond water pumps and will not last as long if they are used outdoors. Sump pumps are also more likely to overheat when used for extended periods of time.
Potential Problems
A sump pump will work on most ponds, but there are a few potential problems to watch out for. The most common problem is a burned-out motor. Since sump pumps have powerful motors that can push a high GPH it is important to make sure the pump turns off once the pond has been drained and the motor does not 'dry run'.
Another problem to watch for is faulty electrical connections. When a sump pump is installed in the basement it is easy to plug into a wall socket. When installing a pump outside make sure to have a long extension cord that is designed for outdoor use. Remember, even the most powerful sump pump can't drain a pond if they do not have electricity!
What about Ponds with Fountains?
Yes, sump pumps can be used to drain ponds with fountains. Make sure that the fountain is turned off and the drainage pump is setup far away from the fountain. If part of the fountain enters the sump pump motor is could permanently damage both the sump pump and the fountain.
Can I Use a Sump Pump for a Water Feature?
Sump pumps can be used to drain water features but we don't recommend using one to power a water feature. Sump pumps tend to be too powerful to use as a water feature. Plus they tend to be more expensive than smaller backyard water feature pumps.
If you need to drain a water feature sump pumps are be an effective option. Large pumps might be too big but Pedestal sump pumps can fit into almost any feature or fountain.
Can I Use a Sump Pump for a Waterfall?
Some ponds and water features include include a waterfall that is powered by a water pump. A sump pump might seem like a good idea for pumping water but a sump pump is not the best choice. They are too large, too powerful and too expensive to use in a small outdoor waterfall.
Instead of using a sump pump find a small outdoor pump that is designed for waterfalls or small fountains. They will be smaller, pump fewer gallons of water per hour and work better outside in the elements.
Can I use a submersible pump sump pump for my pond?
Sump pumps can be used to drain ponds, just make sure to get one designed for outdoor use
How do you make a pond fountain out of a sump pump?
Sump pumps can be used to make a pond fountain but you will have better results with a pump designed to work as a fountain.
Related Posts
Wayne WaterBUG Review
Best Outdoor Sump Pumps