[rank_math_breadcrumb]
Water has a tendency to find its way into most crawl spaces. That's why you should not be surprised if you see water in your crawl space. But, how can you get rid of the water?
Crawl spaces are an essential part of the home. They can be used for storage, cooling, and heating. Having a crawl space can give you a lot of benefits, but it is important to know how to properly remove water from your crawl space.
Some people say that water is the one thing that is impossible to remove from a crawl space. But it turns out it's not true. This article will teach you how to remove water from a crawl space without damaging or destroying the space itself.
How to Pump Water Out Of Crawl Space
1. Prevent More Water From Entering
The first step is to isolate the leak and prevent more crawl space water from pooling as standing water under the house. Turn off all the water and find which pipe is causing the flooded crawl space!
2. Drain With A Portable Sump Pump
Next, you will need a portable sump pump. Place the sump pump at the base of the crawl space, run the drain hose into the yard and turn it on!
Even a small crawl space sump pump will remove any standing water in about an hour (depending on the size of the crawl space). One thing to keep in mind is where you are draining the water – in some areas you can't drain the water into your yard.
Place the pump at the lowest part of the crawl space and let it run until all the water has been removed from the area.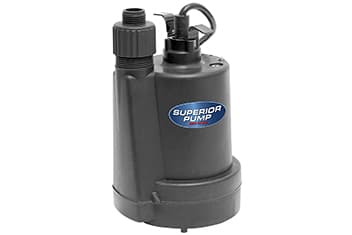 If you do not own a portable sump pump we recommend the Superior Pump 91250. It is cheap, easy to use, and can be set up in almost any location in just a few minutes.
3. Use A WetDry Vac and Dehumidifier to Remove Remaining Moisture
A sump pump will remove most of the water but not 100%. A WetDry Shopvac and Dehumidifier will remove the remaining water so you don't experience future mold problems. Make sure to use a vapor barrier and consider installing a crawl space dehumidifier to prevent long term problems from water damage.
4. Install a Crawl Space Sump Pump and French Drain
In some areas of the country your crawlspace will flood on a regular basis (just like your basement) and you will need to install a long term solution. Adding a sump pit and sump basin is the best way to prevent standing water, flooding and water damage.
A crawl space drainage system is designed for a wet crawl space and draining excess moisture. A submersible sump pump will quickly drain any ground water via a drain pipe – just like it would in a flooded basement.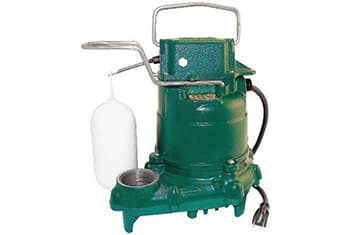 Our pick for the best crawl space sump pump is the Zoeller M53 Mighty Mate. It is small enough to fit into any crawl space and is highly dependable.
Preventing Mold Problems
Crawl space moisture can cause serious long term problems to your health and structure of your home. The easiest way to prevent mold problems is to improve drainage so water does not have a chance to flood the crawl space floor.
Preventing Future Crawl Space Flooding
Here are a few ways you can prevent water from pooling under your home and causing water damage after a plumbing leak or other eater problem:
Install a crawl space sump pump system
Install a french drain
Install gutter downspouts
Install a perimeter drain, perforated pipe, and drainage pipe
Install a crawl space vent for extra airflow
Frequently Asked Questions
How much does it cost to pump water out of a crawl space?
Local plumbing companies typically charge between $100 to $150 per hour to pump water out of flooded crawl spaces.
Is it OK to have water in crawl space?
We recommend not allowing any water to pool in your crawl space to prevent flooding.
What do I do if my crawl space is flooded?
If your crawl space is flooded you should pump the water out then improve the drainage so it does not happen again.
How do you drain water from under a house?
The best way to drain water from under your home is with a small sump pump and drainage system.