[rank_math_breadcrumb]
Even the best sump pumps fail from time to time or fall victim to the weather – that is why we recommend everyone install a multi purpose sump pump alarm. In this article our team of experts reviews the pros, cons, features and how to install the HS-700 so you can decide if it is a good choice for your basement.
A good sump pump alarm like the HS-700 can alert you the moment it detects a pump failure, high water or extreme hot and cold temperatures. We think it is one of the best alarms on the market right now because of the multiple detection types, multiple alerts, and competitive price points.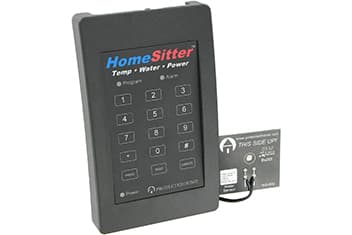 Features
Calls 3 numbers plus loud audible alarm
Water and temperature sensors
Good choice for sump pumps and other flood areas
AA battery back-up power
One of the main reasons this alarm caught our eye was the multiple alert types and the fact that it can alert more than 1 phone. Most alarm systems only detect water leaks or a burned out motor. The HS-700 watches for water leaks, stalled pumps, overheating motors and frozen pumps. It even work while the power is out thanks to on board AA batteries.
When the HS-700 detects a problem it can alert you to with a loud audible alarm in case you are home or by sending alerts to up to 3 phones if you are out of the house. This is a valuable feature so homeowners and people with rental properties can fix pump problems right away.
Pros
Detects pump failure and temperature problems
Good choice for hot and cold environments like basements
Alerts multiple people over different channels
No monthly fee or ongoing costs
Cons
Some reports of false alarms with temperature detection
Requires phone line
Water and Leak Detection
Basin leaks and overflows can happen for a variety of reasons. It is important to act quickly to prevent costly water damage. When the HS-700 water sensor detect a leak they activate the alarm and send notifications to your phone.
Alarm and Notifications
The alarms and notification apart from other models. When angry or burn down motor is detected the alarm will sound inside the words to up to three phone numbers. Many similar alarms only a man or a bowl alarm or send notifications to phone number. It is also important to remember that the alarm does not have any ongoing monthly fees for the notification service.
How to Install
This alarm can be installed by mounting it on the wall and placing the water sensors outside of the pump basin then plugging the transformer into a normal power outlet. The alarm is light enough to hang with two small nails and the water sensor cords are long enough to reach your sump basin from the wall.
The alarm will also need to be attached to a phone outlet in order to send notifications to your cell phone.
What's Included With The HS-700
This unit comes with a keypad alarm transformer phone cord water sensor and product manual. It does not come with backup AA batteries so you will need to order them separate.
Warranty Information
The HS-700 comes with a one year manufacturers warranty and can be returned via Amazon.
HS-700 Alternatives
Don't think the HS-700 is right for you? The most popular alternatives alarms are the MarCELL MAR-500A and the Sensaphone 400.
HS-700 vs MAR-500a
The MarCELL is a similar alarm that can monitor temperature as well as water leaks. It costs slightly more money than the HS-700 but it has a Lithium-ion backup battery that can run for 48 hours in case of emergency.
HS-700 vs Sensaphone 400
The Sensaphone 400 is another competing alarm system that can monitor temperature, humidity and water leaks. It costs considerably more than the Homesitter but has more sensors to monitor more of the home.
Can you use multiple HS-700 alarms in the same home?
Yes, multiple alarms can be used in the same home in different rooms or floors.
Does the alarm require a LAN line?
Yes, in order to receive phone alerts the alarm needs a LAN phone line.
Can the alarm be turned off remotely?
Yes, the alarm can be turned off remotely in case you are away from home or own rental property.
Related Posts
Top Rated Pump Alarms