[rank_math_breadcrumb]
Zoeller and Basement Watchdog are two of the most well-known sump pump manufacturers of 2023, but which is the best sump pump brand for your basement?
Zoeller and Gould sump pumps are two of the top rated brands – but both have their advantages and disadvantages! Keep reading to learn about which sump pump is the right choice for your basement
We will start by reviewing the M267 and the LSP0311AT to see the pro's and con's of each pump side by side.
Zoeller vs Gould Compared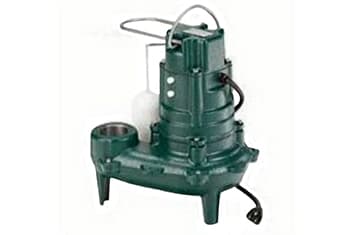 Zoeller M267 Information
1/2 HP motor
Solid cast iron body
Pumps 45 GPM at 0′ head height
Only includes sump pump
The Zoeller M267 is a ½ horsepower cast iron sump pump that has gained high ratings from customers because of its reliability and durability. It is almost entirely made out of metal, with only one small rubberized foot on the bottom. This metal construction makes it a very heavy pump, which can lead to a little more vibration. However, the rubber foot does a good job of absorbing that vibration and reducing noise levels.
The Zoeller M267 is currently one of Zoellers's best-selling sump pumps because of the high build quality and power motor. Many people choose this model over other models due to the cast iron body and powerful motor.
The M267 is an extremely popular sump pump. The average homeowner who purchases this pump lasts 7 years before needing to replace the motor, which means that it has over a thousand reviews on Amazon!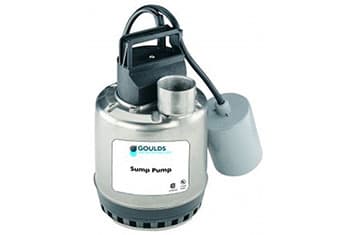 GOULDS Pumps LSP0311AT
1/3 HP motor
Stainless steel motor and pump body

Lightweight and easy to use

Fits 1 1⁄2″ NPT

discharge lines
The GOULDS LSP0311AT is a good choice for homeowners that need a powerful motor sump pump that is light enough to move around the home. It is lightweight (about 10 pounds) and still has a good flow rate of 57 GPM with a max head height of 34′!
Key Differences
Horsepower
One of the main difference between the M267 and the LSP0311AT is the pump horsepower. The Zoeller sump pump has a more powerful 1/2 HP motor while the LSP0311AT only has a 1/3 HP motor which means it might not be the right choice for deep basements.
Accessories
Both the LSP0311AT and the M267 do not comes with any accessories like a backup pump, battery or alarm. You will have to buy those separately which can be an additional cost.
Voltage
The voltage for both pumps are a standard 120v and they work well throughout the United States.
Body Material
Another key difference between these pumps is the body material. Zoeller sump pumps are made of a solid cast iron body which makes them resistant to rust and corrosion – while the GOULDS is made of stainless steel.
Price
Both of these sump pumps cost about the same amount. However the Zoeller sump pump is a better value because it is more powerful and has a longer lifespan.
How to Choose
Still not sure which model is the right choice? If you need a sump pump with a 1/2 horsepower motor then we recommend the Zoeller model but if you need a lighter model the GOULDS pump is a better option.
Which is Better: Zoeller or GOULDS Pumps?
Both Zoeller and GOULDS make high quality sump pumps that will get the job done. Both of these models are powerful enough that they can handle most basements – however if you have a deep basement with high water levels we recommend choosing Zoeller pump because it has more power.