[rank_math_breadcrumb]
Zoeller and Basement Watchdog are two of the most popular brands of sump pumps on the market – but which is the best pick for your basement?
Both Zoeller and Basement Watchdog brands have their fans, so let's weigh the pros and cons to see how they compare in real life.
Let's start by taking a closer look at two of the most popular sump pumps – the Zoeller M53 Mighty Mate and the Basement Watchdog DFK961. Keep reading to learn more about the pro's and con's of each pump – and which model is our favorite in 2023!
Zoeller vs Basement Watchdog Compared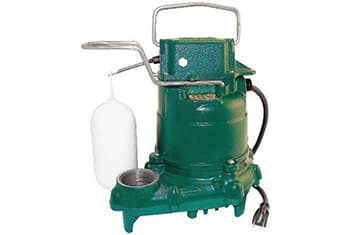 Zoeller M53 Information
1/3 HP motor
Solid cast iron body
Pumps 45 GPM at 0′ head height
Only includes sump pump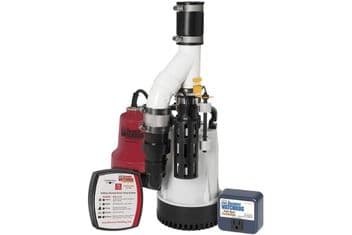 Basement Watchdog DFK961 Information
1/3 HP motor
Cast iron and aluminum body
Pumps 3,700 GPH at 0′ head height
Includes sump pump, backup battery and alarm
Key Differences
Pump Horsepower
Both sump pumps have the same 1/3 horsepower motors and pump a comparable amount of water. Zoeller pumps tend to be slightly more reliable so we will give the M53 a slight edge in this category.
Body Material
The M53 Mighty Mate and the DFK961 are both made of cast iron body that makes them long-lasting. However the DFK961 is made not made 100% of cast iron – some of the parts are made of Aluminum which makes Zoeller a slight favorite in this area.
Price
One of the biggest differences between these two pumps is price. The M53 Mighty Mate is slightly cheaper than the DFK961 but it comes with fewer features and functionality. If you only need a sump pump the M53 is a better choice, but if you need full system the Basement Watchdog sump pump provides good value for your money.
Dependability
Dependability is one of the most important factors when choosing a new sump pump. Based on the reports from zoeller vs basement watchdog, Zoeller sump pumps are known to be a little more reliable. However there isn't a huge difference between the two brands and many zoeller vs basement watchdog report zoeller an extremely dependable product. Keep in mind it is important to have a backup sump pump, battery backup and alarm in order to protect against basement flooding during heavy storms.
How to Choose
At the end of the day both the Zoeller M53 Mighty Mate and the Basement Watchdog DFK961 are very similar pump – which makes it hard to decide which model is the best. We recommend choosing the M53 if you already have accessories like an alarm and backup battery.
About Zoeller
Zoeller is a popular and long-established brand in the sump pump industry. Founded in Indiana back in 1946, Zoeller pumps now produce a wide range of pumps and accessories to help keep your basement dry and protect your house from water damage. Their pumps are well respected for their reliability and durability
About Basement Watchdog
Basement Watchdog was founded in the Chicago area by Alan Schulman with the initial goal of bringing affordable batteries to the public – they initially started with automotive and marine batteries but eventually began to sell sump pumps!
Our Final Say
Both of the Zoeller M53 Mighty Mate and the DFK961 are great sump pump – and you can't go wrong with either model to keep your basement free from water. If you have all the accessories and just need a new pump we recommend choosing the M53 but if you need a full system then we recommend installing the DFK961.
Which is Better: Zoeller or Basement Watchdog?
Zoeller sump pumps are slightly higher quality than Basement Watchdog sump pump but they are more expensive!