[rank_math_breadcrumb]
Check valves like the Zoeller 30-0181 play an important role in preventing water from flow back into your basin after exiting the pump. A good valve can prevent backflow from damaging the motor and keeps things working efficiently since the pump does not have to work as hard. Our team of sump pump installation experts took an in depth look at the Zoeller 30-0181 check valve to see if it is a good choice for your home.
The Zoeller brand is well known for their top of the line sump pump but many people are surprised to learn they also make accessories like check valves. This Zoeller check valve is a good choice for preventing backflow with any of the most common Zoeller pumps like the M53 and M98 as well as other common pump systems.
Valve Features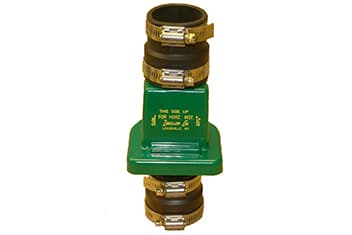 The Zoeller 30-0181 is made of strong thermoplastic and is desiged to fit 1.5″ NPT lines. It can be installed horizontally or vertically so it works in almost any pump set up. Another feature we like is that is reduces water hammer – so you don't hear noises from the basement all night.
Specifications
Thermoplastic and steel build material
Works best at 10′ head height or less and water less than 130°F
Measures 9.75 x 17.5 x 6.75 inches
Can be installed vertically or horizontally
Attaches to drain lines with double clamping system
Requires a weep hole to prevent airlock
Pros
Works well with Zoeller pump
Good buy for the money
Easy to install
Makes little noise in pipes
Cons
Not recommended for head heights above 10′
Piping Attachments
One of the most important parts of any check valve is the connection to the NPT piping. Since the valve will be passing large amounts of water under high pressure – and at high temperatures – it needs to tightly connect with no possibility for leaks. Even a small leak can result in a large amount of water leaking back into the basin or onto the floor.
This model attaches with two clamps on both the intake and outtake valves. This provides an extra tight seal so no water leaks while still being easy to attach. You will know it is installed correctly when the clamps can't be tightened any further. We recommend using small pliers to get as tight as possible.
One Direction Valve
The one direction valve keeps water flowing in the right direction and prevents water from returning via the drain lines. The valve in this unit works well and does not have problems with air locking or water hammering as long as you drill a weep hole.
Our Final Say
A good check valve can keep your pump from overworking and damaging the motor with backflow. We think the Zoeller 30-0181 is a good choice for any home because it can be installed in a matter of minutes without the help of a professional and it makes the entire sump system more efficient.
Related Posts
Best Check Valves
Check Valve Failure Fixes
Check Valves vs Backflow Preventers