[rank_math_breadcrumb]
Trying to learn the differences between a vacuum breaker and a backflow preventer? Both kinds of backflow prevention devices are similar – but there are a few key differences!
In this article we will teach you everything you need to know about the different types of valves so you can protect your potable water supply and irrigation system from backflow.
| Type of Valve | Recommended For | Top Pick |
| --- | --- | --- |
| Vacuum Breaker | Non-potable water lines | Zurn 710 |
| Backflow Preventer | Lines attached to drinkable water sources | Wilkins 975XL |
Vacuum Breaker Advantages
The two most common types of vacuum breakers are Atmospheric Vacuum Breakers and Pressure Vacuum Breakers.
Vacuum breakers have a few key advantages over backflow preventers. While an atmospheric vacuum breaker might not offer as much backflow protection as more expensive valves – they often cost considerably less. This is important for homeowners on a tight budget that need basic protection on lines that are not connected to drinking the local drinking water system.
The two main types of vacuum breakers are atmospheric and pressure vacuum breakers. Both types are similar – but have a few key differences in functionality. We recommend choosing this style of valve if the water line is used for an irrigation system and is connected to non-drinking or stagnant water like a pond or lake (or hose connected to one of these sources).
Top Pick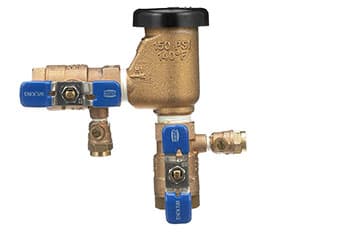 What We Like
Bronze body
Fits multiple line sizes
Compact design
Our pick for the best vacuum breaker for most homes is the Zurn 710. This valve fits both 3/4″ and 1″ lines plus it is easy to install and requires little maintenance.
The valve is easy to install – and be up and running in about 40 minutes – without the help of a professional plumber.
It can handle temperatures between 33°F to 140°F and up to 150 PSI – meaning it works in both residential and commercial uses.
Backflow Preventer Advantages
A backflow preventer is much more dependable style of anti-backflow valve. A reduce pressure zone assembly works on the principle that water can't pass from a high pressure area to a low pressure area.
By creating this gradient the valve is able to protect the water supply from dangerous backflow.
Top Pick
What We Like
Nickel-plated design
RPZ valve makes backflow impossible
Top pick of valve installation services
Our pick for the top backflow preventer for home use is the Wilkins 975XL. This valve uses corrosion-resistant Nickel valves to prevent backflow from damaging your pipes or causing a potential health hazard.
Installation is easy – and little maintenance is required outside of seasonal maintenance and yearly testing.
It uses a reduced pressure zone (RPZ) design that is proven to prevent backflow and is much more dependable than a vacuum breaker.
How To Choose
Since both of these valves are very similar it can be hard to pick between the two. If the water line is connected to a drinking water supply of city water lines you should choose a backflow preventer valve. This type of valve is more expensive – but are reqruired by law to prevent reverse water flow from carrying dangerous materious into the public water supply.
If you only need basic backflow protection on lines with backpressure we recommend choosing an atmospheric vacuum breaker. They cost less money and do not require yearly inspections and testing – but are not as dependable as a reduced pressure zone valve, double checkvalve or other backflow prevention device.
Another important factor to remember is that preventers can handle a much higher water flow due to how they are built This is important when choosing a valve because some systems (like a fire sprinkler system) do not use much water while others like an irrigation water system use a lot and need a powerful backflow device or double check valve.
FAQ
Is vacuum breaker same as backflow preventer?
No – vacuum breakers are not the same thing as a backflow preventer. A pressure vacuum breaker is much less reliable and do not provide as much protection as a reduced pressure zone assembly.