Our team reviewed the Superior Pump 91330 to see if it is a good sump pump for your basement. This pump is a 1/3 HP pump that is a float activated pump that was built with heavy duty use in mind. We know how hard it can be to pick the best appliances for your home so we did the hard part and broke down all of the most important reviewed all the specs, features plus the pros and cons of this model.
Buying the right pump is key if you want to avoid flood damage in your basement. Making the wrong decision could mean thousands of dollars worth of water damage and flooding. The Superior Pump 91330 pump is a great choice for most homeowners that need a dependable pump on an affordable budget.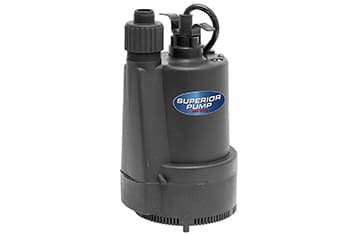 This pump is very affordable, it costs a little over $50 which means almost everyone can afford it. The thermoplastic design plus epoxy seal means that pump will run for years without any problems.
This pump is a good pick for basements with a head heights under 25 feet that need to pump 2000 to 2400 gallons of water per hour. It uses a solid copper motor windings plus stainless steel shafts sealed with epoxy. The exterior is thermoplastic which is not as well built as cast iron but saves money and weight.
Pump Information
The pump is the most important part of your sump pump, if it stops working you will be running for a bucket! It can plus up to 2400 gallons of water per hours which is enough power to keep small to medium sized basement dry during extended storms.
One thing to note is that it does not have a built in alarm or back up so you will want to install a separate alarm and back up unit. This pump model is float switch activated and has a 1/8″ filter on the bottom to prevent the pump from getting damaged by basin debris.
Motor
The 91330 has an interior 1/3 HP motor that can 2400 Gallons per hour at 0′ head height and 720 Gallons per hour at 20′. This is powerful enough for most homes without being too powerful and risking burning out the motor when it is "too powerful".
Float Switch
The 91330 is activated by an exterior float switch. As the water rises so does the float switch which turns on the motor and starts pump. When enough water has been drained the float switch falls, causing the pump to turn off.
We recommend this pump for homeowners that do not want to spend a ton of money on a basement pump but still need a way to pump water from the basement. It is a good choice for renters and homeowners that do not receive much ground water when it rains. The drain lines connect to standard 1 1/4 NPT lines and the pumps also comes with a garden hose adapter.
Owner feedback is largely positive across the web which is likely due to each pump being tested in the factor but there are reports of occasional lemons. Most people use it inside their basement but it can also be used as an exterior pump for ditches and hot tubs.