[rank_math_breadcrumb]
The Superior Pump 91250 and the Zoeller M53 Mighty Mate are two of the most popular sump pumps for sale in 2023 – but which one is best for your home? We compared the Superior Pump 91250 vs Zoeller M53 to see which model is the best pick.
Superior Pump 91250 vs Zoeller M53 Side by Side
Key Differences
There are a few key differences between these two models. The three most important differences are the price, body material and pump horsepower. Keep reading to learn more about the pro's and con's of each.
Price
One of the biggest differences between the Mighty Mate and the 91250. The Superior pump is considerably cheaper and costs about $50 while the M53 costs over $150 dollars. The higher price tag comes with a longer working life, better body shell and more powerful motor but may not be worth the extra money in some cases.
Body Material
The M53 features Zoller's normal cast iron green shell that provides protection from normal wear and tear, is rust resistant and unlikely to leak – but it does cost more. The Superior Pump 91250 has a thermoplastic shell that is cheaper to manufacture but offers less overall protection.
Horsepower
One of the most important differences between these two models is the pump horsepower. The M53 has a 3/10 HP pump which is enough power for most normal sized homes. The Superior Pump on the other hand has a slightly smaller pump 1/4 HP which is still likely enough power for most sump systems.
How to Choose
Having problems choosing between these sump pump – use this easy guide to make the right decision!
Superior Pump 91250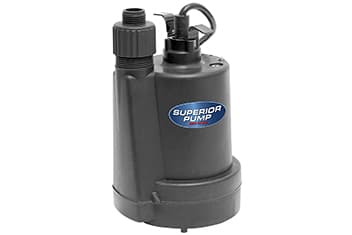 1/4 HP motor
Thermoplastic shell
Pumps 1800 gallons per hour
Zoeller M53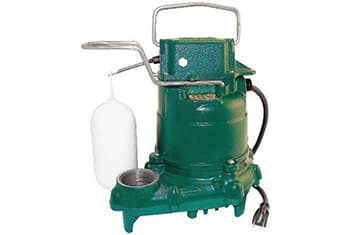 1/3 HP pump
Cast iron body
Pumps 2,580 gallons per hour
Our Final Say
Both of these sump pumps are good buys for your money. The M53 has a slightly more powerful pump and only costs a little more so we usually recommend it for most homeowners. If you need a discount pump that will last for a few seasons the 91250 is a good lower cost choice.
Related Posts
Superior Pump 91250 Review
Zoeller M53 Review