Looking for the quietest sump pump on the market? Some people are light sleepers, have a new born baby or have a thin floor between them and the basement – forcing them to find a way to block noise from the sump pump.
There are a number of ways to fix a loud pump but if the problem is with your home you might need to look for a new water pump. In some areas sump pumps need to run for multiple hours per day in order to keep water from pooling in the basement – that means that there could be a bunch of noise coming from your pump pit disturbing your life (and sleep).
Most homes are equipped with super powerful pump – which means extra noise from the basement. Adding a basin cover and extra insulation can block some sounds but in some cases you need to invest in a silent sump pump. We did the research and found the 5 best pumps that make the least noise – without sacrificing too much on power or build quality – plus they will keep your basement dry!
Quietest Sump & Utility Pumps
Zoeller M53 Mighty Mate
Flotec Pedestal Sump Pump
Little Giant GIDDS-521259
| Our Pick | Pump | Ratings |
| --- | --- | --- |
| Top Pick | Zoeller M53 Mighty-Mate | 4.5 |
| Runner Up | Flotec Pedestal Sump Pump | 4 |
| Budget Pick | Little Giant GIDDS-521259 | 4.6 |
Top Pick: M53 Mighty Mate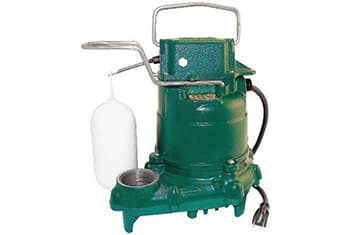 Zoeller – and the M53 – are the go to pump for keeping gallons of water out of your basement – and the competition is not even close in our testing!
It might seem counter intuitive to say yes to a submersible pump as powerful as the M53 Mighty Mate but don"t let the 1/3 HP motor scare you away! This pump may be 100% cast iron construction which may sound like it will make a lot of noise but it is surprisingly quiet – plus the powerful pump means it only needs to run a few minutes at a time
Features
1/3 Horsepower
43 GPM at 5′ TDH
Full cast iron body and stainless steel casing
Little vibrations in basin
Runner Up: Flotec Pedestal Sump Pump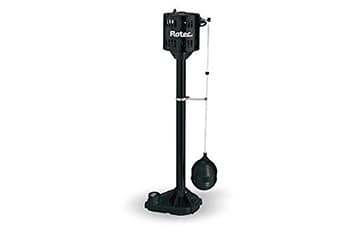 Thermoplastic pedestal pumps like this Flotec make very little noise – and still pump gallons of water per minute!
Live in a small apartment or condo and need a pump to clear a few gallons of water every now and then? We recommend this Flotec Pedestal pump for people looking for a lightweight water removal pump that runs almost totally silent – without sacrificing power! It is activated by a vertical float switch and fits inside even the smallest sump put.
Features
1/3 Horsepower
Designed for long run time
Made of Thermoplastic
Budget Pick: Little Giant GIDDS-521259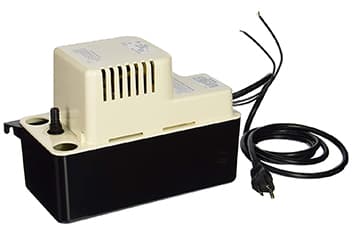 The Little Giant is perfect for small basements and crawl spaces plus it makes hardly any noise
This pump is just like is sounds – a little sump pump. The Little Giant sacrifices overall power and size in order to run super quiet. Don't let the small size scare you away, it can still pump up to 65 gallons of water per minute
Is your pump running loud?
If your current pump is running louder - or longer - than usually you may need to clean the interior of the pump and the basin. Dirt, pebbles and other debris can cause your pump to work harder than it should! If no water is coming out your discharge pipe there might be a problem.
Not quite sure which basement pump to pick – let us be your guide! There are a few things to think about before making your purchase. We always pick a new pump in houses with thin floors based on the following factors:
Motor horsepower and lift
Body material
One of the biggest factors that effects pump noise is the size of the motor. The bigger the motor – and more horsepower – the louder the pump! If you have a deep basement and need a pump with a lot of power to lift water you might be stuck with a high power pump if you want to avoid a flood!
Every pump is going to make some amount of noise – the important thing is determine what you consider to be an "acceptable" level of noise! It is important to keep in mind that if you live in an are with a lot of ground water or a deep basement you will likely need a powerful pump and need to use a sound proof cover to block the noise. Find one that is a tight fit on your sump pit with a little ventilation for best results.