[rank_math_breadcrumb]
Backup sump pumps like the Liberty Pumps SJ10 are important to protect your basement in the event your main pump fails or the electricity goes out in a storm. If you are a homeowner that wants to protect your property during heavy rainfall it is important to have a backup plan!
In this article, we reviewed the Liberty Pumps SJ10. We like this backup pump for homeowners shopping for a water-powered back-up that attaches to an NPT water inlet connection. Keep reading to learn more and find out if this is the right water powered sump pump for your basement.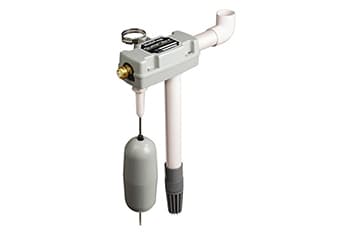 Specifications:
Attaches to 3/4-Inch NPT water inlet connection
Weighs 5 pounds
Dimensions: 21.6" H x 5.1" W x 14.5"
Powered by the municipal water supply
Requires no electricity and an uninterrupted water source
2 year warranty
The SJ10 is a popular backup pump that protects many basements from gallons of sump water flooding basements every season during power outages and pump failures. It has a high flow rate and can keep pumping water from your sump pit when the electricity goes out in a big storm. One thing to keep in mind is that you will need a 3/4″ NPT intake line to power the pump.
Pros
Easy to install
No need for backup battery – uses water pressure to remove water
Removes 2 gallons of water per 1 gallon used
Accepts 20 to 100 PSI intake
Drains 4600 gallons per hour
Cons
Requires constant connection to water supply
Requires inlet supply pressure between 20 PSI and 100 PSI
Liberty Pumps SJ10 vs Wayne ESP25
The SJ10 SumpJet and Wayne ESP25 are similar backup pumps with similar flow rates but there are a few key differences. Unlike the SJ10 the ESP25 is battery powered and does not have the smart features and functionality so we recommend most people choose the SJ10 if they can use a water-powered backup.
Installation and Troubleshooting
This backup model is easy to install, even for non-professionals which is important in our rating system. Most people are able to install this pump in 20 to 30 minutes using a few basic tools from around the house. Since the SumpJet is so easy to set up and does not require electricity troubleshooting is easy, plus the pump has a good warranty in case anything goes wrong. Keep in mind this model does require a water source to operate with steady inlet water source pressure.
Why Choose the Liberty SJ10?
Still not sure if the Liberty Pumps SJ10 SumpJet is the right back up pump for your basement? We recommend this model for the following reasons:
Easy to install
Does not require a backup battery
Drains 2 gallons of water for each 1 gallon used from municipal water intake
Automatic activation when the primary pump fails
Drains via normal 1 1/2″ discharge lines