[rank_math_breadcrumb]
A good WiFi water sensor like the Govee WiFI Water Sensor can alert you to water leaks and broken pipes the moment they happen. Even the most well maintained pump system will fail from time to time and it is important to ready to repair the problem before causing thousands of dollars of water damage.
We reviewed this smart sensor and checked out the pros and cons as well as the different features to see if it is a good buy for your home or rental property.
The Govee water sensor is a good choice for homeowners that have multiple sources of leaks. The alarm system comes with 3 water sensors that are battery powered and can be installed under sinks, near sump pump basins and washing machines to watch for broken pipes and other potential water problems.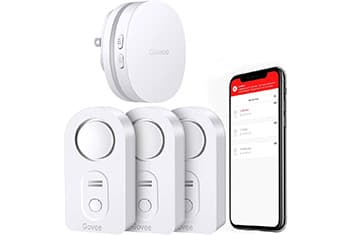 Features
Audible alarm, app notification and cell phone alert when water is detected
100 dB alarm is impossible to miss at home
Connects anywhere in the home via WiFI
The Govee is a popular choice with homeowners and rental properties owners that need to monitor multiple areas of the home with one system. Since the water sensors are WiFi enabled and battery powered they are easy to install anywhere like under sinks, near sump pumps and in crawl spaces.
If a flood or broken water pipe is detected the Govee alerts you right away with 100 dB alarm, app push notification and text message. When there is a water leak in your home you need to know right away to prevent costly water damage. By installing the water probes in high risk flood areas you can prevent a flood before it starts.
Pros
Comes with 3 remote sensors
Good for large homes and condos
Alerts via audible alarm and smart phone
1 year warranty

No monthly subscription
Cons
Reports of delayed notifications
Requires replacing batteries from time to time
Does not support 5g
Leak and Water Detection
Even the most well maintained pumps and pipes will experience leaks from time to time. The Govee comes with 3 sensors but can track up to 10 which makes it a good choice for large homes. If a leaky pipe or overflowing pump is detected the alarm will sound and send notifications to your phone
Alarm and Notifications
The alarms and notification apart from other models. When angry or burn down motor is detected the alarm will sound inside the words to up to three phone numbers. Many similar alarms only a man or a bowl alarm or send notifications to phone number. It is also important to remember that the alarm does not have any ongoing monthly fees for the notification service.
The Govee water sensors have back and front probes in order to detect water from any direction. When water triggers the alarm a 100 dB you will be able to hear it from anywhere in the house, and if you are not at home alerts will notify you via phone so you can take immediate action.
Want to test the alarm or silence the alarm while look for where the water is coming from? There is a mute button so you don't go deaf while finding the leaky pipe.
How to Install
There are two steps to installing the Govee alarm. First you need to link the alarm to your home WiFi so that it can send alerts directly to your phone.
The next step is to place the water sensors in high risk flood areas like near you sump pump, under the sink and in a crawl space. These sensors will need to be connected back to the alarm and positioned correctly so the sensors are in the areas most likely to flood or leak water.
This system comes with 3 sensors but can track up to 10 sensors at a time so it is a good choice for large homes that have lots of pipes to monitor.
What's Included With The Govee WiFi Water Sensor
This alarm system comes with 3 alarm sensors and 1 base system, plus power cords. Batteries are not included and will need to be bought separately.
Warranty Information
The Govee alarm system is backed up by a 1 year warranty – not including battery backups.
Govee Alternatives
Still not sure if this is the right alarm for your home? Here are a few of the most popular alternatives so you can compare each model side by side!
Govee vs Glentronics Water Alarm
The Glentronics Water alarm is a popular alternative to the Govee but it lacks a few important features. The water sensors and alarm are similar to the Govee but the Glentronics alarm does not link to WiFi for phone notifications.
Govee vs Honeywell WiFi Alarm
The Honeywell WiFi alarm detects leaks and freezing conditions which makes it a good choice if you live in an area with extreme winters. The alarm does have extra features but it also requires a wall power outlet for each sensors which can be inconvenient in the basement, crawl spaces and laundry room.