If you have a partially finished basement ceiling and want to quickly finish the room you should consider a fabric basement ceiling ideas. Painting the ceiling fashionably is always an option. However, covering the ceiling of an unfinished basement with a piece of cloth can turn an unfinished basement into a stylish ceiling design in under 30 minutes.
In this guide we will teach you everything you need to know about hanging fabric on a drywall ceiling and the 10 most popular fabric basement ceiling ideas.
How to Hang Fabric from a Basement Ceiling
Hanging fabric from a basement ceiling or wall is a little difficult if you don't have a good guide. Hanging the carpet will be much easier if you have a friend to help but you can do it alone.
Tools
Step-by-Step Hanging Instructions
Follow these step-by-step directions to use a fabric for ceiling tile, a wooden ceiling, a popcorn ceiling, or suspended ceiling design.
1. Measure the Dimensions
Start by measuring the room's dimension so you know how much material to use. If the basement is square, the measurements will be easy, but if it is an odd shape you may need multiple pieces to fabric fit the ceiling tiles.
Our Top Rated Tape Measure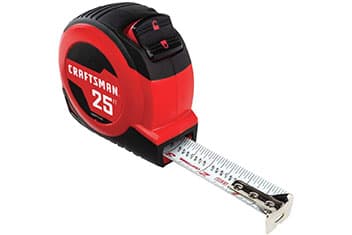 If you need a new tape measure then we recommend this CRAFTSMAN Tape Measure. It extends 25 feet and has an auto locking mechanism for easy measuring of the room.
2. Choose a Material and Design
Next pick a material and design. Some of the most popular types of materials are denim, drop cloth, thicker blends that provide insulation. Adding fabric to the ceiling is a good way to show off your design skills and finish and unfinished basement ceiling. We recommend a solid color for a basic design, or your favorite sports team colors to finish your man cave.
3. Cut or Order the Fabric
Now cut the fabric in the exact dimensions to fit the ceiling. Try to use as few pieces of fabric as possible in order to make your basement remodel easier and leave fewer seams. Remember to measure twice and cut once if you are cutting it yourself. If you are ordering from a store make sure to measure the material since they often rush and measure incorrectly – which can leave exposed beams on bare drywall.
4. Lay the Fabric Out
Once the fabric has is measured and ready to hang from the ceiling lay it out on the concrete floor directly below the location on the ceiling. This will help attach it to the ceiling as it will already be laid out – all you have to do is attach it to the ceiling.
5. Attach it to the Ceiling
Finally, use your ladder to lift the fabric and attach it to the ceiling. The best ways to attach the new fabric are a ceiling joist or by using a sticky 2 sided tape for lighter materials. If you have a corrugated steel basement ceiling you may need to hook it into the top of the drywall near the top of the wall. Stretch the fabric from both sides of the basement wall and make sure the entire surface is covered.
9 Fabric Basement Ceiling Ideas and Styles
If you need some help with a basement ceiling ideas check out our 9 favorite design choices.
White Cloth
A white cloth is an easy way to add a classy finish to an unfinished basement ceiling. Cloth fabric is easy to attach to any material (including tin ceiling) and can be removed if you want to redesign the basement in the future.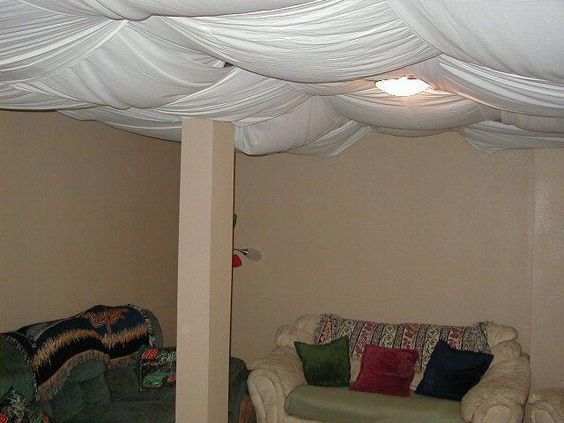 Beach Theme
A beach theme is a popular choice with families using a basement as a fun room for the kids. The ceiling can be decorated with summer and beach themed fabrics like beach towels and images of the sun.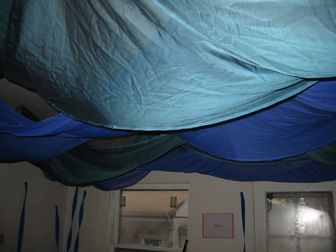 Tie Dye Design
If you want a far out look, a tie dye design is the way to go. Buy large tie dye pieces or make them at home for extra fun and a unique look.
Blue Jean or Denim
Denim is a cheap way to create a rustic feel in your basemen but beware it will act as extra insulation and keep the basement extra warm. Blue jean material comes in a number of different colors and can usually be purchased wholesale to help you save a few dollars on the renovation cost.
Camouflage
Camo is a popular choice for man caves and there are countless color variations to choose from. If you want a macho man feel in your basement man cave and love to hunt Camo fabric is the best choice.
Sparkles
Want to add some sparkle and shine to your basement – then choose some sparkle fabric. This type of material is highly reflective and will reflect light randomly across the room.
Night Sky
If you love the stars then we recommend hanging fabric that looks like the night sky. Glow in the dark night sky prints are the perfect way to mimic a perfect night sky with all your favorite stars and constellations visible to admire without a cloud in the sky.
Cabin Theme
A cabin theme is the best way to add a rustic look to your basement. There are a number of materials and prints that work for a cabin theme but our favorite is a fake animal print.
Soundproof Ceiling Panels
If you like to rock and roll in your basement it might be a good idea to hang soundproof cloth to help contain the noise. Soundproof cloth helps prevent your guitar or drum sounds from leaking out and disturbing the family or your neighbors.
Fabric and Suspended Ceilings
Covering wooden planks on a suspended ceiling might seem like an easy design choice but it actually can form a fire hazard. Inside suspended ceilings are insulation, wires and plumbing – all of which can overheat when surrounded by even a thin layer of fabric hanging from the wood beams.
Fabric and Mold
One thing to watch out for is mold. Unlike a painted ceiling, fabric is more likely to mold in a moist environment so make sure you have a good sump pump to prevent water from building up and mold impacting your health!
Frequently Asked Questions
How do you cover a basement ceiling with fabric?
A basement ceiling can be covered by measuring the area, laying the fabric on the floor, then stretching it and attaching it to the ceiling one piece at a time.
Does Fabric on the Ceiling Violate Local Fire Codes?
Watch out for fire code violations. In some areas of the country fabric can't be hung on a drywall ceiling. This is because heat rises and it can be a potential fire risk.
What is the cheapest way to cover a basement ceiling?
The cheapest way to cover a basement ceiling in fabric is to use white linens. Go with a low thread count to save money since you will no be sleeping on them.