A small sump pump is a perfect choice for keeping water out of crawl spaces, small pump pits, and other areas where larger pumps don't fit. Don't judge a pump by its cover – or the size of its body. Picking the right mini pump can make draining standing water as easy as plugging in and running a drain line – but you must choose the right pump.
Picking the best tiny-sized submersible sump pump can be confusing with many similar models for sale, and not all pumps were created equal. Some small pumps are cheaply made and will stop working after heavy use or when the inside gets damp. An excellent small pump should be light enough to pick up with one hand, durable enough to pump large volumes of water, and manufactured to last multiple years – as well as drain water!
Our team did the hard work and made a list of the Top-Rated small-sized sump pumps, so you don't buy a lemon and still get the smallest sump pump with enough power to do the job!
Best Mini Sump Pumps – List of Top 5

Best Small Sump Pumps
| Our Pick | Pump | Rating |
| --- | --- | --- |
| Top Pick | WaterAce WA33CPED | 3.5 |
| Runner Up | Superior Pump 92250 | 4.5 |
| Mini Pump | VEVOR 12V Water Pump | 4.6 |
| Pressure Powered | V-Pump 060400 | 3.5 |
| Smallest Pump | Little Giant 501003 | 4.5 |
Top Pick: WaterAce WA33CPED
A pedestal pump that can pump up 3480 GPH with its 1/3 HP motor
The WaterAce WA33CPED Pedestal Pump is an above-ground sump pump designed for basement sumps. It features a top-mounted adjustable float switch and can pump 3/8-inch solids. The pump has a 1-1/2 inch FNPT discharge and is powered by a 115-volt capacitor motor.
Features
Top-mounted float switch design
 Can drain 3/8″ solids
 115-volt motor
 Weight just under 20 pounds
 Cast iron exterior
 Drains 3480 GPH
 Vertical float switch
Pros
High-powered 1/3 HP pump
 Adjustable float switch
 Able to pass 3/8″ solids without damage
Solid Handling
Durable Construction
Cons
Keep an eye out for rust on the shaft
Noise Level
Runner Up: Superior Pump 92250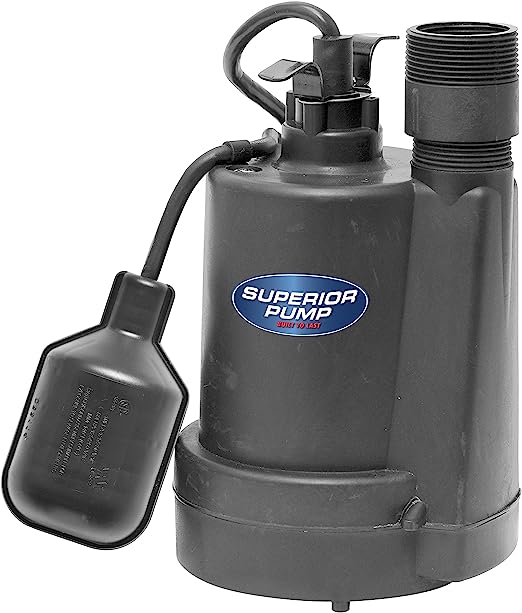 This thermoplastic pump fits tight spaces and attaches to discharge and garden hoses.
Few pumps have a 1/4 HP motor and can still pump 1800 gallons of water per hour; the pump will lift the water to 25′ of vertical height. The Superior Pump 93250 may have a thermoplastic shell, but it is watertight and built to last! It drains via a standard garden hose or a 1-1/4″ NPT discharge line, which works for almost any job.
Equipped with a suction screen to easily filter out large debris and handles up to 1/8-inch solids. This pump is CSA certified and backed by a 1-year warranty.
Features
Fits 1-1/4″ NPT lines
 Thermoplastic body
 Filters solids with internal screen
 Pumps solids up to 1/8″
 The double-sealed motor plate prevents interior water damage
 The split capacitor provides extra power
 It comes with a garden hose adapter
 It weighs about 8 pounds
 10′ power cord
Pros
Thermoplastic does not rust or corrode
 Easy to install
 Double-sealed to prevent water damage
Cons
Some reports of overheating
Mini Pump: VEVOR 12V Water Pump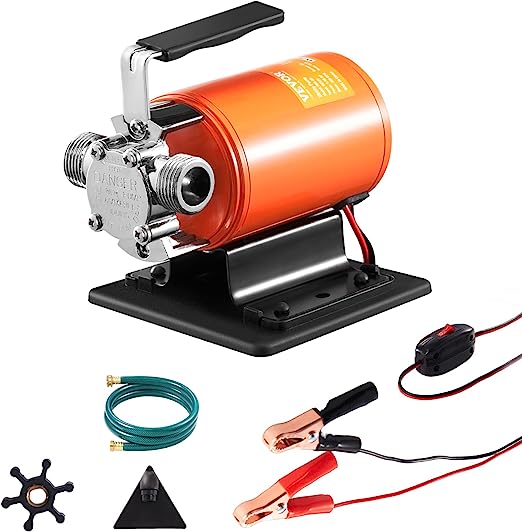 This model is perfect for small outdoor jobs that only need seasonal drainage.
The VEVOR 12V Water Pump is a portable electric utility pump for various water transfer applications. It is currently the #1 New Release in Utility Pumps. The pump has different styles and configurations, including a 12V DC with a switch.
The pump delivers up to 360 gallons per hour and can pump water up to a height of 46 feet, providing efficient water transfer for various needs.
Features
Impeller material: NBR rubber
 Voltage/current: DC 12V/10A
 It weighs just under 6 pounds
 1/10 Horsepower motor
 Suitable for indoor and outdoor use
Pros
Weighs less than 6 lbs
 Suitable for emergency jobs and outdoor gardens
 The high-flow rate for water removal
Cons
Requires oil
can not run dry
Pressure Powered: V-Pump 060400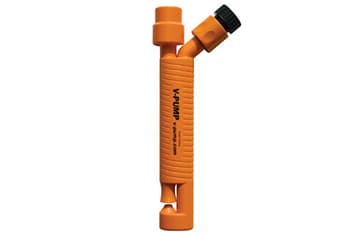 A suction-powered pump that still works while the power is out thanks to water pressure
The V-Pump 060400 might not look like much, but it can save your bacon without electricity! This plastic pump is powered by water pressure and suction rather than electricity. It does not have a filter because it does not need one – instead, it can pump small objects that would clog other sump pumps.
This Venturi pump is tiny – it weighs only 4 ounces but can still clear sludge, which causes problems for other pumps. The V-Pump also works well for pools, ponds, and garden floods, but we would only recommend it as a part-time basement pump due to lower power.
Features
Powered by water instead of electricity
Drains 1 part water for 4 parts in from the hose
Connects to garden hose
Pumps up to 1200 GPH
Weighs 4 ounces
No filter needed
Pros
Does not need electricity
Able to pump solids without clogging or internal damage
Cons
Smallest Pump: Little Giant 501003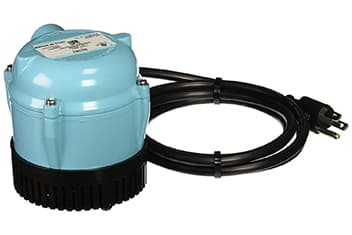 Another tiny pump with a timeless design that is built to last
The Little Giant 501003 is the same pump you have seen for over 30 years – and there is a good reason. It has a super-durable aluminum body and a nitrile shaft seal to keep the inside watertight. The internal motor is only 1/150 HP, so this is not the pump to keep your basement from flooding, but it works well in emergencies.
Features
Baby blue aluminum exterior
1/150 HP system
Max head height of 7.4."
Weight 14.6 ounces
Pros
Easy to set up and start the pump
Typically last 10 or more years
Little to no maintenance required
Cons
Not designed as an everyday sump pump
Who Needs a Small Pump?
Small sump pumps have countless uses, not just in the basement. We recommend every homeowner, condo owner, and maintenance crew have a small pump they can set up in a few minutes. Flood damage can cause thousands of dollars in damage in just a few minutes, so it is essential to be prepared and protect your property.
Many homeowners with a backyard pool, spa, or other water feature use these pumps to drain for yearly cleaning. Removing all the water makes it easier to clean the inside and unclog the pipes.
Top Features to Consider
There are a few things to consider when shopping for a new pump. Here are the 4 most important things to consider before making a purchase.
Pump type. When shopping for a mini-pump, there are a few types: Pedestal, Traditional, Mini, or Venturi. Each style has pros and cons, so research the best kind for your job – you don't want to drain a pool with a pedestal pump!
Pump power. Pump horsepower is always going to be one of the most critical factors. Different models and styles have different power levels. Pick too powerful of a motor, and you will burn out the engine, pick too little power, and you won't drain enough water.
Body Type. Some pumps are plastic, while others are cast iron or steel. Plastic pumps tend to be cheaper and weigh less, while metal-bodied pumps have a longer life.
Total size. The total size of a pump should always be one of the most significant factors if size is a concern. If you need to fit a pump into a tight area or limited storage space, a too-large pump won't work!