[rank_math_breadcrumb]
Basement stairs take a lot of wear and tear and are often forgotten about during home maintenance. A fresh coat of the best paint and sealer for basement stairs can go a long way in preventing damage to the wood. In this article our team found the top floor paint for painted stairs that looks great and provides years of protection.
In experienced painters may be surprised to learn that not every type of paint can be used on basement stairs. If you use the wrong kind of paint or sealer on wooden stairs you may ruin the look of the wood while still allowing damage to the wood!
Best Basement Floor Paints
1. Best Paint – KILZ Over Armor Smooth Wood/Concrete Coating
Our pick for the best paint for basement stairs is the KILZ Over Armor coating. It works on both wood and concrete and seals wood for many years
KILZ Over Armour is one of the top choices in 2023 for painting stairs. Since basement stairs are only occasionally seen protection is as important as looks. This paint seals both wood and concrete which means it works in most houses. It goes on solid and smooth and is available in three colors so you are sure to find a gallon that matches your basement decorations.
Pros
Available in 3 colors
Covers 75 square feet per gallon
Hide splinters up to 1/4″
Cons
Stairs must be cleaned and prepared before painting
2. Budget Pick – Rust-Oleum Painters Touch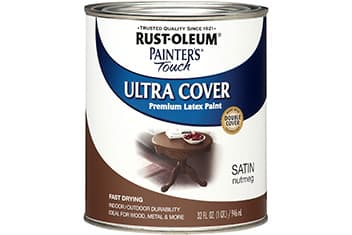 Looking to save a few bucks? Rust-Oleum makes a discount line of floor paints that work well to finish basement stairs
Not every basement needs a high cost coast of paint. If you are in a rental home or just need a coat of paint that will last a few years we recommend Rust-Oleum Painters Touch. It applies well to wood and concrete and is affordable on any household budget. It is available in 10 colors and one gallon covers 120 square feet.
3. Best Sealer – Olympic Stain Waterguard
Sealing your basement stairs is as important as painting if you want them to last – without a coat of sealer moisture will seep into the wood over time
Sealing wood is as important as the first coat of paint. Sealer like the Olympic WaterGuard keeps water and moisture from seeping into the wood which can cause problems over time and eventually destroy the wood. This sealant works on wood, concrete and brick so it can be used in almost any basement to prevent water damage. We recommend applying one coat after painting to protect and preserve wooden stairs.
4. Best Epoxy
Epoxy can be used to seal the floor and keep moisture out forever with a glossy layer on top of your paint. We recommend this epoxy because it last for years and has a strong bond.
If you live in a high moisture area we recommend apply a layer of epoxy to provide an extra layer of protection. A good epoxy like the Colored Epoxiesq Kit can be used on your basement stairs, floor and garage to provide premium protection from water and paint chipping.
Buyers Guide
If you are not sure which paint and sealer (or epoxy) is right for your stairs don't worry! We put together a quick guide to help make sure you pick the right paint for your flooring. There are a few choices that you need to make like the color or stain color, lifetime, quality and waterproofing level – all of which can impact the total cost of basement waterproofing.
Color or Stain
One of the most important things when shopping for new paint is the color or stain. You will want to pick colors that go with your current home decor and color scheme. There are a variety of use cases for home basements so make sure to pick something that fits with your current theme – while white may sound like a good idea it is often too plain!
Paint and Sealer Quality
There are different levels of paint and sealers at different price points. Less expensive gallons are less waterproof and do not last as long before fading. More expensive brands on the other hand are more waterproof and last for multiple years – even with heavy foot traffic – but they do cost more per gallon.
Level of Waterproofing
Waterproofing wooden basement stairs is important to protect the wood from mold and rotting. A good coat of paint that has been properly coated with a sealer can keep water out and preserve wood for many years. If water does get in and rot spreads unnoticed you may step right through a board and fall!
More expensive paints and sealers have extra waterproofing that make them a better choice than cheaper brands. Basement stairs take a lot of wear and tear and are constantly wet due to basement moisture and wet shoes so it is worth the extra investment.
Related Posts
How to paint basement stairs
Epoxy Flooring Alternatives for Garages