It is impossible to tell how much moisture is in a piece of wood without using a moisture meter. These hi tech devices can tell how much water is inside a piece of wood with a quick scan. This is important while shopping for lumber and when looking for damage after a basement flood.
Wood that is high in moisture content is not good to use in home construction projects. If your wood moisture meter is showing high moisture content in a piece of basement wood after a flood it should be replaced as soon as possible. Wood that is high in water content is more likely to mold and can even cause structural problems in load bearing wood. The first step in preventing mold is finding it using a laser moisture meter to test each piece of wood.
In this article we reviewed the 5 best wood moisture meters of 2023 to find the best pick for your home. At the end of this article you will know how to pick the best meter for your basement and how to use it.
The 5 Best Wood Moisture Meters
AccuMASTER Duo Pro 7445
Features
3% accuracy is good for home inspection and quick spot checks
Easy to use controls and backlit display
Works on wood, concrete, drywall, plaster and concrete
The AccuMASTER Duo Pro 7445 is our top pick as the best moisture meter on the market. It is accurate to 3% and can be used on a variety of types of wood. For easy operation it has both pin and pinless sensors.
Pros
Affordable on any budget
2 types of sensors
3% accuracy
Works on variety of materials including drywall
Cons
Some reports of inaccurate readings
General Tools MMD4E
Features
Good for detecting moisture causing mold
Easy to read LED color system
Find water and leaks in wood and drywall
The General Tools MMD4E is a good choice for homeowners looking to find hidden leaks before mold starts growing. It costs less than some other popular meters but it also has fewer features and is slightly less accurate. If you only need a moisture meter for occasional use we think this is a good choice!
Pros
Lower costs than other sensors
Powered by 9V battery
Highly accurate
Cons
Works on less materials that other models
Klein Tools ET140
Features
Uses EMF technology to detect water
Identifies moisture 3/4″ deep
Works on drywall, masonry and most wood types
Klein Tools ET140 is a good all around choice if you are looking for an EMF moisture detector that works 3/4″ deep into most kinds of wood. We like the easy to use design and bright LED screen that works well in dark basements. Since the ET140 uses EMF technology instead of pins it leaves no marks on your wood!
Pros
High contrast display is easy to read
Able to find moisture deep in wood and drywall
EMF detection does not disturb wood finish
Cons
Less accurate than more expensive models
Tavool Moisture Meter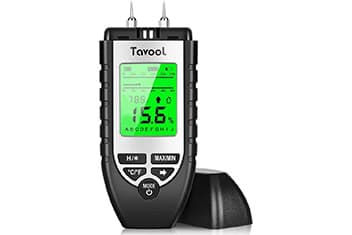 Features
Good pick for lumber, drywall, building materials and concrete
User friendly design for on the job moisture detection
Powered by 9v battery
The TAVOOL Moisture Meter has two moisture sensing pins plus a pinless meter for extract detection. It has about 3% accuracy and is a good choice for contractors since it is powered by a small battery and automatically turns itself off after 3 minutes of no use.
Pros
Two moisture sensing pins and pads
Audible alarms for moisture detection
Auto shut down to save battery life
Cons
Some reports of lemons online
Dr Meter Moisture Meter
Features
Measures with .5% accuracy
Powerd by 3 AAA batteries
Uses pinless HW electromagnetic technology
Dr Meter makes a variety of high quality meters including this digital moisture meter! It uses HF electromagnetic waves to find moisture in wood, timber, and dry wall. It is powered by AAA batteries and is accurate within .5% so you know you are getting accurate results even if there is small moisture levels.
Pros
Easy to use hold function and highly accurate results
Work on all types of wood and building material
Comes with protective carrying pouch
Cons
Some reviews with inaccurate reports
Buyers Guide
Picking the right moisture meter can be tough, there are many similar models with comparable features and functionality. We put together a buyers guide with all the information you need to know in order to pick the right model. We recommend picking a moisture meter based on the factors.
Price
The most important variable for many homeowners that are shopping on a budget is the price. More expensive models may be more accurate but if you are only using it a few times per year it might make sense to sacrifice accuracy and go with a cheaper model. On the other hand if you are a professional carpenter or mold remediation specialists it might makes sense to invest in a more expensive sensor.
Detection Method
There are two primary methods of wood moisture detection – using small pins that leave tiny holes or EMF waves. Both methods produce accurate readings readings but many homeowners prefer pinless moisture meters because they do not damage wood or drywall. Pin-type meters may give more accurate moisture level reading but they also leave small holes on the wood you are testing which can be undesirable for some projects.
Power Source
The power source is something that many people don't consider when shopping but is surprisingly important in some cases. If you are a homeowner that plans on using the sensor every few months it might not be important since it can easily be recharged but if you are a contractor working on the job sit you will need a battery powered model.
Accuracy
Like many other tools – you get what you pay for when it comes to wood moisture meters. The best moisture meters are also the most expensive but they also have easy to read backlit LCD displays and are accurate deep into wood.
How to Use a Moister Meter
Each moisture meter is a little different. Most work by pressing pins or EMF sensors onto the wood, then holding the test button. After a few seconds the display will show the moisture content.
How Accurate Are Moisture Meters
Most moisture meters are accurate within a few percentage points. More expensive models can detect water in other materials like concrete, brick and drywall which offers additional advantage when looking for leaks.
Our Final Word
Handheld moisture meters are a valuable tool in leak detection for homeowners and professional contractors. If you still are not sure which of these models right for your home don't worry – our team is here to help! If you plan on using your metere every now and then we recommend choosing the Dr Meter Moisture Meter since it is affordable while still producing good results. If you are using your meter every day we think it is better to choose a more accurate model like the AccuMASTER Duo Pro 7445.