[rank_math_breadcrumb]
Looking for more information about a backflow test kit? Our team put together a list of everything you need to know about backflow testing so you can be sure your water supply is protected from dangerous backflow.
Keep reading to learn more about backflow testing, backflow prevention, backflow test kit calibration, and testing reduced pressure zone valves.
What Is A Backflow Preventer Test?
A Backflow Preventer Test Kit is a device used to test backflow preventer valves to ensure dangerous backflow is not entering your water supply.
Top Rated Backflow Preventer Test Kits
If you are a DIYer that wants to test your own valve we recommend the following kits: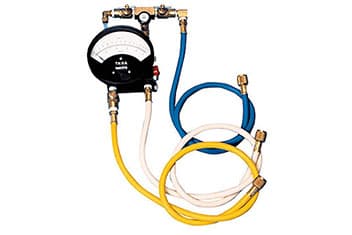 Watts TK9A Backflow Test Kit
Our pick for the top kit is the Watts TK9A Backflow Test Kit. It is one the better 'value' models on the market – plus it has a lot of features like 3 valve attachment and accessories.
Test Kit Pricing
Test kits typically cost between $200 and $2000. Cheaper units have fewer features, and will have less accurate testing as more expensive test kits.
There are a number of features and functionality like digital reading that can add to the total cost! Remember, even the most expensive kit is cheaper than a contaminated water supply.
How to use a backflow preventer test kit
It is important to know how to use your test kit before you start – after all an incorrect reading can result in backflow entering your drinking supply. Follow these step-by-step directions and double-check for exact instructions in your owner's manual.
Calibrating the Test
Backflow preventer test kits need to be calibrated in order to test the lines. Check your owners manual that came with your backflow test to find out exactly how to calibrate the test so you get accurate testing and flow measurement.
Buying a Used Test Kit
If you are looking to save a few dollars you can buy a used backflow preventer test kit. If you plan on buying used make sure to check each part of the kit and try to test it on your lines to verify the device is working.
Keep in mind the upfront price may save you some cash – but the warranty will likely be void so you will be on the hook for any repair costs.
Accessories
Backflow testing kits need a few accessories in order to attach to all lines and get the best results. We recommend looking into the following attachments:
Needle valve
Female threaded swivel couplings
Various gauge fittings and adapter fittings
Line pressure gauge or similar plumbing equipment
A carrying case to protect the kit
Adjustable wrenches
Hose attachments